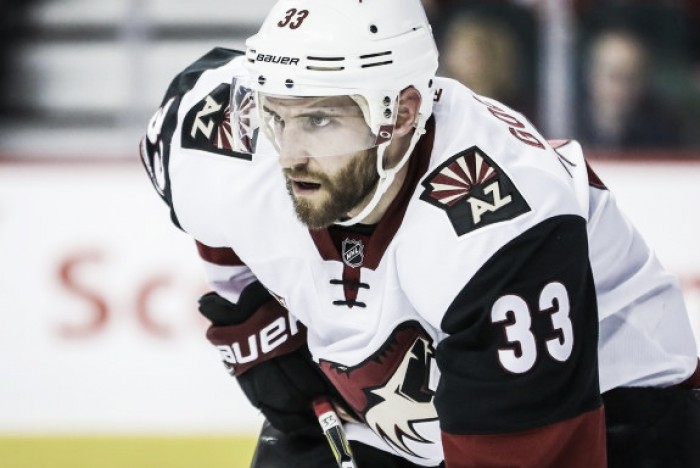 In years past the Arizona Coyotes' blueline was a major contributor to the offensive game. Defenseman Oliver Ekman-Larsson even led the team in scoring during the 2014/15 and 2015/16 seasons.
This is Goligoski's second season in Arizona
Alex Goligoski was originally signed over the summer of 2016 after the Coyotes gave up just a fifth-round draft pick to acquire his rights from the Dallas Stars. The Stars didn't see paying him the kind of contract he was seeking.
The Coyotes promptly signed him to a five-year deal worth $27.375 million, with a no-movement clause added.
At first, the move by Coyotes' GM John Chayka may have been viewed as a mistake as Goligoski had only one goal and 14 assists in his first 49 games.
Perhaps his lack of playing up to expectations was due to adjusting to a new team and a new system, but whatever the reason in the latter part of the 2016-17 season he turned things around. He managed to tally 21 points in his final 33 games to finish respectably, placing fourth in scoring on the team.
Success this season
This current season Goligoski is scoring 0.52 points a game, well ahead of his 0.44 points he put up last season. His play has been excellent in that he is scoring some very timely, important goals.
Here he just takes a bad angle shot against the Chicago Blackhawks and chased their goalie Anton Forsberg to the bench:
Over the last six-to-seven games Goligoski has been advancing into the offensive zone and either getting a good shot off or feeding it to a teammate to develop scoring chances.
Since the Coyotes are last in the NHL in goals scored, any offense provided by any player is helpful to get the team out of their scoring drought.
Another factor in Goligoski's play is his time on the ice. He ranks second only to Oliver Ekman-Larsson in minutes played with 23:10 per game. OEL has 24:09 and both veteran defensemen are out on the ice when the game is on the line.
OEL trade rumors make Goligoski more valuable
Even though GM John Chayka continually mentions that OEL is not to be traded, there are teams inquiring about his availability. Those teams include the Toronto Maple Leafs, New Jersey Devils, Detroit Red Wings, Boston Bruins, and Edmonton Oilers.
At this point, it seems it's up to OEL as to whether he wants to go to a team where he can actually compete for a Cup. This Arizona team may be a few years away in its present form.
IF (small word, LARGE meaning) the Coyotes were to entertain trading OEL after they acquired the first overall draft pick and were lucky enough (their draft lottery ball luck is horrible) to land a talent like Rasmus Dahlin, losing OEL would be palatable... sorta.
If that scenario transpires, it would make the value of Goligoski on the blueline even more topical. He is an offensive-minded defenseman much like OEL, and he has shown those talents recently.
In fact with Goligoski's scoring streak in force, he has now surpassed OEL in scoring on the team with eight goals, 21 assists to OEL's eight goals, 17 assists. He has moved up to third in team scoring right behind Clayton Keller (16-G, 24-A) and Derek Stepan (10-G, 26-A).
Final evaluation
Goligoski has really stepped up his game and is a good role model for the young players. He would even make a good captain. Another factor that may mean OEL may not be the player for that role. If new head coach Rick Tocchet hasn't appointed OEL as captain yet, does that mean he doesn't see his future to be in Arizona?
If Goligoski continues at this current pace, his play will only strengthen the Coyotes' blueline and make them a tougher team to play against.
All in all, it was a good choice to go after him, and the rewards of that decision are now bearing fruit.
What are your thoughts on Alex Goligoski? Is his current level of play an indication that the Coyotes could afford to lose OEL? Let us know in the comments section.