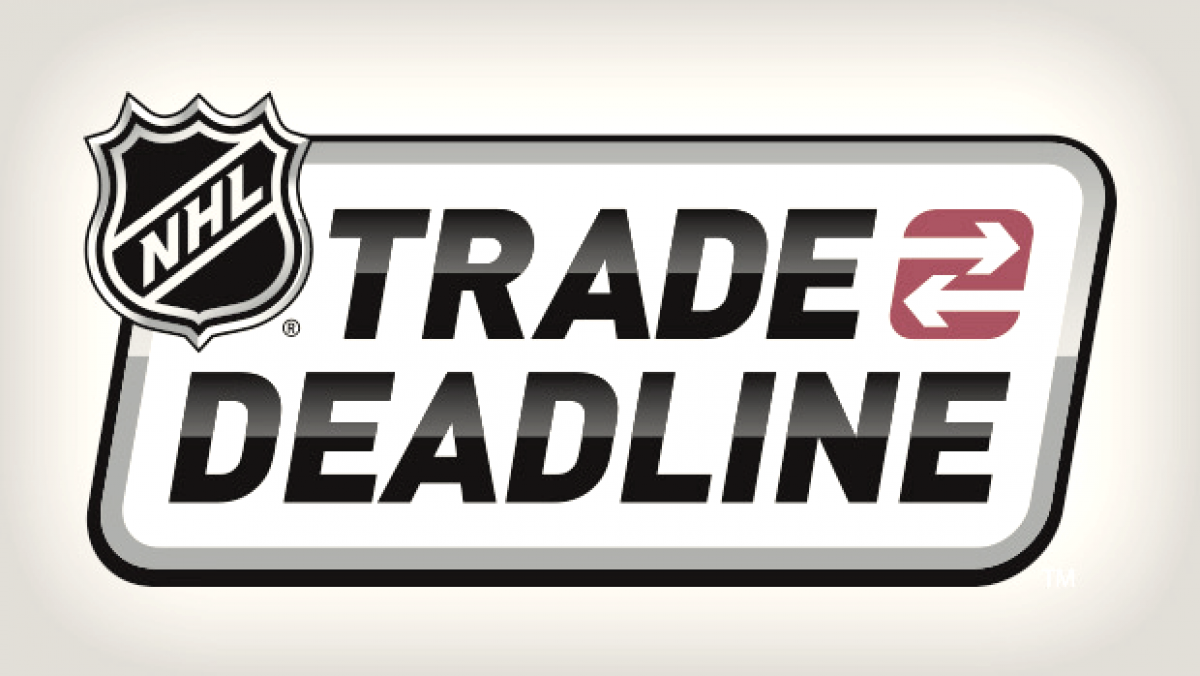 Alright folks, thanks for sticking it out with me. I haven't heard anything that's relevant in the past few hours, so I'm calling it a night. Articles will be up soon on the trades so be sure to check those out. Once again, thanks for stopping by!
I will update this as I get information and also with articles, I hope that you'll stick around through 3 P.M. ET on Monday!
The deal for Wingels is finally done. Boston gets Wingels and Chicago gets a conditional fifth rounder in 2019
VGK was deep in talks with Ott but just couldn't get it done in time.
The prospect in the Maroon trade is J.D. Dudek so a third and Dudek for Maroon
The second From Tampa turns into a first if the lightning win the Cup. So the Rangers get two first-round picks most likely
The Sabres are done
The Flames got Shore for a seventh round pick in 2019
In the McDonagh trade, NYR is getting back Vlad Namestnikov, Libor Hajek, Brett Howden, a 2018 first, and a conditional second. TB gets Mcdonagh and Miller
Edmonton got a third rounder for Maroon from New Jersey and a prospect not sure who yet
Montreal is done for the day, Max Pacioretty staying on the team
The McDonagh trade seems to be the blockbuster. Also, Buffalo hasn't announced the Kane trade so it may not be done yet
Detriot is done, no Green trades just Tatar
Montreal get Reilly from Minnesota for a fifth rounder in 2019
Hearing that J.T. Miller is involved in trade between NYR and TB
Mike Green is staying put and so is Benoit Pouliot
Pat Maroon is headed to New Jersey
Winnipeg is getting Joe Morrow from Montreal for a fourth rounder. Most likely means Antipin is staying Buffalo
Calgary gets Nick Shore from Ottawa
Hearing that Detriot got a 2018 first, a 2019 second and a 2021 third for Tatar.
Also hearing the Reilly has been traded but not sure where yet
This is assuming the deals got in before 3 as well but McDonagh is head to Tampa
Karlsson is staying in Ottawa, but Thomas Tatar has been traded to VGK
Josh Jorris is headed to Pitt, details TBD
VGK wasn't able to finish a deal for Karlsson before 3 so no Karlsson their either
The Dallas Stars made no trades today
Caps have said that they are done so no Karlsson their
According to Friedman, CHI and BOS were talking Tommy Wingels not sure if it got done in time though
The deadline is now over. Trades can now be processed by the Central Registry
Just reported by TSN that it seems like the deals for Karlsson are not enough to trade him.
One minute left
O'Reilly trade unlikely but the Rangers are trying very hard to get something done before 3
Jokinen joins his fourth team this season and Vanek joins his eighth team since 2013
Hearing that the Jets aren't done and want a depth defenseman
According to Bob McKenzie, Thomas Vanek is on the move to CBJ. Vancouver expected to get Tyler Motte and Jussi Jokinen
According to Travis Yost, Washington has escalated attempts to get Karlsson before the 3PM deadline but are running out of time
This is just my opinion but I don't think Ottawa pulls the trigger on a Karlsson deal today they will most likely wait until summer, but I may be wrong
I'm hearing that a lot of teams are calling Buffalo about Ryan O'Reilly
20 minutes left people hold onto your butts!
The condition on the first round pick given to Buffalo is if Kane resigns with SJ it's a first but if he doesn't it's a second. Huge conditions
It seems like Ottawa wants to get a deal done today. Trade talks are still ongoing with multiple teams on Karlsson
Nice tidbit of info, O'Reagan was Jack Eichel and Evan Rodrigues' teammate at Boston University
More details on the Buffalo trade; the first round pick is lottery protected for 2019, the prospect is Dan O'Reagan and its a 2020 fourth round pick which I dont believe is conditional anymore
Buffalo got it down to San Jose, Anaheim, and Calgary before picking San Jose
Buffalo got a first round pick, a prospect, and a fourth round pick for Kane. The picks are both conditional, most likely the first is lottery protected and if Kane resigns for the fourth
The Ducks have acquired Jason Chimera from the Islanders for Chris Wagner.
With Kane going to San Jose that may mean Buffalo is out on Reilly
San Jose has just acquired Kane from Buffalo. Details are TBD at this point. He is just a rental
According to Travis Yost, Ottawa has true offers on Karlsson from at least three different teams
Patrick Maroon is still out there and Edmonton is actively working on a deal
60 minutes left to go folks
Well not the trade that we were hoping for but a trade none the less, CBJ has acquired Ryan Kujawinski from Arizona for Jordan Maletta
Hearing reports that the Sabres are among one of the teams that made an offer for Reilly
Don't doubt it though that E. Kane will be traded
Hearing reports that traction is starting to pick up in Buffalo for E. Kane. Botterill is trying to take this down to the wire for price, playing quite the game of chicken with other GM's
According to Nick Kypreos, Pitt has inquired about McDonagh
The Instigators on WGR550 in Buffalo are reporting that Sam Bennet or Michael Ferland are involved in a potential with Calgary. Take this with a grain of salt
Hearing reports that everybody around the Wild believe STL has something big brewing with Stastny gone
Update out of Winnipeg is that Enstrom is fine
Hearing reports out of Pittsburgh that Murray is hurt more than they are letting on. Also hearing that Buffalo and Pitt are working on a possible deal for Chad Johnson whose play has picked up lately, Buffalo wants to see Linus Ullmark down the stretch
90 minutes left
I just heard that there is now a fifth team in on E. Kane, nothing formal yet though
According to Craig Custance, the Wild are sitting on offers for Mike Reilly but there is no guarantee that he is moved. I'm hearing reports that one of those offers is possibly from the Sabres
With just under two hours to go, there are still some big dominoes to fall. I'm hearing that Ottawa isn't going to give up Karlsson to Florida unless the deal completely blows them away. They don't like the prospect of giving him up in the same division.
According to John Shannon, Anaheim and Florida have interest in Max Pacioretty of the Canadiens
There are some conditions on the WIN/STL deal. WIN will give up the 2020 fourth if Foley doesn't sign a contract by August 16th of 2019 and the first round pick is lottery protected for numbers 1-3 and in that case, the Blues will receive the Jets' first in 2019.
A little bit over two hours left on trade deadline day and there are still big pieces at play. Should be fun!
Seeing reports that four teams are in on Kane, deal should be soon and today
Things have quieted down after that spurt of trades. Just to recap, Cole went to CBJ, Stastny went to the Jets, Hartman to the Preds then the VGK/VAN deal
This is the first time that multiple first round picks have been traded on deadline day since 2008
According to Dreger, Ottawa is still fielding calls on Karlsson. Unlikely that Mike Hoffman or Zach Smith are traded
With Murray possibly injured, Pitt may take a look at Buffalo who has reportedly made their goalies available
Tobias Enstrom just limped off the ice during and practice. The Jets may push harder for Antipin now from Buffalo. Also, Pittsburgh goalie Matt Murray got hurt in practice is currently being evaluated
Alright folks the VGK and VAN trade is official now. To recap, VGK adds another defenseman in Holm and VAN gets Leipsic
This trade is a rebuilding one for Chicago and a potential bowing out of the Western Conference playoff race for STL
To catch up on my thoughts for a second, the fact that both St. Louis and Chicago got first round picks for their players means that Buffalo should be able to get a first rounder for Kane.
The trade call is still ongoing between Vegas and the Canucks
Bob McKenzie is reporting that Vegas and Vancouver are working on a trade. Sounds like Brendan Leipsic is headed to Vancouver and the potential return could be Philip Holm
Things are heating up folks! Another trade!
The picks are a 2018 first rounder and a conditional 4th in 2020
Stastny waived a no move trade clause to go to the Jets
The Blues have traded Paul Stastny to the Winnipeg Jets for a first rounder, a fourth rounder and Erik Foley. STL keeps 50% of his salary.
ANOTHER TRADE PEOPLE ANOTHER ONE! RING THE BELL!
That is a lot for Hartman in my opinion. A first rounder even if its going to be later is a lot. Buffalo can use this now to their advantage in talks about Kane
There is no salary retained by Chicago
Alright I have dets now. Hartman and a fifth rounder in 2018 for a first rounder, Victor Edjsell, and a fourth rounder in 2018
BREAKING NEWS: Hartman has been officially traded to the Preds
Colorado get Mark Alt off waivers
Calgary has claimed Chris Stewart
The Flyers have claimed Johnny Oduya
Three hours left folks... just three hours
I'm hearing from multiple sources that Hartman is not on the ice for practice for Chicago. Now we wait
According to Jimmy Murphy, Max Domi is linked to Buffalo, Toronto, and Montreal
If you are seeing anything about Lehner asking management to be traded, it simply isn't true. I'm seeing reports from people close to the Sabres that Lehner wants to stay
If anyone besides me is watching TSN right now, apparently Thomas Vanek is going to be a UFA from 2018 to 2021
Reports out of Minnesota is that Matt Cullen will not be moved
There seems to be a standoff in the league right now, waiting to see who will set the market and make a blockbuster first. Many eyes on Ottawa though
Hearing that NYR are taking it slow with McDonagh. They are fielding calls from teams that are out on Karlsson
The Chicago/Nashville possible trade is starting to gain traction. Hearing the Nashville is interested in Ryan Hartman
Hearing that Washington is in on Karlsson and would have to move John Carlson somewhere. Vegas, Tampa (as stated), and San Jose are also in on it. Vegas could take Bobby Ryan's contract while Tampa couldn't
To continue the Rangers talk, teams have been kicking the tires on Mats Zuccarello and J.T. Miller but nothing has materialized and a trade is unlikely
Reports I'm seeing on McDonagh is that there really isn't anything out there for New York to consider. Washington has moved on to find someone else and there really aren't deals out there for him
According to Travis Yost, there have been multiple conversations between Buffalo and Calgary over the last 24 hours with multiple players in play
Speculation is that the price tag for Erik Karlsson is too high for Tampa and that Mike Green or Ryan McDonagh are more likely in play
According to Andy Strickland, there is something brewing between the Preds and Blackhawks so stay tuned. We may have trade number two on the way
Multiple reporters close to the Penguins are saying that they are not interested in Kane
It's 11:15 folks and there has only been one trade so hang in there and we will get through this
Also hearing rumors that teams are calling Tampa about prospect Cal Foote, but GM Steve Yzerman is firm that he isn't moving
The asking price for Kane is the hold up on a deal. The Western Conference seems to be the most interested. There's no doubt that Kane will be traded, but the asking price will most likely be less than what GM Jason Botterill wants.
The Preds are welcoming back Mike Fisher on a one-year contract.
Hearing reports that Pittsburgh GM Jim Rutherford is walking around his office on the phone so something may be on the rise here. Watch out
We are about 90 minutes or so from knowing who was picked up on the waiver wire after all of the players that were added there yesterday. So some excitement
Not much going on right now. Speculation from Buffalo News' Mike Harrington is that there could be a three-team with Kane, but who knows.
With the Cole trade, the #11 player on TSN's trade bait list is off the board. Now we wait for more...
Also, it seems like the Winnipeg Jets may be interested in both Viktor Antipin and Benoit Pouliot.
For all of my Buffalo Sabres fans out there wondering about Evander Kane, this is for you. According to John Shannon of Sportsnet, there is an expectation that Kane will be traded but the price will be the thing to watch. Apparently, his price is dropping.
The trade for Cole puts Jack Johnson in some jeopardy and allows Columbus to add some depth on the blueline. Johnson is up for a contract after this season and has requested a trade from the Blue Jackets.
According to TSN's Elliotte Friedmann and Darren Dreger, the Columbus Blue Jackets have traded for Ian Cole giving Ottawa a 2018 third-rounder and Nick Moutrey
Welcome to trade deadline day! We finally made it!
February 25th: Nashville has acquired Brandon Bollig and Troy Grosenick from the San Jose Sharks for their 2018 sixth-round pick.
According to Pierre LeBrun of TSN, trade talk has heated up around Oilers forward Patrick Maroon. Seven teams have reportedly contacted Edmonton.
Also read our takes on the Karlsson rumors, the Arizona rumors, the Kane rumors, and why Buffalo should trade Sam Reinhart. Also, read about what Vegas might do here!
With Nash, Brassard, Plekanec, and Letestu gone, TSN has released a new trade bait list. Check that out here!
The Tampa Bay Lightning are the leading suitors to try and land Karlsson from Ottawa, but it's unlikely that a deal gets done by the deadline.
The Panthers are trying very hard to get McDonagh from New York and have been the leading team that has called to get the asking price.
According to a Montreal Sports Journalist, as talks have increased around Kane a few teams are looking at the possibility of getting Benoit Pouliot from Buffalo as well.
Teams that have lost out on the Nash sweepstakes are looking at Kane as the next man up. According to TSN insider Darren Dreger, talk between the Buffalo Sabres and teams have intensified over Kane but nothing is imminent until Monday.
So far that is all of the deals done ahead of the trade deadline. There are still some big names out there including Evander Kane, Robin Lehner, Chad Johson, Ian Cole, Ryan McDonagh, Thomas Vanek, Erik Karlsson, and a few others.
The third and fourth deals of the day so far involved Letestu. He was traded from Edmonton to the Nashville Predators for Pontus Aberg then Letestu was immediately flipped to the Columbus Blue Jackets for Nashville's 2018 fourth-round pick.
The second deal of the day was the Plekanec deal that followed a few hours after the Nash deal. Toronto acquired Plekanec and Kyle Braun from Montreal in exchange for Kerby Rychel, Rinat Valiev, and their 2018 second-round pick. Read about this deal here!
First was the Nash deal. The Rangers traded him to Boston for their 2018 first round pick, their 2019 seventh-round pick, Ryan Spooner, Matt Beleskey, and Ryan Lindgren. New York retained 50% of Nash's salary while Boston retained 50% of Beleskey's. Read about this here!
Four trades happened on February 25th involving Rick Nash, Thomas Plekanec, and Mark Letestu.
The New York Islanders acquired Brandon Davidson from the Edmonton Oilers on February 24th for their 2019 third-round pick.
February 23rd was a blockbuster day that saw Derrick Brassard traded. This trade was extremely confusing and tedious as it was rejected by the NHL four times before it finally worked. This was a three-team trade involving the Pittsburgh Penguins, Ottawa, and the Las Vegas Golden Knights. Pittsburgh acquired Brassard, Vincent Dunn, and a 2018 third-rounder from Ottawa in exchange for Ian Cole, Filip Gustavsson, and a 2018 first and a 2019 third-rounder.
Vegas retained 40% of Brassard's salary and also got Ryan Reaves and a fourth-rounder from Pittsburgh for the salary retention and Vegas gave Tobias Lindberg to Pittsburgh as well. If that was difficult to wrap your mind around, read more about it here and here!
Another big name and a good role player are traded on February 22nd as we witnessed the first ever between the New York Rangers and the New Jersey Devils and the Florida Panthers also looked to bolster their top six. The Rangers traded Michael Grabner to New Jersey for Igor Rykov and a 2018 second-round pick. The Boston Bruins traded Frank Vatrano to Florida for their 2018 third-round pick. Read about the Grabner trade here and the Vatrano trade here!
February 21st consisted of another day of two trades as the Montreal Canadiens traded Jakub Jerabek to Washington for their 2019 fifth-round pick and the Arizona Coyotes traded Darcy Keumper to L.A. for Scott Wedgewood and Tobias Rieder. Read about the Arizona trade here!
On February 20th, Nick Holden was traded to the Boston Bruins from the New York Rangers in exchange for Rob O'Gara and 2018 third-round pick. Eric Fehr was also traded from Toronto to the San Jose Sharks for a 2020 seventh-round pick.
Two trades happened on February 19th as the Washington Capitals acquired Michael Kempney from Chicago for their 2018 third-round pick. The other being the Detriot Red Wings trading Petr Mrazek to the Philadelphia Flyers for a conditional 2018 fourth-round pick and a conditional 2019 third-round pick.
Two minor trades happened on February 15th as the St. Louis Blues traded their fourth-round pick in the 2019 NHL draft for Nikita Soshnikov and the Chicago Blackhawks traded Ville Pokka to Ottawa for Chris DiDomencio.
On February 13th, the Ottawa Senators traded Dion Phaneuf and Nate Thompson to the Los Angeles Kings for Marian Gaborik and Nick Shore. Read about this trade here!
Without further ado, let's jump in and get you caught up with the trades that have happened leading up to Monday!
Welcome to Vavel's live coverage of the 2018 NHL Trade Deadline! I will keep you up-to-date on all of the action across the NHL today as well as my reactions and anything that I come across on twitter.