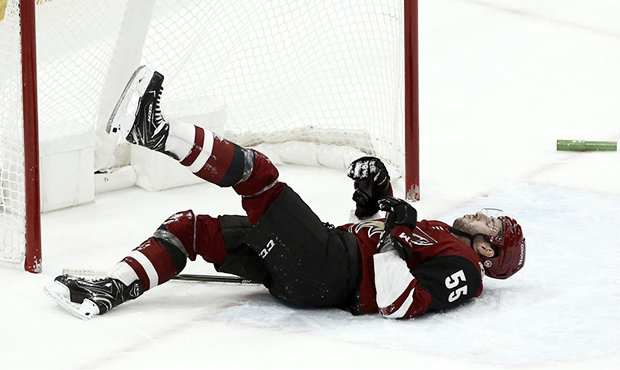 At first, there was nothing but good news that Arizona Coyotes' injured defenseman Jakob Chychrun was back off the injured list recovering from his second knee injury in his short NHL career. He had been sidelined since April and his first game back wasn't much fun since his team was scorched 6-1 by the lowly Detroit Red Wings on Tuesday.
But in that game he sustained an upper-body injury putting him in a day-to-day status.
Wait... things got worse.
Alex Goligoski has been out for the last four games with a lower-body injury and his outlook for returning is still unknown. He is also day-to-day.
Add in the fact that starting goalie Antti Raanta has missed the last five games due to a lower-body injury and things start to resemble a M.A.S.H. unit. Raanta's return has been ruled tonight against the Boston Bruins, and that really hurts.
Insult to injury
Then, there's Josh Archibald who will be absent for the next two games due to an illegal check to the head of Ryan Hartman. He only received a two-minute penalty at the time but was suspended when the league decided it was indeed a hit to head... even if it was inadvertent.
So, let's do a tabulation (wait... I gotta get my calculator out) of how many players will NOT be in uniform for the all-important game tonight against the Bruins. The results are in... (this is NOT the Florida election results, is it?) and it looks like the Coyotes will be without the services of five players.
Make that six... if you count the injured Christian Dvorak, who may not return this season from pectoral muscle surgery which has seen him miss the entire season thus far.
OUCH.
While injuries are part of the game (the Bruins defense is also decimated with injuries forcing them to play two rookies D-men tonight) it doesn't seem fair to lose multiple players in such close proximity.
Who said the NHL was fair?
Right?
Losing Demers hurts... a bunch
Demers has been on the top defensive line with All-Star Oliver Ekman-Larsson all season and the two have been awesome together. If nothing else this gives the Russian D-man Ilya Lyubushkin a shot to prove himself since he will be the only right-hand shooting blueliner out there.
Before Demers' unfortunate injury he managed to score a goal helping to seal the Coyotes' victory against the Predators.
The Coyotes' President of Hockey Operations/GM John Chayka announced that the team has recalled Dakota Mermis and Robbie Russo from their AHL affiliate Tucson Roadrunners to fortify the blue line. They also recalled forward Mario Kempe from Tucson to replace the suspended Archibald.
Mermis will likely get the start tonight.
They may be a bunch of wounded warriors, but head coach Rick Tocchet is hopeful that two-to-three players (Raanta, Chychrun, and Goligoski) may be ready to go by Wednesday against the Vegas Golden Knights.
It was a freaky play which put Demers down, and the goalpost didn't help either. He immediately grabbed his left leg in pain, and that was that.
Good teams in the NHL survive injuries, even to their top players, so it is hopeful that the replacements who get a chance seize the moment and perform to the best of their ability.
Demers is not a flashy offensive defenseman and is often in the offensive zone, starting there 63.5% of the time, and has excellent possession stats with a 50.7% Corsi rating.
He averages just under 20 minutes a game of ice time and is regarded as one of the team's top four players on the blue line.
That could be difficult to replace, but it's time for others to step up and fill the gap created by an unexpected injury.
Head coach Rick Tocchet voiced his opinion on his team's injuries and what lies ahead for them, including the game tonight against an offensive-minded team in the Bruins.
Darcy Kuemper filling in
Since Raanta's injury Kuemper has a 2-3-1 record, with a GAA of 3.62 and a save percentage of .874. Not bad, but not Antti Raanta numbers either.
Getting Raanta back by Wednesday along with possibly Chychrun and Goligoski is essential for the Coyotes to keep the momentum they sustained by beating the best team in the NHL on Thursday night.
They started their second five-game homestand in the best way by winning the first game. It may not be as easy going forward with all the injuries, even if they are getting some of the players back.
Will Chayka look to replace Demers via a trade?
It could happen since you never know what moves the crafty Chayka has in mind. Losing Demers isn't a small thing and his replacements are nowhere near his ability level.
If a right-hand shooting defenseman becomes available, look for Chayka to pull the trigger via the trade route. Defensemen are difficult to come by, so don't get your hopes too high on what the team can do to fill the gap without the steady Demers out there defending.
If Lyubushkin, Mermis, or Russo don't stop the bleeding on the blue line caused by Demers' absence, then Chayka will have no choice but to seek a comparable replacement for the fallen Demers.
In the meantime, games must be played and the Coyotes need to get their game face back on in a hurry to play the formidable Bruins tonight.
Without Jason Demers.
Will the loss of key defenseman Jason Demers cause the Coyotes to lose any momentum they have achieved this season? Who will fill the gap? Let us know in the comment section below, and make sure to give us a follow on Twitter (@VAVELNHL_ENG) for more updates!