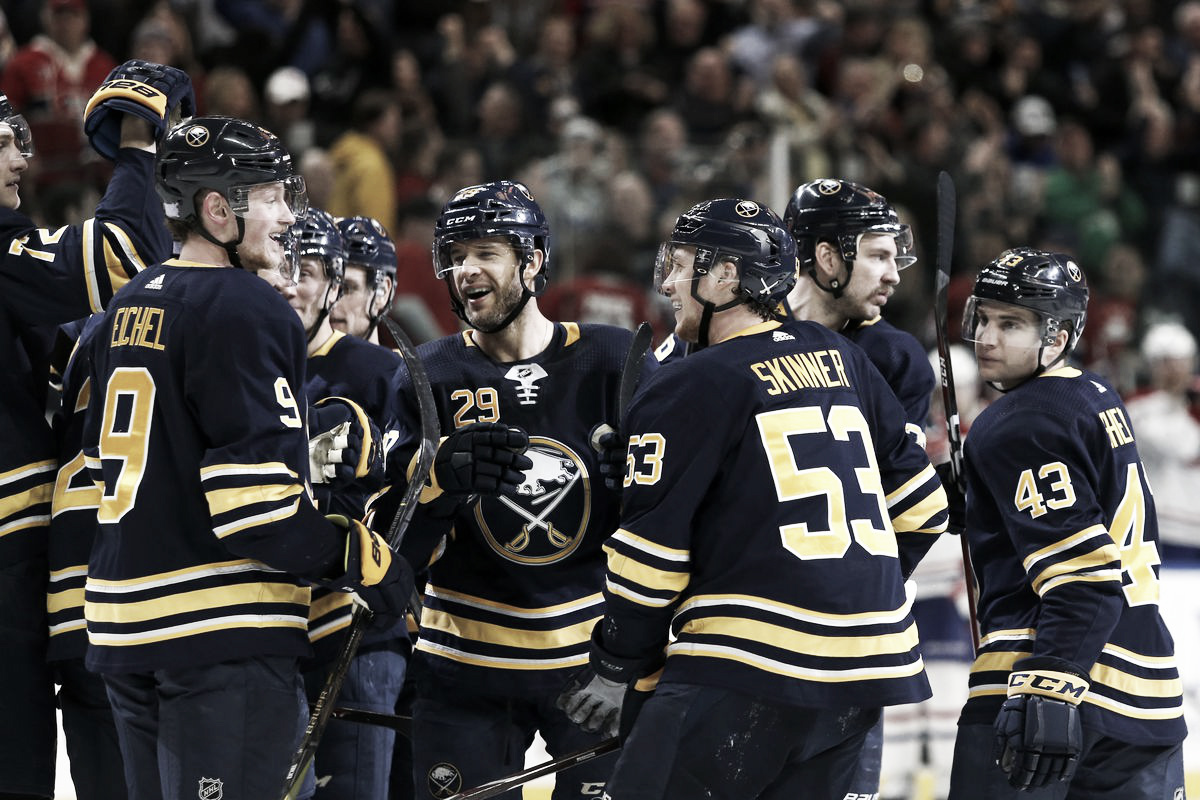 Even though the season is still young, the Buffalo Sabres look like a contender. Through 27 games, the Sabres are 17-7-3, tied a franchise record ten-game winning streak, and currently sit tied for first place with 37 points.
If you asked anyone before the season if they thought Buffalo would explode like this everyone would've said no. Buffalo was projected to contend for a playoff spot and have it most likely come down to the last handful of games to get in or not; just like it was before the tank.
But, so far, that isn't the case.
The stats to back it up
Buffalo is tied for first place, Jeff Skinner is on fire with 20 goals, and Jack Eichel is on pace for 97 points which is Art Ross trophy territory. Rasmus Dahlin, the rookie, is on pace for 43 points which could win him rookie of the year. After having a very slow start last season, Sam Reinhart is building on his second-half push form 2017/18 and is on pace for 64 points, 18 goals, and 46 assists.
Rasmus Ristolainen has at least one point in three of his last five games and is on pace for the best point total of his career. After not seeming to gel at the beginning of the year, Tage Thompson has found his stride and has a point in five of his last seven games.
During the winning streak, nine of the 10 games were decided by one goal or less, seven of those 10 were decided in a shootout or overtime, and they are 9-2-1 at home with six straight home wins coming during the franchise record-tying winning streak. Also, every defenseman has at least one goal up to this point when last year a defenseman hadn't even scored yet.
Then there are the goalies; Carter Hutton and Linus Ullmark. During the streak, they played spectacularly. Hutton had eight wins, a .945 save percentage, and a 1.88 goals against average. Ullmark had two wins, a .948 save percentage, and a 2.00 goals against average. These two goalies were on fire with Hutton facing an average of 34 shots over the eight games, and Ullmark facing an average of 38 shots over the two games.
Through 27 games, the Buffalo Sabres look like a team reborn. They came out swinging and have not backed down from any challenge in the league. They won and hung in against some of the best teams in the league. They are getting scoring that they barely were able to produce last year, and it looks like head coach Phil Housley's scheme is finally working.
The streak is over
Buffalo's ten-game winning streak came to end Thursday night against the Tampa Bay Lightning by a score of 5-4. This game was the first time that cracks began to show in Buffalo's game and Carter Hutton was mostly left out to dry against some of the best goal scorers the league has to offer.
Buffalo went down 1-0 early but fought back for two quick goals to make it 2-1, but Tampa then answered with two of their own to make it 3-2 to end the first. Just a little over five minutes into the second, Buffalo's Sam Reinhart tied the game at three and that's how it stayed for all of the second.
Buffalo went up 4-3 in the third off a wicked nice shot from Tage Thompson, but Buffalo's lackadaisical play caught up with them as Tampa tied it then scored the game-winning goal with a little over five minutes left to win 5-4. Throughout the entire game, Buffalo looked flat-footed and out of step.
The game was very physical and rivalry like with fights breaking out and a lot of pushing and shoving. But, in the end, Buffalo never really took control of the game and ended up losing for it.
What now?
Buffalo also faced off against the Florida Panthers on Friday night, and they ended up losing in heartbreaking fashion in overtime. Buffalo's streak is over, but the hope is that losing doesn't become apart of the culture again.
This team does look different and they seem to have found the right pieces to fill the gaps that were obviously shown last year. Buffalo is trending upwards and it's easy to see; now they just have to build on it. Jack Eichel is finally starting to show why he should be appreciated more, Reinhart is building on his second half of last year, and Jeff Skinner has been on fire.
But, Buffalo can't depend on just them because at some point they will cool off. Buffalo hasn't had much secondary scoring, but the defensemen are starting to contribute much more than last season. Dahlin looks like he was absolutely worth the first overall pick and Ristolainen is starting to flex his offensive muscles.
Buffalo has suffered through the tank years, and finally, it's Buffalo's turn to run the tables. If Vegas made it to the Stanley Cup Finals last year, why can't Buffalo? The mantra going around Buffalo is "why not us?"
The city has suffered through years of terribleness to get to this point, and it looks like a new chapter has started. The birth of a new era will give way to what looks to be a great Buffalo Sabres team. Fans that are still skeptical need to hop on this bandwagon before it's too late.
All in all, this team is headed in the right direction and it shows. They will face another tough test on Monday, December 3rd, when they face the Nashville Predators in Nashville then the next night they host the surging over the border rival the Toronto Maple Leafs.
Do you think Buffalo makes it into the playoffs? What do you think of their play so far this season? Tell me in the comments below and don't forget to follow @Vavel_USA for more great content!