Last week, VAVEL USA debuted the weekly NASCAR Pick 'Em, a new feature where the NASCAR writers at VAVEL USA pick one driver each week, and points are awarded based on how the driver performs.
The point distribution is simple, if they win, they get 10 points. From there, the points decrease by one for each position, with a 10th place finish resulting in one point. Bonus points are handed out for laps led, as well as leading the most laps. After the first week, here are the standings.
| | |
| --- | --- |
| Writer | Points |
| Brandon Farris | 15 |
| Mark Smith | 3 |
| Stevie Larson | 2 |
| Stephen Furst | 0 |
Here are the picks for this weekend's race at Phoenix International Raceway.
---
Brandon Farris
Driver: Jimmie Johnson
Reason: "This is a tough one. Both Dale Earnhardt Jr. and Johnson have had a lot of success here. But I got to stick with who's hot right now in Johnson coming off a Win and 3rd place finish."
Mark Smith
Driver: Kevin Harvick
Reason: "Once again this week I'm going for the driver of the #4 Jimmy Johns Chevrolet. Harvick always seems to perform well on the one-mile track of Phoenix International Raceway and I see the race this coming Sunday being no different. After having a solid race this past week at Las Vegas Motor Speedway, I think 'The Closer' will have that bit extra over the competition. He may have challenges from a number of drivers but I see it being a good weekend for the Stewart Haas Racing driver and one when he will book his spot in this year's Chase for the Sprint Cup Series Championship."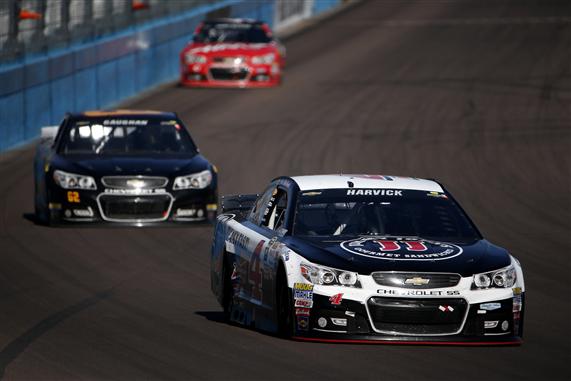 Stevie Larson
Driver: Kevin Harvick
Reason: "Harvick won the spring race at Phoenix last season, and I see no reason that he won't do the same thing this weekend. He has won five of the last seven Sprint Cup races at the track, and may have made that six of seven if the fall race last season hadn't been called early due to rain."
Stephen Furst
Driver: Kevin Harvick
Reason: "Harvick always brings his A game to Phoenix and his record there proves it. He's won 5 out of the last 7 at the track and I believe he'll make it 6 out of 8 this weekend. He also holds the records for most wins at the track (7) as well as laps led (1202)."