After Kyle Busch took home the victory on Saturday night at Kansas Speedway, the NASCAR Sprint Cup Series heads to Dover Speedway, where one driver will survive and conquer the famed Monster Mile.
---
Weekend Schedule (All Times Eastern)
Friday, May 13
11:00 a.m.: First Practice
3:45 p.m.: Qualifying
5:30 p.m.: Trucks Series Race (200 Laps)
Saturday, May 14
9:30 a.m.: Second Practice
12:30 p.m.: Final Practice
2:00 p.m.: Xfinity Series Race (2 40 lap heats, 1 120 lap main event)
Sunday, May 15
1:00 p.m.: Sprint Cup Race (400 Laps)
---
Weekend Notebook
- Kyle Busch took home the win on Saturday night, but on Wednesday afternoon, NASCAR announced that he was assessed a P3 level penalty that included the suspension of his crew chief, and right front tire changer for not having enough lugnuts tight on their tires during the race.
- Since this is just a first offense, the suspension is just one race, but a future offense could result in a multi-race suspension, which could be devastating if it comes during the Chase for the Sprint Cup.
- One of the top favorites this weekend has to be the king of Dover, Jimmie Johnson. His win last year made him the fifth driver to have 10 or more wins at a single track. If he wins on Sunday, he will join Richard Petty and Darrell Waltrip as the only drivers to win 11 or more races at a single track.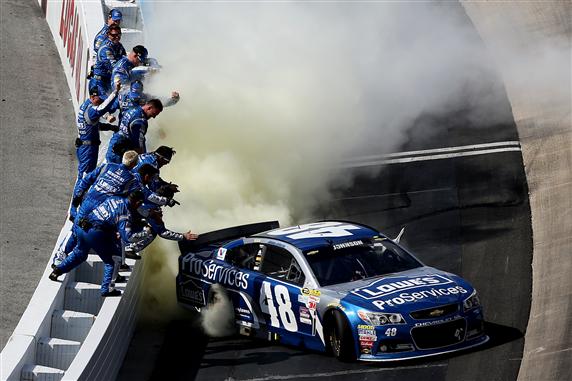 - Rookie drivers Ryan Blaney and Chase Elliott will make their series debut at Dover on Sunday. Both of them are coming off a top-10 finish, with Blaney finishing in fifth, and Elliott finishing in ninth place. It was the second consecutive week that they both finished in the top-10.