 The NASCAR Sprint Cup series is finally back in action after taking a week off for father's day, although both the Xfinity Series and Camping World Truck Series were in action last week. Here is the weekend schedule and notebook to prepare you for the weekend.
---
Weekend Schedule (All Times western)
Friday, June 24
12:00 p.m. - 1:55 p.m.: First Practice
3:30 p.m. - 4:55 p.m.: Final Practice
Saturday, June 25
11:15 a.m.: Qualifying
Sunday, June 26
12:00 p.m.: Race (110 Laps)
---
Weekend Notebook
- One year ago, Kyle Busch looked at this race not just as a normal race, rather it was the start of his miraculous run to the championship, and it came just four months after he broke his leg in the season-opening Xfinity Series race. It was his second career win at the track and has three victories this season to lead the series.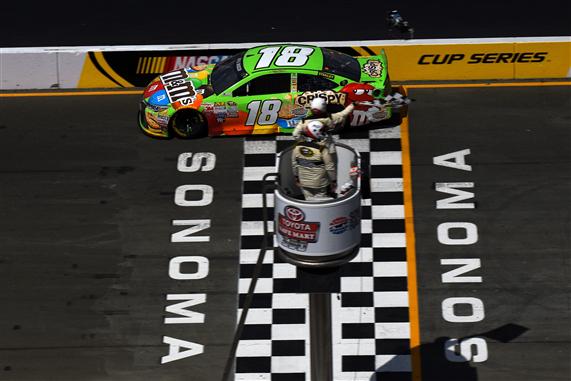 - Every time the series heads to a road course, there is at least one driver who isn't a series regular, but still races just for that race. This week, the main one is A.J. Allmendinger, who won the pole for last year's race before finishing 37th. He is the exception to the rule, as he is running full time, and currently sits 19th in points. A win this weekend would allow him to crash the chase, similar to what he did in 2014 when he won at Watkins Glen.
- One driver who does not have a win yet this season is Tony Stewart, who is retiring after the season. He has two career wins at the track, and has the best average running position among active drivers. He is attempting to take a similar route to the championship that Busch did last year, as Stewart missed the first eight races of this season after a pre-season ATV accident that broke his back.
- Chase Elliott does not have a win this season, although he has come close on multiple occasions. The likely winner of the Rookie of the Year award has 11 top-10 finishes, with six top-five finishes through 15 races. Elliott took over the #24 car this season for Jeff Gordon, who retired after last season and now does analysis work for Fox Sports.
- Kyle Larson is still looking for his first win of the season, and hopes to get it at his home track. Larson grew up just 81 miles away from Sonoma. He has two career runs at the track, with a 28th and 15th place finish.