As ever, two 60-lap races will determine the line-up for this year's showpiece event. The first will consist of 21 drivers whose finishing positions will determine the starting order for the inside line. The second will see the remaining 21 drivers sorting the outside line.
Of course, two drivers, Chase Elliott and Dale Earnhardt Jr already know their positions will - Pole and outside front row - thanks to finishing first and second respectively in Sunday's initial qualifying event.
For 36 of the remaining 40 drivers, the Can-Am Duels are about securing a position near the front of the pack. For four, however, it is about racing to try to simply get into Sunday's race.
Another difference this year is NASCAR's decision to award points to the top 10 finishers in each Duel. This should ensure that all drivers - even the two locked into the front row - have something to race for.
Duel one could become a three team shoot-out between Hendrick Motorsports, Penske, and Joe Gibbs Racing.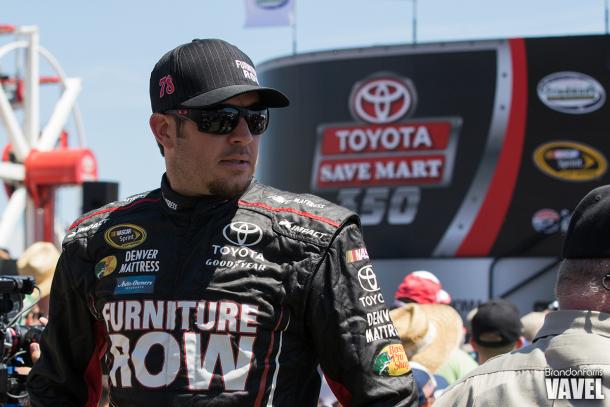 The first race has both Penske Fords of Brad Keselowski and Joey Logano - winner of the Clash last weekend - in at, as well as three of the for Joe Gibbs Racing Toyotas - those being Matt Kenseth, Kyle Busch, and rookie Daniel Suarez.
With five of NASCAR's fastest cars, along with pole-winner Elliott, this group could, realistically. blow the rest of the field away.
But this is Daytona, where the restrictor plate is the great equalizer, meaning that in all likelihood it will be anyone's race, with Furniture Row's Martin Truex Jr - who lost last year's Daytona 500 to Denny Hamlin by a photo finish, determined to have something to say about it.
Of course, in this first Duel, just like the second, there will be a race within the race, with Reed Sorenson in his Premium Motorsports Chevrolet and rookie Corey LaJoie in the BK Racing Toyota both racing for the highest finishing spot to make it into the 500.
Beard Motorsport's Brendan Gaughan locked his Chevy into the race during qualifying, but he could still have a major say in who makes Sunday's race.
Duel two has a bit of an all-star look about it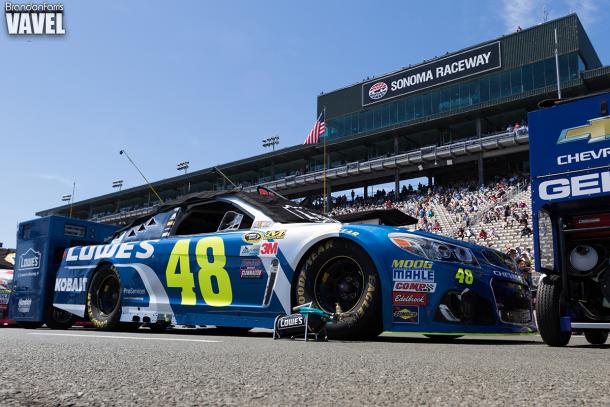 If the first Duel has some of the fastest cars in it, the second has some of the sport's highest profile names in it.
The sport's most popular driver for 14 consecutive years, Dale Jr will lead them off from the front, secure in the knowledge that - barring a calamitous wreck - he will be on the front row on Sunday.
Defending Series champion Jimmie Johnson, reigning Daytona 500 champion Denny Hamlin, former Series champion Kurt Busch, Danica Patrick - the sport's top female driver - and many people's outside bet to become series champion this year, Kyle Larson all line up in this heat.
Two other drivers to highlight, however, are Clint Bowyer and Michael Waltrip.
Bowyer, who takes over from now-retired Tony Stewart in the Stewart-Haas #14 car, is a fantastic restrictor plate racer, and keep an eye out for him, not only in this Duel, but Sunday's big race, and for the season as a whole.
Waltrip takes part in his last Duel, and his last Daytona 500 this week. A long-time servant of NASCAR - both as a driver and a commentator - his racing achievements are often overshadowed by those of his brother Darrell. But Michael is a two-time winner of the 500 - in 2001 and 2003 - and has two Duel victories to his name in 2002 and 2005.
Trying to race their way into Sunday's race from this Duel will be Rick Ware Racing's Chevy driven by Timmy Hill, and D.J. Kennington in the Gaunt Brothers Racing Toyota. The final open team driver in Duel two, Elliott Sadler locked his Tommy Baldwin Racing Chevrolet into the race in qualifying.
How the final places in the Daytona 500 will be decided
Of the six drivers that either race in or go home, two - Gaughan and Sadler - have locked themselves in from their qualifying times.
However. these two drivers can each have a major impact on who gets into the Great American Race, and who does not.
For if either of those two drivers finishes ahead of the other two open team drivers in their respective Duel, then the remaining slot will go to the driver that was quicker in qualifying last weekend.
Therefore, if Gaughan were to finish ahead of Sorenson and LaJoie in Duel one, Sorenson would make the race due to his faster qualifying time.
Although, if Sadler were to finish ahead of both Hill and Kennington in the second Duel, then Sorenson would still get in based on his qualifying time.
So the only way that Sorenson will not get into the race is if LaJoie finishes ahead of both him and Gaughan in the first Duel.
Confused? You will not be the only one.
The first Duel is scheduled to start at 7 p.m. ET, and the second at 9 p.m. ET and coverage is on FS1.