Tonight, Juan Carlos Osorio and Mexico start their 2017 year as the face Euro 2016 sweethearts Iceland in Las Vegas, Nevada as the team prepares for a busy year.
Since the game does not fall on an international FIFA date, both teams will bring a second team. All of Mexico's players expect for LA Galaxy's Giovani Dos Santos are based from Liga MX. Because this will be Mexico's only match before their double fixtures next month for CONACAF World Cup Qualifying, this is a very strong Liga MX based team with few surprises or players Osorio has not used or seen before.
With Osorio it's almost impossible to know what formation or who the starting XI will be since he's yet to repeat a starting XI and has used a handful of different formations. He also tends to try and keep those reporting on the team off his trail. Mainly this is done by playing with one group of players or with one formation during the open part of the practice session to those in attendance, to come out with a different plan completely once kick off starts. Lastly, he doesn't tell his team the starting lineup until a few hours before game day so their not even sure in the lead up to the match.
Many possibilities for Osorio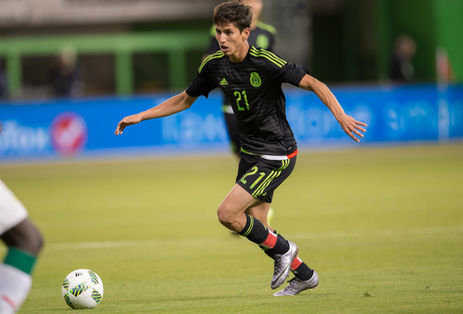 With all that said, with the roster Mexico does have, Osorio has plenty to work with that offers him the type of flexibility he loves in a team. He can go with a three man backline where the combination of Oswaldo Alanis, Hugo Ayala, and Nestor Araujo can all play, and their all players Osorio has used in his time to add depth and have played in some important games for Mexico as Osorio rotates his players. If Osorio chooses to go with a four man backline, Jorge Torres Nilo, Raul Lopez, and Luis Reyes are outside backs he can use, with Alanis and Araujo also possibly being in those positions if need be like they have under Osorio in the past.
The midfield also offers Mexico with plenty of things to work. El Tri have the more defensive minded players like Jesus Duenas and Jesus Molina that can offer support to the more attacking midfielders, while Jurgen Damm, Elias Hernandez, are more wing options if Osorio chooses to go with a more traditional wing attack. Luis Montes, Orbelin Pineda, and Erik Gutierrez are the type of midfielders who can be the connective tissue between between the different levels of attackers.
Of course, both the midfield and the defense lineup will depend as to where Rafael Marquez plays. In surprised many in October when he partnered with Hector Moreno in the backline in Mexico's 2-1 over the USA, instead of playing in the midfield behind Hector Herrera and Andres Guardado. The combination of players around Marquez will be interesting because that will allow him to drift between the midfield and backline as he sees fit, and if the players around him are able to audible into different positions like Osorio has pushed his players to do in the past.
The attack is where Mexico is thin, but this is a great chance for Alan Pulido to make an impact on his return to the national team. With only two true forwards for Mexico, it's likely that Mexico plays with one center forward and two wider attacking minded wing/forwards. Hirving Lozano on one side, with Damm or Hernandez on the other and Giovani Dos Santos playing behind the forward, pulling the strings.
Tomorrow offers a great chance for players to make a case to Osorio for not only next month's qualifiers, but possibly to be considered for Mexico during their busy summer where they will play in two tournaments. It will be interesting to see which players make the most of this chance tomorrow.
XI Prediction:
GK: Talavera
Def: Araujo, Ayala, Alanis, Torres-Nilo
Mid: Marquez, Gutierrez, Dos Santos
Fwd: Damm, Pulido, Lozano