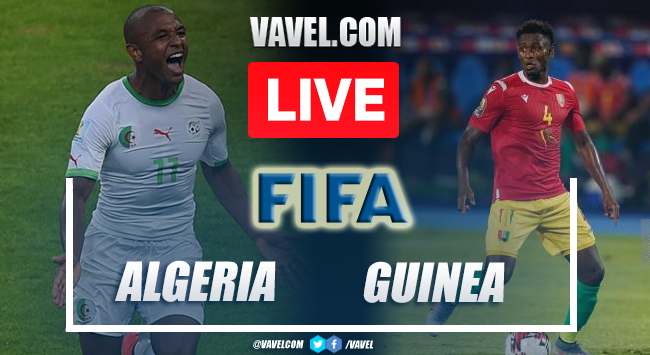 WINNERS
Thank you for following live on VAVEL
IT'S OVER
80
68
61
55
Second half begins
The first half is over
36
27
21
16
11
5
GAME KICKS OFF
IN A FEW MOMENTS WE WILL START
GUINEA'S LINEUP LIST
ALGERIA'S LINE-UP IS READY
TO REPEAT THE FEAT OF EQUATORIAL GUINEA
WHAT'S NEXT FOR GUINEA?
WHAT'S NEXT FOR ALGERIA?
ALGERIA'S LAST MATCH
GUINEA'S LAST DUEL
THE WAIT IS OVER
Tune in here Algeria vs Guinea Live Score
What time is Algeria vs Guinea match for friendly match?
Watch out for this player from Guinea:
Watch out for this Algeria player:
Guinea's final lineup:
Algeria's last lineup:
Background:
About the Stadium:
Expectations continue to rise
In search of a new path
The last FIFA date prior to the World Cup
Kick-off time
Welcome to VAVEL.com's LIVE coverage of the Friendly Match: Algeria vs Guinea!