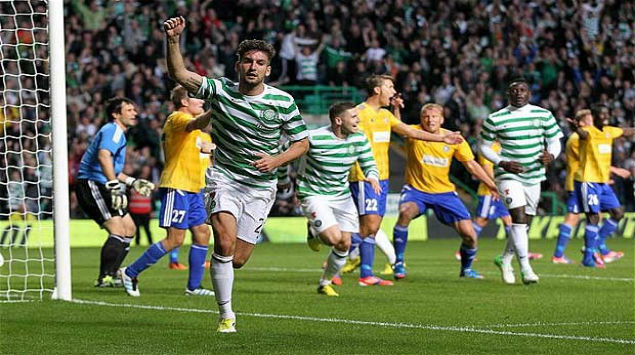 Neil Lennon and his Celtic players have the chance to move a significant step closer to the prestigious - and highly lucrative - group stages of the UEFA Champions League later this evening. They face Antti Muurinen's Finnish champions HJK Helsinki in this second leg qualifying tie.
Celtic take a slim but crucial 2-1 advantage into tonight's tie at the 10,770 capacity Sonera Stadium, courtesy of goals from Gary Hooper and Charlie Mulgrew in the first leg. And whilst the Sonera Stadium is an artificial pitch, something manager Neil Lennon would prefer not to be playing such a crucial European tie, he can perhaps take some solace from the fact that artificial pitches have been good for Celtic in Europe. The last time they played on one was when a Paul Hartley header was enough to secure a 1-1 draw against Spartak Moscow in another Champions League qualifier back in 2007.
The general consensus after the first leg was that HJK had gotten off lightly and had, in fact, somehow avoided a real old fashioned 'doing' at Celtic Park. Frustratingly so for the Celtic faithful, it has to be said, but Celtic's dominance and level of play on the night was enough for most to look ahead to the second leg with a sense of quiet optimism.
Last seasons Europa League campaign saw this young Celtic side come of age - especially in the away games - as they dispelled the hype ( and mainly media driven agenda ) surrounding the clubs previous away record in Europe. Good foundations have certainly been laid, however, my one concern is that this promising foundation has not been strengthened. Lets hope this doesn't prove to be a costly mistake and that we can address this after successfully disposing of HJK.
In the meantime, Lenny and his players will just need to get on with it and negotiate safe passage through to the final qualifying round. Constructing something that can propel Celtic back to the top table - where this club belongs - is the next challenge, and one suspects that will require the addition of a reliable first team, first choice goalscorer and central defender. Minimum.
HJK are by no means European minnows and are a million miles away from being even remotely related to whipping boys either, but, in a purely financial context, they shouldn't really be a match for Celtic. However, as Celtic have ably demonstrated over the years when faced with richer opponents, money isn't always the deciding factor – but it is a major factor in the modern game and ninety percent of the time it will also prove to be the deciding factor.
I sincerely hope that Celtic will find themselves on the right end of a 'ninety percent' result when the final whistle sounds in Helsinki. I suspect we might have to score more than once to progress, though. Get the shooting boots on, bhoys.