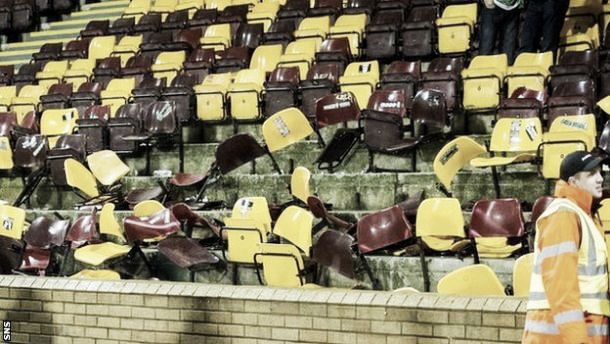 Celtic have issued suspensions to 128 supporters following a number of incidents during Friday's match against Motherwell at Fir Park.
The club has also announced that the section of Celtic Park housing the supporters' group the Green Brigade will be broken up, with 250 season ticket holders being relocated to other parts of the stadium.
A statement from the Green Brigade said it regretted the incidents, which included smoke bombs, fireworks and flares being let off, but denied its members had been involved. However, the group admitted that it should have done a better job of policing the fans within their section of the stand.
It is a criminal offence to enter, or attempt to enter, a public place while in possession of flares or smoke bombs. A large number of seats at Fir Park were also damaged or ripped out by supporters as Celtic cruised to a 5-0 victory.
All 128 suspended fans have been invited for an interview in order to put their version of events to the club, who are working closely with Police Scotland in order to investigate the disorder. All of them are banned from attending any Celtic matches, home or away, pending further investigation.
The club also said they would issue refunds covering the rest of the season's matches to those season ticket holders who did not wish to be relocated.
A club statement said: "These events were an embarrassment to our great football club and are absolutely indefensible.
"It is clear that there is an element which has no hesitation in bringing Celtic's name into disrepute.
"This is something the club will not tolerate and we therefore have no other option but to take this action.
"We will not allow the great name of Celtic to be damaged in this way any more - our supporters deserve more than this."