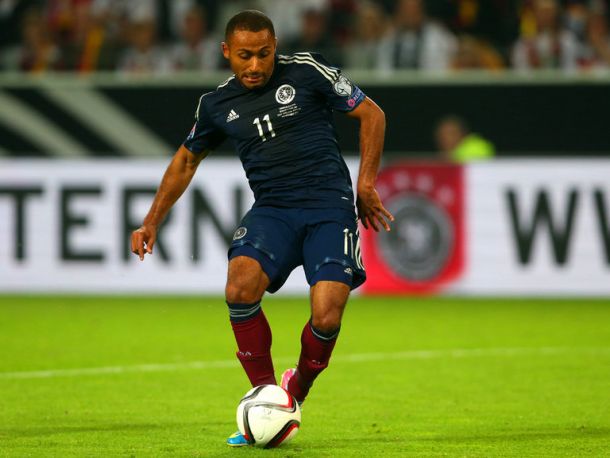 Celtic are believed to be keeping tabs of Watford's Ikechi Anya, and the Scottish champions even weighed up a move for the winger on transfer deadline day.
The Hoops considered tabling a bid of £1.5m for the Scottish international, but instead settled with Mubarak Wakaso and Aleksandar Tonev, whom they had already brought in on loan.
Anya scored Scotland's only goal in a 2-1 defeat to World Champions Germany on Sunday night and has impressed dark blues gaffer Gordon Strachan since breaking into the side a year ago.
"The coaching staff scratch our heads at times and wonder why he's not playing in the English Premier League," said Strachan.
"It's not mugs he's playing against here - it's Germany, Croatia, Belgium and England. The Macedonians were no mugs either and he scored against them too".
The 26 year old attracted interest from Premier League clubs such as Crystal Palace and Sunderland, of which Strachan said: "There is no doubt about it. He could go to a Celtic or a club in the English Premier League no bother.
"He can play different positions too, which makes him even more valuable. He can play on the left as he did against Germany, he can play on the right side, he can even play at left-back. He has not got a problem with any of them.
"And he has got a love for the game which is so refreshing. I think he's worked so hard to get where he is now and he doesn't want to lose it.
"His personality is really infectious. Every morning myself and the staff are the first ones up for breakfast. We make sure of it. Sometimes we are even there before breakfast opens up.
"But every morning Ikechi is the first player through those doors. Always. Never fails.
"He looks like a guy who can't wait to get out of his bed in the morning, go to training and to meet people. Other ones trawl in at different times but his personality is: 'Right, I want to make the most of what I've got'.
"Maybe it's because he came into professional football so late on in life. You have to take a few knocks in life to appreciate what you've got and that might be the case."