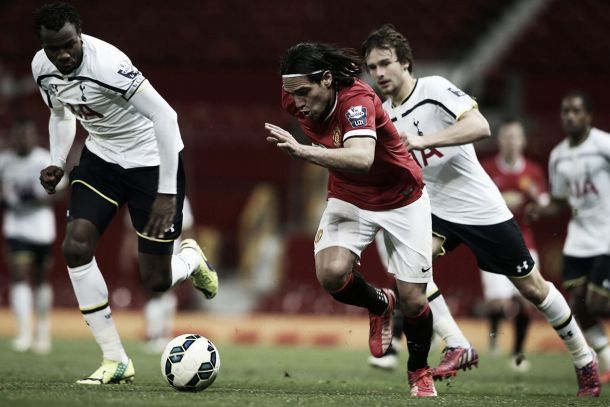 Manchester United manager Louis van Gaal has insisted that his decision to play faltering striker Radamel Falcao in the U21 side was not an attempt to embarrass the Colombian, but rather a bid to revive the out-of-form frontman.
After failing to feature in three of United's last four matches, Falcao was included in the starting line up for the U21s clash against Tottenham Hotspur in midweek. Despite struggling to impress during the 72 minutes he was on the pitch, van Gaal was quick to defend his player and reiterated that he is doing everything he can to bring Falcao back to his brilliant best.
"I have read it was a humiliation," stated the Dutchman. "I do not think so. It is a professional attitude of the manager, the management, also the club and especially from the player. Not only has Falcao played but also Valdes has played and Rafa [Rafael] has played. Every player needs match rhythm. We pay a lot for the players, so I think it's normal that they play football also for us. That can be also in the second team. We are looking for the solution [to Falcao's poor form]."
Falcao was once one of the most clinical strikers in world football, using his explosive acceleration to devastating effect inside the penalty area, always seeming to get in the right positions ahead of opposing defenders.
His finishing ability was unquestioned, scoring goals from positions and angles that others would not even dare to shoot, most famously exhibited in the European Super Cup demolition of Chelsea, where his Atlético Madrid side dismantled the English team 4-1, with Falcao scoring a hat-trick.
Yet after sustaining his serious cruciate injury last year, much of the dynamism seems to have disappeared from his game and his influence has been significantly reduced, scoring only four goals and creating four assists thus far in his season-long loan to the Red Devils.
Van Gaal admitted he was disappointed by Falcao's outing for the U21s, and that the Colombian may never rediscover his best form. "Sometimes players can give fantastic performances in one country but not in another," van Gaal told reporters. "It would not be the first time and it won't be the last. At a club like Manchester United it is more difficult. He has competitors. He knows Wayne Rooney is playing there and scoring. Falcao did not play his best match in the second team but he has tried his utmost best. I cannot ask more from players."