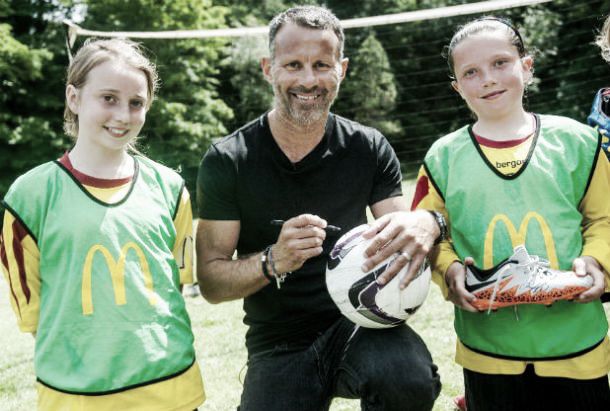 Manchester United assistant manager Ryan Giggs yesterday paid a visit to Underhill Park in Swansea, the home of Mumbles Rangers Football Club.
Mumbles have around 30 teams for children and young people of both sexes and at least ten of their coaches have achieved their Level 2 (C Certificate) coaching award.
Giggs was there in his capacity as McDonald's head of Welsh football to acknowledge the success of the Mumbles club in developing young players. The Mumbles club have been involved with the Football Association of Wales (FAW) in grassroots football.
Giggs believes that the success of the Welsh football team in recent times is something clubs like Mumbles can really take advantage. With the success of the Welsh team, there will be more and more youngsters wanted to play football in Wales, wanting to be the next Gareth Bale or Aaron Ramsey.
Clubs like Mumbles can give these the kids the opportunity to play football and get proper coaching from their qualified coaches. Earlier this year Mumbles were achieved the Gold Award in the Welsh Football Trust national club accreditation programme.
Welsh Football Club Accreditation Programme
The Welsh Football club accreditation programme is a scheme supported by McDonald's, it's programme which recognises and rewards high quality levels of provisions in club football. The programme was launched in 2008 and four standard levels by which the clubs in programme are classified.
Any club wishing to enter the programme must achieve the standard level award, if they wish to enter the programme and then wish to enter into one of the 34 FAW affiliated junior leagues. Above the standard level, there is bronze, silver and gold levels, which all have additional criteria that must be met.
There are currently five clubs who have achieved the top level of gold, with Mumbles Rangers being one of these, the FAW will hoping to add many more to that in the coming and see Welsh football become one of the top nationals in the International game.
Giggs Confident Of Euro 2016 Qualification
Giggs is confident that the Welsh national team will achieve qualification for the European Championships next summer, they are currently unbeaten in their group and top the group having beaten group favourites Belgium in their latest qualification game. Qualification for the Welsh will end their 58 year wait for a major competition appearance.
Giggs believes the Welsh team has a real togetherness at the moment, he believes it's almost like a club team. Stating that Wales currently have a good squad of players, whilst in his days playing with the Welsh national they had some good players, but if they suffered a few injuries they would struggled. He now believes anyone in the squad is good enough to play in the first eleven and they have the added quality of Gareth Bale and Aaron Ramsey.