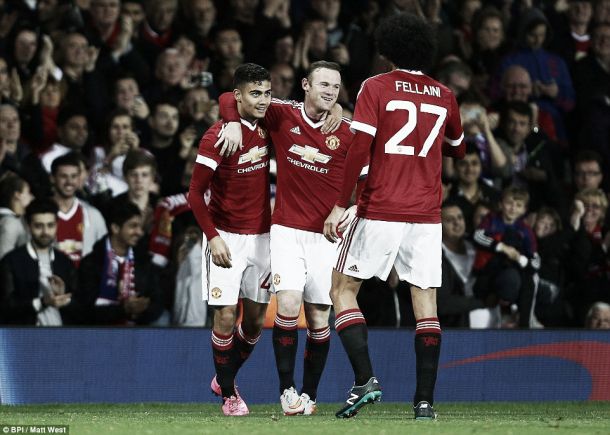 Louis van Gaal knew from the start not to take Ipswich lightly, and he and his men did not at all. Van Gaal threw out what looked to be pretty strong side, while teams like Arsenal and Chelsea threw out weaker sides.
No Memphis Depay or Anthony Martial in the starting XI but the rest of the team was pretty much the first team. Although, Morgan Schniderlin was not in the team for the second straight match and did not come on as a sub.
Andreas Pereira made his competitive debut today and had a very good game. He scored a lovely free kick goal and made incisive runs down the left flank. He had a shot sting the hands of Ipswich keeper Bartosz Bialkowski in the first half and was influential throughout the entire match. The young Brazilian looks very promising and if he can continue this form into later matches, he needs to be considered for the first team.
Rooney gives United the lead in 23rd minute
Not very much happened in the first half. United kept a lot of possession and passed the ball around looking for something to happen, but Ipswich stood resolute. Finally something happened in the twenty-third minute. Wayne Rooney scored his first goal since his hat-trick against Club Brugge. Daley Blind provided a magical through ball over the top that Rooney took down with ease. He finished it off with a beautiful finish into the bottom left corner. Rooney hadn't scored in the Capital One Cup since 2010.
For the rest of the first half there wasn't much doing at all. Again, United kept about 75% possession and looked for something to happen, but nothing did.
Right before the first half ended, though, Tommy Oar and Josh Yorwerth gave United a run for their money, but in the end nothing came from their chances.
During the second half, United had a massive scare as David McGoldrick had a header with no one marking him and missed the spectacular chance.
Pereira curls beautiful free-kick on first start
That seemed to be a massive turning point for the match, just after that United turned up the gas. Juan Mata was tripped up and that setup Andreas Pereira to score a beautiful free kick. Pereira curled it in with his right foot and the keeper had no other option but to watch it soar into the right-hand side of the net.
Martial scores again to make it 4 goals in 4 games
United did not allow Ipswich back into this match at all. They tacked another one on in stoppage time, and who else would it be but Anthony Martial. The ball came into Memphis, he took it down and layed it off for Martial and like always it was a cool, calm, and collected finish into the bottom right. Martial now has 4 goals in his first 4 games for the Red Devils.
United did not let last year's 4-0 defeat to MK Dons get to them at all here as they made easy work 0f Ipswich here.
The Red Devils got lucky with the draw as they see themselves getting another Championship side in Middlesbrough in the round of 16. Surely they should see out that match and move on to the quarter finals.