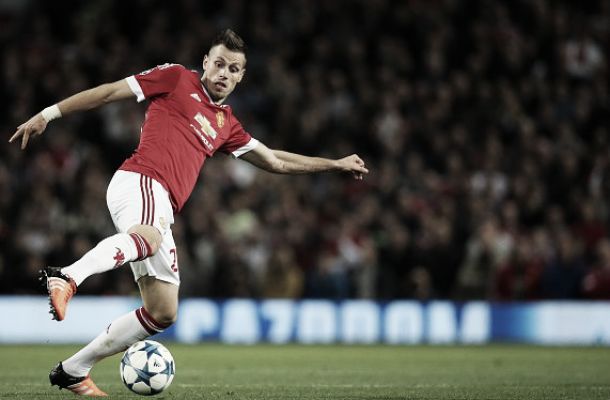 Ever since he became the boss of Manchester United in the summer of 2014, questions were instantly raised on the 'style of play' that is being implemented by Louis van Gaal.
Former players such as Gary Neville claimed it was "too slow". However, new midfield signing Morgan Schneiderlin has claimed that critics who doubted their style of play early in the season.
"We are improving" says Schneiderlin
The Frenchman, who joined from Southampton in the summer, was a key signing for Manchester United, as it saw the midfield strengthened with a player who can do everything. However, with this position comes pressure to bring a certain style of play through the rest of the team.
This is a style of play that Morgan Schneiderlin now believes United are in fact implementing. After the 2-1 victory over German side Wolfsburg in the Champions League, where Manchester United came from behind to win courtesy of goals from Mata and Smalling, Schneiderlin stated that "I do feel we are improving," he went on to claim that "at the start of the season people were talking about good results and not very good performances. In the last few weeks I don't hear this any more."
The results are still coming for United
While the style of play and performances were arguably not up to scratch there has been no denying that Manchester United were still grinding out more often than not, positive results. With their 3-0 victory over Sunderland at the weekend the Manchester side moved top of the Premier League for the first time since David Moyes's opening game of the season against Swansea in 2013, which the Red Devils won 4-1.
It was vital that United won last night against Wolfsburg after their disappointing defeat to PSV in the opening fixture of the tournament. However, United quickly found themselves 1-0 down at home, a penalty converted by Mata and a goal by Smalling superbly set up by Mata brought the three points home.
The Martial effect has changed United
The introduction of new striker Anthony Martial has been pivotal in the improving performances by United, with a new injection of pace up front that Wayne Rooney just can't offer. As a result the rest of the team are able to play with more pace and injection, beleiving that they have a man who can make things happen more often at a quicker speed.
While it is still up to debate as to whether Manchester United are truly playing better football than they have been the last season and a half, they are still getting the results they need.