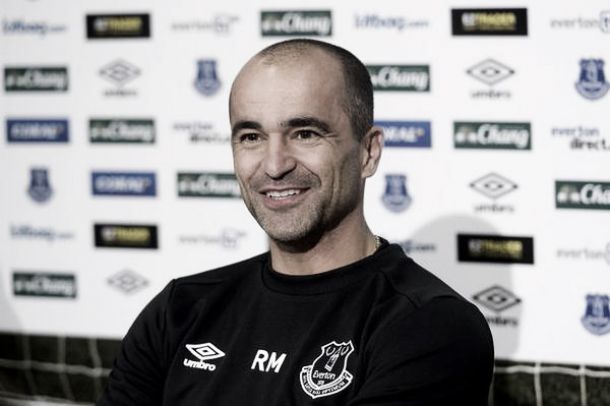 Ahead of the hotly anticipated first Merseyside derby of the season, Roberto Martinez has spoken to the media and given his views on Everton's injuries, confidence and Liverpool.
Confidence of the Everton squad
Roberto Martinez said that the confidence of his Everton squad has "gone through the roof" since the comeback win over West Bromwich Albion.
With a squad that has a number of key players who relay on confidence, Martinez's side may be in the best position to beat for the first time in a few years.
Romelu Lukaku is scoring goals, Ross Barkley is linking play well and Gerard Deulofeu is finally getting playing time. If everything clicks and goes well for Everton, they can take three points from Liverpool.
His side come into this game in hot form and backed by a number of pundits and expers to beat their Merseyside rivals in this game.
Being derby favourites
After they're win over West Bromwich Albion, Everton have been backed as hot favourites for the derby thanks to their form.
Roberto Martinez said that form goes out of the window for this game and that the "past doesn't matter" in these 90 minutes.
He did however say Liverpool should be favourites because if you look at "the amount of money Liverpool have spent in the last three seasons" they should be viewed as favourites for this game.
On the opposition, Liverpool
Martinez also spoke about the pressure that Liverpool boss Brendan Rodgers is currently under. He said it is "a part of the game" that you're under pressure when you aren't winning games and you "accept that" as a manager.
Liverpool failed to beat FC Sion in the Europa League during the week, increasing the pressure on Rodgers and with managers like Carlo Ancelotti and Jurgen Klopp reportedly being sounded out for the job, a bad result in the derby may see the end of his tenure as Liverpool boss.
The Toffees boss would not be drawn into comparisons with the Liverpool squad but did say that he develops a squad on a "window to window" basis and he is "delighted" with what he has.
Injuries and fitness
John Stones and Seamus Coleman were both tipped to be ready for this game but Martinez now says they will be tested on the day of the game.
Stones and Coleman have missed a number of games each since picking up injuries in wins against Reading and Chelsea.
Martinez said it's "too early" to tell if they will be fit to face Liverpool. He continued by saying he'll need to make a judgement but "will make the right call" in regards of whether or not he risks them.
Apart from Stones and Coleman, the Everton boss says he has no "fresh" injury concerns ahead of the derby.
Ramiro Funes Mori has shown he can stand in for Stones and Tyias Browning has been a solid fill in for Coleman, but the injured defenders are two of Everton's best players and they would be huge boosts if they made this game.