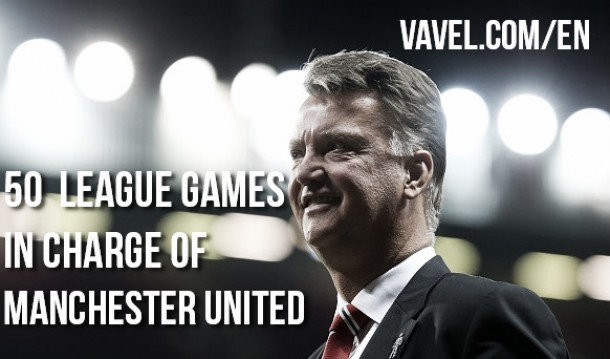 The Dutchman has been frequently under-fire from Manchester United fans claiming his side is appearing boring and uninspiring, but still has managed to bring the club back into the top four - which was the main target of last season - and they're still in the mix for the Premier League crown this campaign. So what do the ice cold numbers state on the former-Ajax manager's tenure so far?
Points
After all, a manager is mostly judged on the number of points his side is able to pick up. United haven't done badly in that respect since August 2014, yet third in any relevant rank shouldn't be enough to please anybody related to the twenty-times champions. Note that even with a United win against Watford and a Chelsea loss against Tottenham, United will still have picked up fewer points than the Stamford Bridge outfit in the period, despite the latter might theoretically find themselves in the drop zone in the way of such results.
Note that the champions standard is approximately 2,3 points per game. Chelsea winning it with 87 points last season took them to 2,289, and in the season prior, champions Manchester City captured 2,263 per game. United's most recent title-winning campaign - 2012/13 - saw the Red Devils clinch 89 points in total, averaging 2,342 of each 90 minutes of play.
Goals scored
Many United fans have never seen their club in the pre-Ferguson era, so they're comfortably used to see their side outscore their opponents. This hasn't always been the case under Van Gaal, with only 1,58 goals coming United's way on average each game, which is some distance off their trigger happy blue neighbours, who are the only side scoring more than twice a game in the period.
For comparison, United bagged only 58 goals in 2004/05, the lowest number in the Premier League under Ferguson, which is 1,53 goals on average per game. David Moyes' 34 league games in charge included United scoring 56 goals in total, averaging 1,65 successful strikes per game, which is more than Van Gaal has managed.
Goals conceded
However, the one parameter where United are excelling is when the number of goals conceded enters the agenda. Only Arsenal have matched United's tally in the period, and nobody has bettered it. This really is Van Gaal's bread and butter, with United keeping a clean sheet in basically every third game, piling up 18 of the sort under the charismatic Dutchman.
For comparison, United's best season in the Premier League in terms of goals conceded is 2007/08, when Edwin van der Sar, Wes Brown, Rio Ferdinand, Nemanja Vidić and Patrice Evra made sure United shipped only 22 goals over the 38-game campaign, which leaves the average on a staggering 0,6 goals conceded per game.
Results
With Van Gaal being frequently criticised for tedious and pragmatic football, his critics might have a point here. Only six league games out of the 50 have ended with four goals or more, and that includes the complete freak incident at King Power Stadium last season, when United ended up losing 3-5 to Leicester City. For the record, that eight-goal thriller is the most-scoring game under Louis van Gaal, followed by the vastly impressive 4-2 check mate against Manchester City at Old Trafford.
The most common result is 2-1 in United's favour, which has occurred on seven occasions, all of them coming last season, closely followed by 1-1 and 0-0, with six occasions each; the latter scoreline climbing up the ladder recently with the consecutive goalless draws against Manchester City and Crystal Palace in mind.
The heaviest defeat took place in April last season at Goodison Park, with James McCarthy, John Stones and Kevin Mirallas stabbing United to an agonizing 3-0 blow. On the other hand, Ángel Di María, Ander Herrera, Wayne Rooney and Juan Mata engineered the most convincing win for the manager, driving past QPR to a comfortable 4-0 scoreline.
However, if you're dreaming of another 4-3 winner by Michael Owen in added time, you need to dream a little bit more, because that particular result hasn't even showed up once for Louis van Gaal.