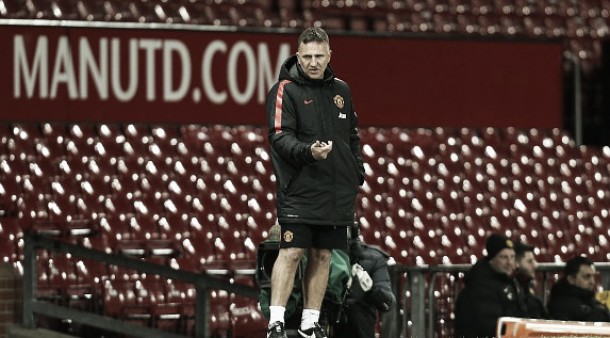 First-team class from Kyle Lafferty and Jamar Loza saw Manchester United under-21s lose away to Norwich City.
Lafferty struck a brilliant left-footed volley past Sam Johnstone in the second half before Loza doubled it up after breaking clear of the United defence.
Nick Powell returned after 10 months with injury, playing 54 minutes and being one of the main stars of the evening.
---
The return of previously crowned wonder kid Nick Powell was the headline of United's team, starting behind Ashley Fletcher.
After a few misplaced passes in the general rustiness of Powell's first game in ten months of injury, the 21-year-old delivered a great cross to Fletcher, who fouled his marker for a Norwich free-kick.
Norwich used the allowance of first team players in the side to the full extent with Graham Dorrans' corner lashed over the crossbar by Northern Ireland hero Kyle Lafferty.
Powell and Lafferty remained centre-stage, the former lacing a 30-yard strike well wide. A Dorrans free-kick made its way towards Lafferty again, but Sam Johnstone claimed it well.
The headline-writers came close to an early bath as they got in each others faces right in close proximity to the referee. With Powell needing to show improvement and quality after his long-term injury and Lafferty needing to impress to get a first team place, the two were determined to outshine the other.
Powell responded quickest, shooting from long range again, this time on target but straight at the goalkeeper. Lafferty fulfilled his defensive duties too, clearing from a good Sean Goss free-kick.
Joe Riley impressed in an unnatural left-back position, called up from the under-18 side. He jumped two challenges before earning a corner for Man United.
Busy as well was midfielder Josh Harrop, bounding all over the pitch. His near-post drive was saved by Rudd for a corner where the Norwich goalkeeper claimed the ball well.
So busy was Harrop that he nearly had his game ended before the break, earning a lenient yellow card for a dangerous challenge.
Dorrans got his name in the book straight after half-time, where United were the happier side.
Powell's comeback was ended after 54 minutes, replaced by Marcus Rashford, who was on the first team substitutes bench against Watford on Saturday. Powell did well, looked stronger than before his injury after work in the gym and will hope to have more performances like this.
Lafferty strikes brilliantly to give Norwich lead against run of play
Minutes after Powell disappeared down the tunnel, Lafferty stole the show with a superb left-footed volley past Sam Johnstone. Dorrans' long ball was finished with a first team, international player class that even David De Gea would struggle with.
Rashford had a chance to level things up, coming one-on-one with Rudd. Yet with defenders closing in on him his prodded shot was saved easily.
Another great chance came for United as Norwich lost possession, Fletcher pounced. Yet the striker's pass was wasteful and left Rashford running on goal without the ball at his feet.
Fletcher was substituted for Chris Willock soon after as goalscorer Lafferty departed for Arinse Uade.
Loza doubles up for Norwich
Jamar Loza made it two for Norwich at Carrow Road with another great shot. His left-footed strike nestled into the bottom right corner after poor United defending leaving Johnstone running out of his goal, poorly as well.
Harrop, one of the brighter players for United, dribbled through two defenders on the left flank before having his shot saved by Rudd.
Axel Tuanzebe had to be quick to catch up with Jamal Lewis in the final few minutes and stop Norwich getting a third.