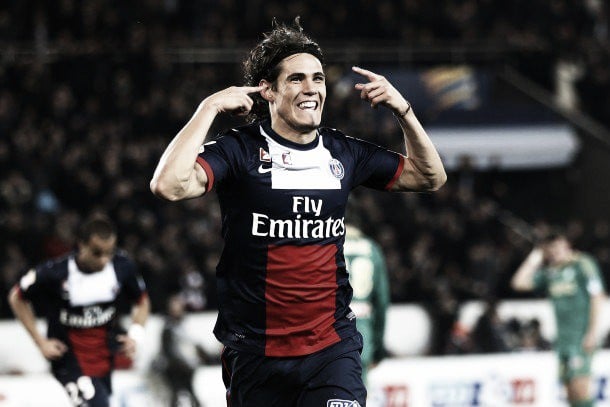 Manchester United have been a side who have struggled with goals all season, with just 20 goals in 14 games making them the least prolific side in the top five by at least four goals. With the main man Wayne Rooney misfiring all season and Anthony Martial cooling off, after his hot start, United are reportedly looking into new attacking options. According to the French newspaper L'Equipe on Tuesday reported that Edinson Cavani is an option for United, especially with the Uruguayan being so unhappy at Paris Saint Germain.
Position at PSG has caused a rift
It is believed that the key reason as to why Cavani is so unhappy at PSG, is he is being forced to play on the left wing instead of centrally, due to PSG's Swedish striker Zlatan Ibrahimovic. Cavani joined from Napoli where he scored 104 goals in 138 appearances in all competitions.
Understandably, this fine form earned him a move to one of Europe's better sides in PSG, however he is far from happy with not playing centrally and being stuck on the wing.
L'Equipe have claimed that both Manchester United and Atletico Madrid are involved in the chase for the Uruguayan's signature, while PSG have not budged on selling him as of yet it could very much depend on their summer transfers.
With Ibrahimovic reportedly leaving in the summer, this could give Cavani the chance he wants to play centrally. However the main three names on PSG's summer shopping list are Cristiano Ronaldo, Neymar and Robert Lewandowski all of whom will play down the middle if they do move to PSG, could again see Cavani demanding an exit.
Where will he fit in at Manchester United?
While Cavani's reported anger at PSG, is being played on the wing, where exactly will he fit in at Manchester United?
Louis Van Gaal has already shown a reluctance to move Wayne Rooney away from the central position, even taking him several games to budge and play Rooney at number 10, for Anthony Martial to go centrally after the youngster was forced to the wings for several games.
It would be very unlikely that if Cavani moved to Manchester United, that if Louis Van Gaal was still at the club, he would move both Rooney and Martial to accommodate for him. Meaning the problems of playing on the left would still be here, Cavani would be much better suited to Atletico Madrid who are willing to play him more centrally.