 Manchester United midfielder Paul Pogba described himself as "very happy" and satisfied with his debut victory with the club.
Pogba says he felt 'very good' during the game
The French midfielder played the full 90 minutes during the 2-0 win against Southampton, even though he had only been training for 10 days - but he certainly didn't show it on the pitch.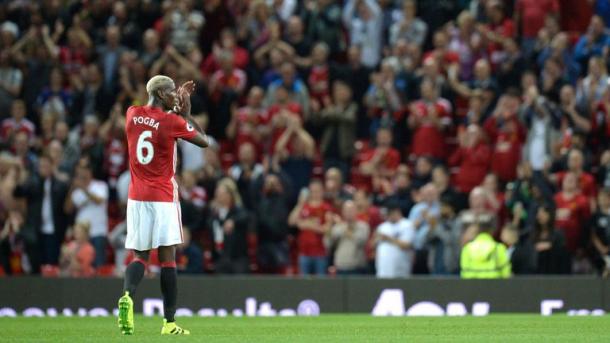 Pogba was prominent during the game that saw Zlatan Ibrahimovic score both goals. The French midfielder though was the one that many fans was talking about and he was just happy the team got the positive result.
Speaking to Sky Sports after the game, Pogba said that "it's great" that on his "first debut" the team managed to get the win and he said he is "very happy for that and for the team." The midfielder went on to say that he is "happy for the win" and hopes to "carry on like this" as the team try and build some momentum this season as winning is "all we can do."
When asked how he felt after playing the full game, Pogba replied "I feel very good" which is incredible after having trained so little before the game. Pogba says that "at the end I missed a bit" but that through the whole game his "legs felt good - I can carry on." Pogba felt that during the "first 20 minutes we started very slowly" but as the game went on the team improved a lot.
Pogba and Ibrahimovic already building a strong relationship at the club
One of the things that was clear to see on the pitch is that Pogba is the kind of player that United have missed for the last few years.
The midfielder also has a good relationship with the players, especially Ibrahimovic and after the game, it was clear to see as there was a joke between the two players that Pogba should have passed when he went for goal just before the end of the game.
When asked about whether he should have passed at the end of the game instead is shooting, Pogba said "that's what [Ibrahimovic said" but added that he will have to "see the replay again." The main thing though for Pogba is that the team wins as this is the "most important thing."