 Manchester United manager Jose Mourinho has insisted that youngster Marcus Rashford has a part to play in his side after his injury-time winner over Hull City.
Right at the death
An unlikely top-of-the-table clash emerged as United traveled to the KCOM Stadium, and for the majority of the contest they were unable to break down Mike Phelan's side.
The 18-year-old snatched all three points two minutes into added time, just 15 minutes after coming on. This was Rashford's first appearance in the Premier League under Mourinho, and the Portuguese insisted that the player will be a part of his side this season.
"In the two matches when we have needed a winner, against Leicester and today, he has done the job," Mourinho said in his post-match press conference.
However Mourinho was adamant: "He's playing well at 18 but our number one striker is such a good player. We play now with a second man behind Zlatan (Ibrahimovic)," Mourinho continued: "We can start some matches with a player in front of Zlatan."
The Portuguese coach concluded talk on Rashford saying: "The kid is going to play lots of matches, for sure," and was firm in the fact that "It's not the winner that has made me change my mind (about the role Rashford will play this season)," and believes that the teenage striker "can play, he can be on the bench."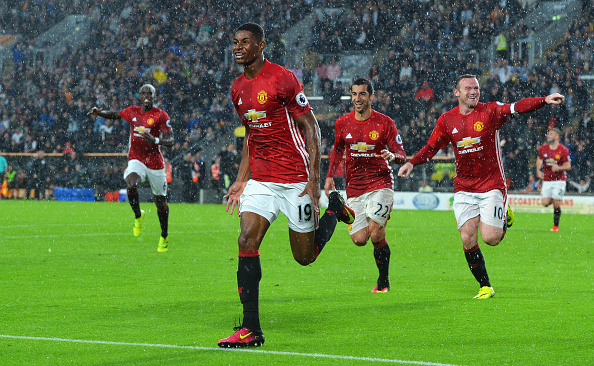 Reminiscent of the old times
The last-gasp winner will remind many United fans of their time under the tenure of Sir Alex Ferguson, and the many infamous late goals that came in 'Fergie time', and Mourinho was more than happy to call the goal that, which he believes was always coming.
"[Sir Alex Ferguson is] such a legend in the club and I'm more than happy to say that we won in 'Fergie time'. I'm more than happy with that." Mourinho admitted.
He concluded: "I always believed the goal would arrive," and was firm in the belief "I know when we score late people will speak about a bit of luck but the reality is we deserved it, especially in the second half. We were so dominant, so intense in our rhythm and our attacking wave and I always believed the goal would arrive."
Manchester United's next game is a mouthwatering clash with rivals Manchester City at Old Trafford on Saturday, September 10 with kick-off at 12:30pm BST.