Manchester United captain Wayne Rooney is excited by Marcus Rashford's talent and feels that it is only a matter of time before he gets more game time at the club.
Rooney expects Rashford to play a big part for United this season
Rashford has had to settle for a place on the bench for the first few games of the season and has had very little playing time so far. The youngster though made a massive impact for the team at the weekend and got a deserved winner against Hull City to keep up United's 100 percent start to the Premier League season.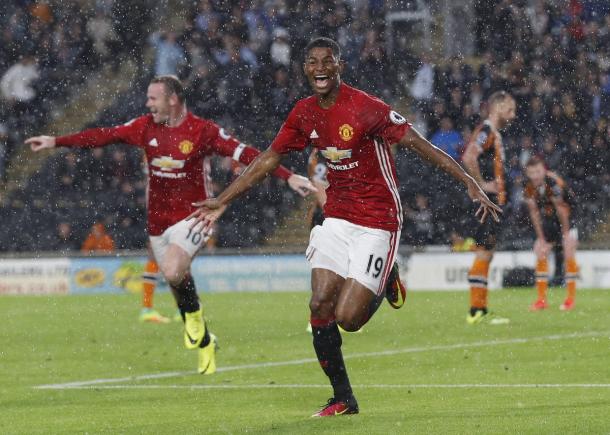 The goal was Rashford's ninth goal in 20 senior appearances and Rooney expects him to contribute plenty in the coming weeks and months as the team strive to keep on winning every single game.
Speaking to reporters after the win at the KCOM stadium, Rooney said that Rashford is a "fantastic player, one of the brightest talents in European football" which he is showing consistently when he comes on to the pitch. The striker continued to say though that Rashford is a "young lad" so it is very important to "not get too carried away" and let him get on with what he is doing so well.
The United captain went on to say that "as team-mates, we need to try and guide him through" all of the media drama when he is doing so well and let him "focus on the football." Rooney says that he is sure that Rashford's "chance will come" in team even though at the minute he has had to sit on the bench and watch but when he came on at the weekend Rooney says he did "brilliantly" and that he is an "important player for us."
Playing for the England Under-21s will only help Rashford, says Rooney
Rashford's incredible rise last season earned him a spot at Euro 2016 with England but he didn't play very much which was mistake as the team needed his pace during games. The striker has now been named in the Under-21 squad for the forthcoming Euro qualifier against Norway rather than being called into the senior squad but Rooney feels that will only benefit him going forward.
Rooney says that "It's a huge honour" for Rashford to play for England and "it was a big moment for him to go to the Euros" but for now it is also still important for his "development to go and play with the Under-21s". The reason why it is important is so that Rashford "gets games because he hasn't played much" says Rooney and he thinks "it will be good for him" going forward.