Stoke City fans were left disappointed on Saturday as, after a few weeks of improved form, their team fell to a 1-0 home defeat against Bournemouth.
The game was an extremely disappointing one for those of a red and white affiliation as Stoke fell at home to an opposition who they have aspirations of finishing above.
Howe gets the better of his foe
Stoke did not get anywhere near the levels expected of them, but it would be too simplistic to lay the blame solely at the feet of the players. In a battle of tactical wit it was Mark Hughes who was bettered by Eddie Howe, whose side executed his game plan to perfection.
The intensity of Bournemouth at the opening of the game was astounding and left no chance for the 'Potters' to get involved in the clash. The pressing from wide men Junior Stanislas and Josh King left both of Stoke's full-backs deep and unable to get involved in the clash. These full-backs play an essential role in the sides build up play, and with both frozen out of the game Stoke were left unable to dictate play.
The statistical proof of this is clear as up to Nathan Aké's opener Bournemouth dominated possession at 60% to Stoke's 40. The goal itself came from a zonal marking system that has increased heart rates throughout North Staffordshire, and once again came unstuck.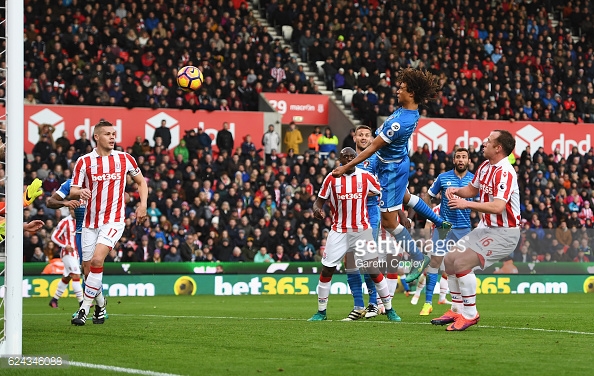 Once Bournemouth had the lead they sat deep and looked to maintain a rigid defensive structure and only advance on counter attacks. This tactical switch saw the possession statistics swing to 55% for Stoke and only 45% for Bournemouth, as Stoke began to dominate play without finding that killer instinct to find the equaliser.
The most concerning element for 'Sparky' to deal with was the lack of effect of his two central attacking players Bojan and Wilfried Bony. Neither had any real effect on the game, aside from the devastating penalty miss for the Catalonian, and it appeared the presence of both detracted from the performance of the whole.

Joe Allen was not afforded the freedom he normal carries, and this saw him entering the already crowded centre of the pitch. Charlie Adam could not replicate the form he had displayed in the previous two matches and arguably had the most disappointing performance of all.
Unfortunately the importance of the win led to Howe's men performing some desperately unsporting acts, mainly in the form of time wasting. Subs appeared to take minutes rather than seconds and Adam Federici even got booked for delaying the penalty early in the second half.
This all factored into Howe's tactical victory, which has reopened many of the issues surrounding the 'Potters'. Hughes cannot afford a similar setback to the one at the start of the season, and it will be essential that he can rally his team to a good performance away to Watford next weekend.