As Mike Phelan continues to wrestle with the current Hull City defensive injury crisis, teenage sensation Josh Tymon was called upon to make his Premier League debut against Sunderland. It was a baptism of fire for the youngster who faced a tough afternoon against Victor Anichebe, although the Academy graduate certainly enjoyed his experience.
"Dream come true"
Earning just £150-per week, less than the majority of fans at the Stadium of Light, Tymon admitted "it felt out of this World to make my Premier League debut". The Yorkshire local was quite rightly proud of his achievement and added "it was a proud moment for me and my family, especially at my age. I couldn't be happier".
Expanding upon his "dream come true", Tymon showed maturity beyond his years as he directed attention back on the team, explaining "I was gutted we didn't get a result but I couldn't be much prouder to play for my hometown club in the Premier League".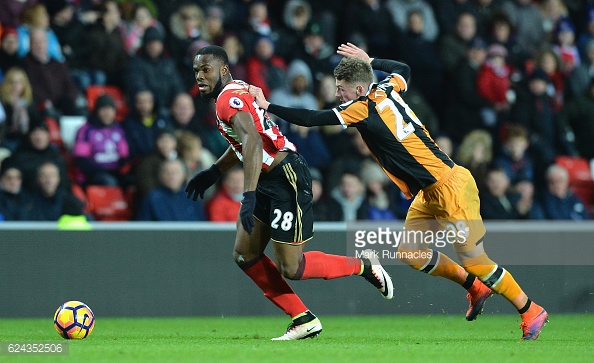 "He has serious potential"
Manager Mike Phelan felt Tymon produced a good display and suggested fatigue was the reason for his replacement. He explained "he was up against an experienced player but I thought he handled it well. The excitement of the day and moment probably tired him a little bit and that is why we ended up changing things in the second half, feeling as though we could get something out of the game at that point".
Phelan also suggested that this fixture was the right moment to hand Tymon his Premier League debut after impressing in cup and Academy matches. "Josh has been ready to play and he has been patient enough. It was time to give a young player an opportunity".
The manager now believes he has a task to use Tymon's ability in the right manner, claiming "there's a talent there with Josh. He has serious potential and going forward we have to handle that".
The impending return of Andrew Robertson could aid that process with the manager explaining "he's doing work and preparation for being fit probably in two weeks' time. We have to be a little bit careful because calf injuries have a habit of reoccurring".