Jesse Lingard scored a stunning individual goal against Watford in Manchester United's win at the Vicarage Road. Needless to say, BT Sport pundit and Manchester United legend Paul Scholes was just as impressed as fans were by Lingard's goal.
Paul Scholes believes that Lingard should push on for a spot in the first-team and that Lingard is a much better fit for the team than Mkhitaryan. He told BT Sport:
"Maybe they [his teammates] don't trust him [Lingard] enough."
"He's not the big name of a Mkhitaryan or somebody like that. He's got that ability. He's got the same level of ability as Mkhitaryan.
"He can score goals, he can make goals. What's his best position?
"He has to establish himself now, he has to be more consistent, he has to produce more performances like that to make him a real first team player.
"I don't think he's ever gone on from that bit-part player yet - now he needs to."
Not everyone will agree with this but, it's about time Jesse Lingard got some recognition for his hard work and talent.
He has been performing way better than Mkhitaryan for the past few months but got very little recognition for it.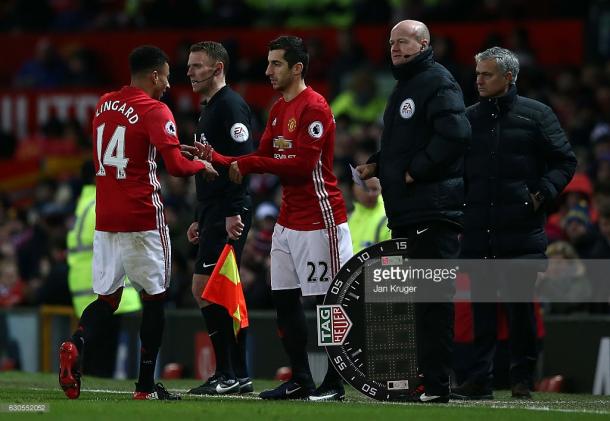 Does Lingard deserve to start ahead of Mkhitaryan?
For many, the simple answer is yes.
Most would argue that Mkhitaryan is miles ahead of Lingard in terms of ability. But, there's no point having talent but not have the consistency to show it. Lingard has the consistency and gives his all whenever he plays.
Manchester United are currently sitting second, eight points off from league leaders Manchester City. Every game that United play now is as crucial as ever. Lots of fans thin that United can't afford to risk losing by starting Mkhitaryan, with Lingard more than deserving of his chance.