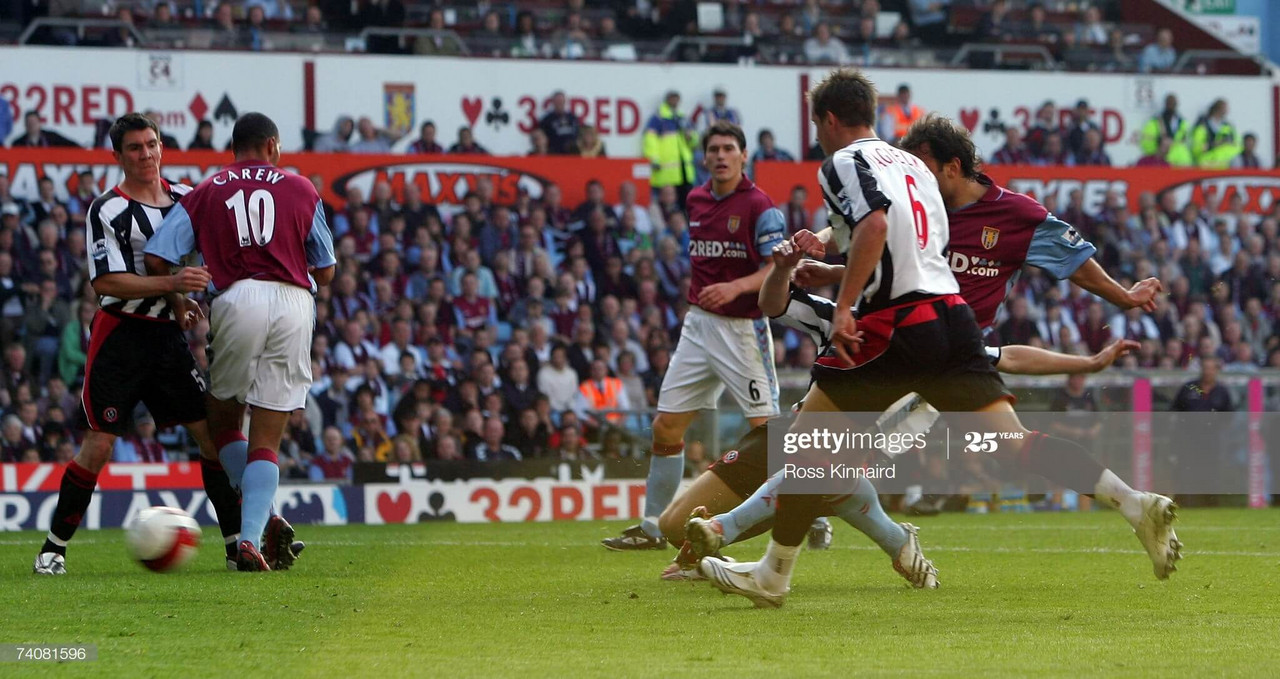 The eyes of the world will be on Villa Park on Wednesday evening when Aston Villa and Sheffield United restart the Premier League season.
While many will think back to the 3-3 thrill ride at Villa Park in 2019, it's far from the most significant meeting between the two in the last 15 years. While it may have slipped under the radar for many, the meeting at Villa Park in May 2007 had disastrous consequences for the Villans in the long-term.
Great Expectations
This was the final match of a fairly middling 2006/07 season for Aston Villa. They finished 11th in the Premier League under new manager Martin O'Neill and had shown signs of promise, they had been seen to struggle.
They went on an 11 game winless run between November and January, losing five of those on the run. Despite this, they had built the spine of a thoroughly decent side. January deadline day saw the arrival of Ashley Young from Watford and John Carew from Lyon. The season had also seen the emergence of local striker Gabriel Agbonlahor. The youngster scored 10 goals across 42 matches that season.
The match itself was routine. Sheffield United were struggling in the bottom three. They would in fact be controversially relegated a week later due to that Carlos Tevez strike. It was three goals from three different scorers for Villa. First was Agbonlahor, then Young and finally forgotten man Patrick Berger.
It wasn't the match which had dire consequences for the Birmingham giants, it was what was revealed after the match which had the impact.
A new era
Alongside a new manager at the start of the season, a new owner arrived. Long time owner Doug Ellis stepped aside for a younger, more ambitious American businessman. The man was Randy Lerner who had made his money after inheriting NFL franchise Cleveland Browns from his father.
Villa were his first project on his own and he spent the first year of his reign finalising plans to take Villa forward into a new age. He made funds available for Martin O'Neill to mould his team for the future, most notably the £9 million fee for Ashley Young. However, fans knew more was coming.
Fans arrived to the match to find a free commemorative scarf on their seats, displaying the new badge and a new motto: Proud History, Bright Future. After the match, members of the 1982 European Cup winning squad came onto the pitch with the trophy and all of them wore the same scarves given to fans. Clearly a new era was arriving.
Bright future?
The following summer was an exciting one. Bodymoor Heath was redeveloped into a state-of-the-art training facility and some promising signings were made. West Ham duo Nigel Reo-Coker and Marlon Harewood arrived alongside promising Liverpool stopper Scott Carson on loan.
It was a fantastic season for Villa, jumping up to sixth in the league and featuring brilliant results. These included a 4-4 draw with Chelsea on Boxing Day and a 5-1 Demolition Derby victory over relegated Birmingham City.
Two more sixth placed finishes followed, including European runs and cup finals and Villa looked more and more like Champions League contenders every season. However, the failure to break into the top four in 2009/10 season proved to be enough for Lerner.
Unravelling
It had become obvious that James Milner was going to leave Villa Park for Manchester City following an electric 09/10 campaign. The fee was £30 million, massive money at the time and it remains the second highest fee Villa have received for a player. O'Neill wanted to use this to reinvest in the squad. Rumour had it that O'Neill wanted to bring in three players from Tottenham, possibly Robbie Keane, David Bentley and Aaron Lennon. Lerner refused to give O'Neill the money he wanted and an argument ensued.
Martin O'Neill was sacked a week before the 2010/11 season was set to begin and was temporarily replaced with reserve manager Kevin MacDonald. His reign got started well with a big win over West Ham before Milner was sold and Villa were thumped 6-0 by Newcastle within the following week. Villa drafted in Gerard Houllier for the permanent manager's post in September and he would ironically be given every penny of the Milner fee by Lerner. With Villa staring relegation in the face, Lerner agreed to splurge a combined £30.4 million (after add-ons) on Jean Makoun and Darren Bent as well as the loan signings of Michael Bradley and Kyle Walker. The £18 million initial fee for Bent wouldn't be topped until the arrival of Wesley in 2019.
Villa survived but were simply plunged into deeper relegation trouble over the coming years. Houllier was sacked at the end of the season and his replacement, Alex MacLeish, could only muster a 17th placed finish. He was also sacked after a season and was replaced by Paul Lambert who got two consecutive 15th placed finishes before being given the boot in February 2015. Tim Sherwood secured survival and an FA Cup final before he was sacked ten games into the 2015/16 season with the club bottom of the league.
Proud History, What Future?
Throughout all of this trouble, Lerner withdrew from England more and more. Following an expensive divorce, he put the club up for sale in 2014 and left chief executives Paul Faulkner and then Tom Fox in charge. He gave them both one strict instruction: spend as little as possible.
After the FA Cup final defeat, Lerner allowed Head of Recruitment Paddy Reilly to spend the £50 million generated from the run and the sales of Christian Benteke and Fabian Delph. Signings made were usually underwhelming and went against what Sherwood wanted.
It was Fox who appointed Remi Garde after Sherwood was sacked who did little to stop the rot. Lerner's final act as owner was to make Steve Hollis chairman in December, who immediately dismissed Fox and many senior members of staff. He wanted this to include Garde, however he was overruled. Hollis also denied Remi Garde the money he wanted to improve the squad in January and the Frenchman was sacked in April 2016. The club was relegated three games later.
It was around this time that banners and flyers started appearing around Villa Park depicting the message of 'Proud History What Future' on match days. This was obviously in reference to the message displayed on that day in 2007. These flyers were even held aloft by opposition fans by the end of the season, especially by Southampton.
Lerner sold the club at the end of the season to the Recon Group, led by Chinese businessman Dr Tony Xia. Villa had to have another takeover before being promoted from the Championship.
While it initially looked as if Lerner's promise of a better future would come true, it soon collapsed under the weight of Lerner's own expectations. It's always odd when you can pinpoint one match that changed a club's future, especially when it seemed to be nothing more than a simple rebranding at the time.
If Villa truly want a bright future for themselves in 2020, it has to start by repeating the effort of O'Neill's Villans in this fixture 13 years ago.