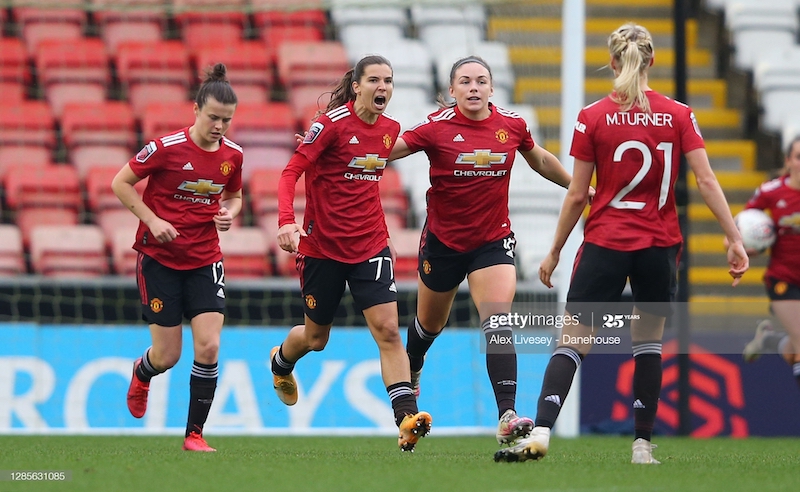 Utterly dominant in the first half, Manchester City were made to rue missed chances by a determined Manchester United side who came from two-behind after the break and stay top of the Women's Super League.
It was a frantically brilliant start to Women's Football Weekend. City played better than they have all season in a first half in which they could, and perhaps should, have scored three or four. United responded in the second when they finally found some answers to their rivals' excellence.
Chloe Kelly put City in front and a fierce drive from Laura Coombs made it two. United were brought back into the game by a stunning rocket from Tobin Heath and the equaliser was a bundle-into-the-net from substitute Kirsty Hanson.
Rarely has a game so perfectly encapsulated the 'game of two halves' cliché.
Story of the game
Manchester City were imperious in a first-half performance which was their best of the season. Their passing was quick, tidy and sharp, their pressing effective and constant and their movement unstoppable.
United had begun well with a good press and a couple of sparks of creativity to briefly threaten the City goal. Within five minutes, City had asserted themselves on the game. The next 40 minutes were a reality-check to previously high-flying United.
On the left-wing, Georgia Stanway had the regular beating of Ona Batlle. After nicking the ball off Batlle, Stanway thrashed a shot into the near side-netting. It was a sign of things to come.
A scramble in the box provided City with their opener. Chloe Kelly matched onto a messy poke from Lucy Bronze and, with the outside of her right boot, brilliantly turned it past Earps.
United couldn't get a control on possession. "Stop shooting," was the American-accented shout as the Reds won the ball back high up the pitch and immediately shot. "Keep the ball now," was the call from midfield a few minutes later as United finally managed to stop City's attacks.
Sam Mewis saw two shots blocked almost off the line and headed on to the roof of the net once. Kelly looked for another too, striking a pulled-back cross from Stokes. Galton blocked well.
A break in play to treat the injured Earps, who had collided with Stanway, gave United some breathing room. Out of it, a small highlight came from Christen Press. She toyed with her marker, moved past her into the box and dinked a ball over to the far post. No one was there to meet it.
Just as four minutes of added time were being announced, Laura Coombs sent a screamer past a helpless Earps. City deserved a two-goal lead, and maybe more. It was nevertheless a bitter blow for United who had somehow kept themselves in the game up to that point.
Coombs celebrated wildly, and so did her teammates, on and off the pitch. She's been a surprise regular in the City team this season despite the array of world-class signings the club have made. Gareth Taylor has stuck with her and its paid off. Her finish was perfect. Having set out a loose ball onto her right, she thrashed it home.
United went in at half-time knowing changes had to be made to avoid a drubbing. Jess Sigsworth was replaced by Kirsty Hanson. Whether it was that change or a rousing teamtalk from Casey Stoney, something worked.
United dominated early possession after the break and an absolute scorcher from Tobin Heath got them back in it. It was a moment of individual brilliance; a rocket from just inside the box.
The chance came from a mistake as City played from deep and Heath intercepted. After a first half in which United's press had been relatively ineffective, especially when contrasted with last week's win against Arsenal, it must have been a relief for Stoney. Her team ran immediately back to the halfway line. Lauren James came off the bench.
WHAT A GOAL. 🤯@TobinHeath has just lit up the Manchester derby! 🔥#WomensFootballWeekend pic.twitter.com/q0ThgoBoCg

— Barclays FA Women's Super League (@BarclaysFAWSL) November 14, 2020
United were a different team, and one desperately trying to claw their way back level. When Tobin Heath's number came up on the fourth official's board, the United goalscorer made no complaints but instead sprinted off the pitch to let the siege of City's goal continue.
And the equaliser did come. When it did, it was a bit scrappy but just as effective as Heath's screamer. Kirsty Hanson, on at half-time as a sub, bundled home from two yards. United celebrated but were keen to get on with it and look for a third.
What an intense final half-hour it was. Both teams played with energy and quality. There may have been no fans in attendance - and that is a great shame for such a good game - but noise was aplenty from both teams' benches.
United seemed the likelier to find that winner. If a 50-50 challenge was there to be won, they were winning it. Hands were on heads when a teasing corner came from the right flank, legs flailed in its direction and the ball seemed to pinball into anywhere but the goal. Demi Stokes cleared one off the line. City survived.
It was one of those endings where everything seemed to happen but no clear-cut chances could be carved out. A brief silence descended on the stadium as the full-time whistle blew. It was the first cessation of energy in 45 minutes. An intense game in which a draw was the right result.
"There is no shortcut to success," Casey Stoney said after the game. "Hard work" is what's behind United's success, she said.
Takeaways from the game
Stoney tactical change makes the difference
Kirsty Hanson replaced Jess Sigsworth at half-time. It changed the game for United.
Having to defend a lot in the first half, Sigsworth was getting beaten. Ona Batlle was left exposed and she struggled against Georgia Stanway. Hanson's arrival made United more compact in defence and could build from there in attack.
Hanson's goal, the equaliser, was a scrappy one. It makes for a good headline but the truth is that she made the difference to the performance overall and that was what was key, not just the goal.
Stoney refers to her substitutes as "game-changers". That's exactly what they were on Saturday afternoon.
City have brilliance in them
It's difficult to remember quite how good City were in the first half. United weren't in the game at all. City did everything right in defence and attack. They should have scored more.
That's a positive sign for Gareth Taylor's side. Yes, they could have wrapped up the game and weren't good enough in the second half, but that first 45 minutes was sensational.