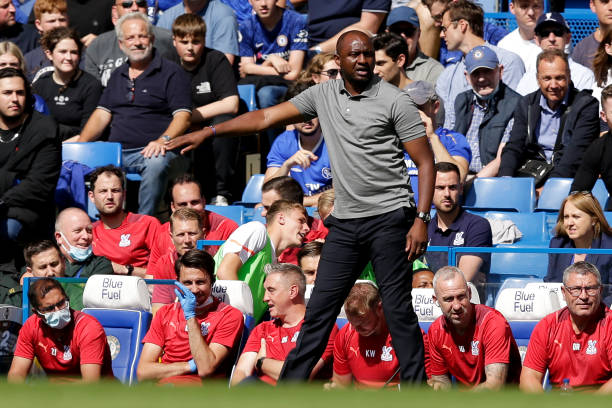 With the Vieira project still in its infancy, patience is needed, but there were plenty of key points to take away from Palace's performance.
The game itself was a relatively straightforward win for the home side. First-half goals from Marcos Alonso and Christian Pulisic put the hosts two up at the break before academy graduate Trevor Chalobah scored in the second half to seal the victory.
With Palace only producing four attempts on goal, there is clearly room for improvement going forward.
Let's have a look at three things Palace fans can take away from Saturday's performance.
Playing the Vieira way will take time
Since he arrived at Selhurst Park, Patrick Vieira has made it clear he has a footballing philosophy he wants to implement into the football club.
He believes in possession-based football, playing out from the back, and trying to create as many goalscoring opportunities as possible.
This is a far cry from the way Crystal Palace were set up under Roy Hodgson.
Hodgson's job was to create stability, and that's what he did through his tactics.
A solid 4-4-2 system with defensive stability being the main priority, which at times meant low possession and few chances created.
Vieira's philosophy couldn't be more different from Hodgson's, and that is why patience is needed.
Palace certainly have the players to be able to play a more free-flowing style of football, but this will not be perfected overnight.
Starting this new era at the home of the European champions certainly didn't make it any easier, but Vieira stuck to his guns.
Despite Chelsea's intense high press, Palace continued to play out from the back and build possession through the centre-backs.
Now, for the most part, it did not lead to many chances against a strong Chelsea side, but the players stuck to the plan and looked comfortable playing that way.
The 3-0 loss may look like a poor defensive display on paper, but with Alonso's free-kick and Chalobah's long-range effort, it was only Pulisic's goal that showed some questionable defending.
For the most part, the backline looked solid and is sure to grow in confidence, with Marc Guehi, in particular, looking extremely comfortable in carrying the ball out of defensive areas.
Palace shouldn't be too disheartened and a home game to come next week provides another opportunity to implement these new tactical changes.
Vieira is not afraid to make changes
One consistent complaint made by Palace fans under Roy Hodgson was the lack of change when things weren't going to plan.
As discussed, Hodgson was loyal to his defensive system and very rarely changed it, even when chasing a game.
It was also unlikely to see Hodgson make a substitution anytime before the 75th minute.
In just one game, Vieira has shown the complete opposite; he is not afraid to make tactical and personnel changes.
With Palace 3-0 down, looking flat and having no wing presence, Vieira decided to bring on new signing Joachim Andersen and convert to a back five, something not seen at Palace since the Frank De Boer era.
This decision in itself pleased fans, who seemed to appreciate going to a "Plan B" and being less one-dimensional.
Although the tactical change didn't lead to a change in the scoreline, Palace dealt with Chelsea's wing-backs far better and really didn't look like conceding again.
The players will certainly have to be more versatile and adaptable under Vieira, and so far it seems the players have bought into that idea and will improve with time.
The squad still needs additions
Palace's recruitment this Summer has been well-documented, with a huge overhaul taking place.
Several high-profile senior players have moved on, and Vieira has been given free rein to bring in the players he wants.
So far, that has included the likes of Michael Olise, Joachim Andersen, Marc Guehi, and Conor Gallagher.
As much as these recruits have been positive and created a real buzz with the fans, yesterday showed that additions to the squad are still needed.
It certainly wasn't Palace's strongest team, and the bench included four teenage academy players.
Vieira has spoken highly of Palace's academy and the importance of giving youth a chance, but in the Premier League, you need experience and depth in order to survive.
With only two weeks left of this transfer window, Palace will surely be working on several names to bring into the club.
In particular, yesterday Palace lacked a true winger, with Jordan Ayew struggling to have any impact on the right-hand side.
Palace have been linked with the likes of Watford's Will Hughes and Manchester United winger Amad Diallo.
Whoever the Eagles manage to recruit over the next few weeks could be the difference between success and failure this season.
The squad certainly has the quality and just needs a few tweaks to iron out any areas of concern.
Crystal Palace's new era may not have got off to a dream start, but there is plenty to be excited about.
With fans returning to Selhurst Park next week, the Eagles will be hoping to bounce back and kickstart their season.