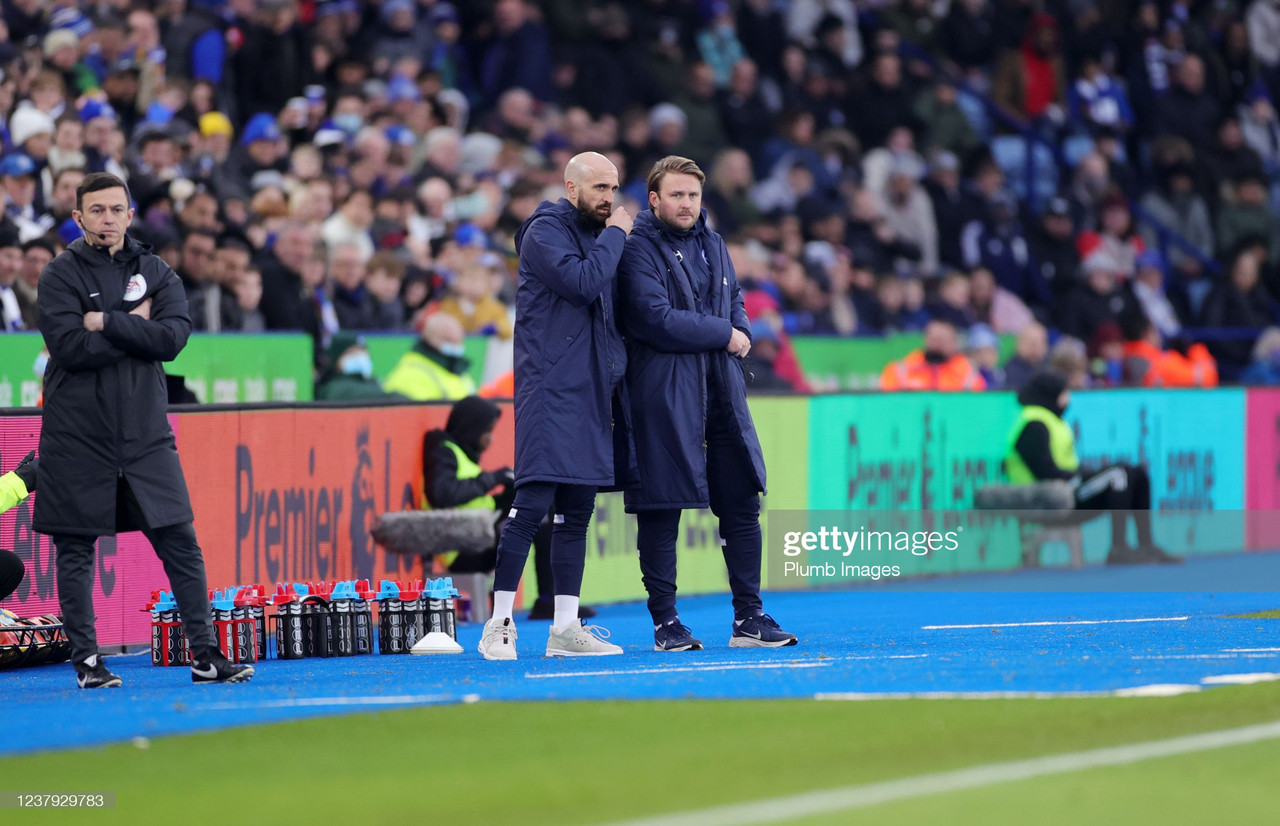 Both head coach Graham Potter and assistant Billy Reid were absent from Brighton & Hove Albion's 1-1 draw away to FA Cup winners Leicester City after contracting covid-19, and the odds were tipped in the Foxes' favour.
Nevertheless, Albion came away with a fighting point and extended their unbeaten streak in the Premier League to six games - the club have never gone seven matches undefeated in the top-flight.
With Brighton's senior figures in isolation, first team coach Bjorn Hamberg took control against a Leicester side that battled fiercely to secure a victory, but failed to overcome a well-drilled and fluid outfit.
Leicester put in one of their most appealing performances of the season and enjoyed plenty of promise in offensive situations, but failed to capitalise.
Hamberg will have been delighted with the away side's ability to ride the storm and secure yet another late equaliser - with Dan Burn and Leandro Trossard both failing to convert and secure victory in the dying moments.
Hamberg on Potter's isolation
Hamberg was buoyed by the response to a week of challenging instances, and credited Brighton in ignoring external situations and clinching another point on the road.
Yves Bissouma, a relentless driving force in midfield, remains unavailable whilst on duty with Mali at the African Cup of Nations, whilst captain Lewis Dunk could only make the bench as he returns from injury.
Regardless, Albion overcame the adversity and continued an away record that has seen a solitary defeat all season - against Aston Villa.
"It's not been normal. With Graham going down first, already you prepare a bit different. I never expected Billy to pick it up the next day.
"The last couple of years you never know what tomorrow looks like. It comes down to the players and they've done what they always do.
"I think the players executed everything they were supposed to do.
"Before we left we had a Zoom call with the players then when we got here, he had a link of the game and we spoke to him at half-time.
Thoughts on the performance
Whilst Brighton struggled to match Leicester's energy levels and fluidity in the first half, and despite conceding seconds after the break, a late rally turned the match's flow on its head.
There is a sense of stability that comes in tandem with slick, cohesive football no matter the team selection; Potter's philosophy has been aptly absorbed by his squad.
Hamberg said, "We said all long we need a good squad, not a starting 11. It comes down to players being adaptable and ready and hungry.
"I thought Leicester were better first half, we think 0-0 at half-time is good for us. I thought we'd have a reaction second half and that was nice to see. It felt as the game went on we could've nicked it but they could've been 1-0 up at half-time.
"I'm so happy to hand it back to Graham now!"