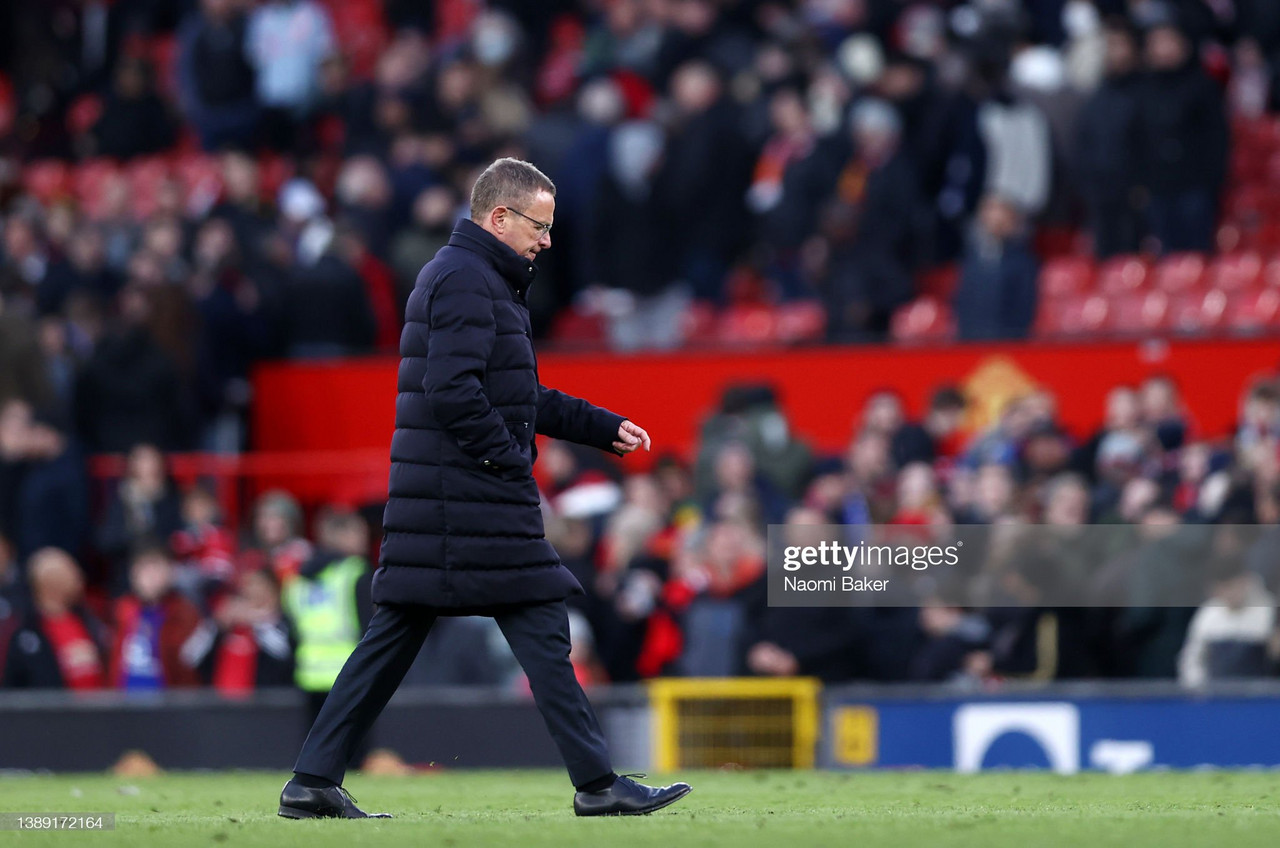 Manchester United came back from a goal down to draw 1-1 with Leicester City at Old Trafford thanks to Fred's quickfire equaliser.
Kelechi Iheanacho gave Leicester the lead just after the hour mark with a brilliant diving header at the back post. But only minutes later, Fred would level the scores, tapping in the rebound as Kasper Schmeichel parried out Bruno Fernandes' effort.
After the game, United boss Ralf Rangnick gave his thoughts on the game as his side took further damage in their fight for a top-four spot this season.
"We are not happy with the result"
In the early stages of the game, Leicester were the team on top and they looked the most likely to break the deadlock.
Harvey Barnes and Iheanacho both had clear cut chances in the opening 45 minutes, however, they failed to hit the target.
United did have chances of their own, with the best coming for Fernandes as he broke free one on one but he couldn't score past Schmeichel.
Rangnick identified the first-half performance as an issue. He said: "The second half was the better one, we were struggling to find the rhythm in the first half possibly because of the international break.
"If I look at the whole game, I think the draw is okay. In the last 15 minutes, we tried – we had two or three really good opportunities to score the winning goal, but so did they.
"We gave away a goal on a transitional moment but the reaction after was good and we scored a goal. In the end, we are not happy with the result but the second half was okay."
Top four hopes
Rangick's side sit in sixth place in the Premier League table after the draw, three points outside of the top four.
It may not sound too bad on paper, but with the teams above them all having games in hand, United's challenge for a Champions League place could be slipping away.
Despite this, the Red Devils' interim manager is keeping up his hopes heading into the final few games of the season.
He said: "As long as it's mathematically possible, we'll try to win as many games as possible. Obviously, after dropping two points our position isn't better after this result.
"It's our obligation to finish the season on the best possible note. We need to prepare for Everton next weekend and hopefully, win that."
Support for Harry Maguire
Harry Maguire was victim to boos from the English home crowd in the recent international break, leading to words of support coming from plenty of his teammates over the past week.
Rangnick praised the centre-back's performances as he returned to club duties and was pleased to see the support being shown by the fans inside Old Trafford.
"The reaction of our supporters and they are the best in England," he said. "Harry Maguire had a flawless game defensively and offensively.
"I think he played well. I decided for him to play on the right side of defence after seeing him play for England there. For me, it was a solid performance from him."