Back in the summer, countless Crystal Palace fans urged the club to cash in on winger Yannick Bolasie as they felt a reported £20 million bid from London rivals Tottenham Hotspur exceeded the valuations of their prized asset.
Seven months later and having decided to keep hold of Bolasie, Palace face an FA Cup trip to Spurs on Sunday and will look to ease a horrible run that has seen them pick up just two victories from their last eleven competitive fixtures. Both successes came in what has been a fruitful cup campaign, an escapism from an horrendous run of results in the Premier League since the Christmas period.
This huge dip in form has coincided with an injury suffered by Bolasie in Palace's last league victory at Stoke City on 19th December, but manager Alan Pardew has claimed that the French-born winger could make a highly anticipated return to the side at White Hart Lane, along with fellow absentee Bakary Sako, who has also missed large spells of the season through injury.
However, it's Bolasie's absence that has been missed the most. The reliance on his combative and unpredictable performances is often underappreciated, despite the odd chant of 'Yannick Bolasie runs down the wing for me'. A sense of not appreciating what you have until it has gone instantly springs to mind.
Bolasie signed to couple with Zaha, but ended up becoming the key man
Having spent much of his early career in the lower regions of the Football League, Bolasie was signed by Dougie Freedman from Bristol City due to an over-reliance on fellow winger Wilfried Zaha to break down teams and provide creativity, as well as an almost natural ability to make supporters sit on the edge of their seats. The signing proved to be a coup for a price that compares almost inconceivably to his current valuation, as Palace won promotion to the Premier League the following May.
Much of the success under Freedman, and then Ian Holloway, was down to the superb wing-play of Zaha and Bolasie who, tripled with Glenn Murray, carried Palace into the top-flight for the first time in eight years. When Zaha left to begin his brief spell at Manchester United and Murray spent ten months sidelined through injury, Bolasie became Palace's key man and was Tony Pulis' main attacking outlet as the Welsh manager somehow steered Palace to safety despite being on the brink of an immediate return to the Championship.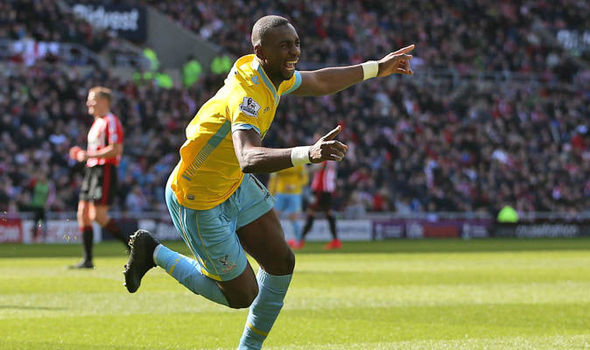 History seems to have been repeated as Palace struggle with only half of their renowned wing pair
Zaha was once a lone, stand-out figure among a bunch of underperformers before Bolasie's arrival, and now history seems to have been repeated as the winger has been the only highlight among a squad stripped of confidence over the last two months. Bolasie's imminent return will feel like a new, fresh-faced signing, while also taking a huge weight off the shoulders of the recently magnificent Zaha.
It is no coincidence that Bolasie's spell on the side line has run in parallel with his teammates' sheer drop in form. Having scored four times in sixteen Premier League games this season, not only has the Congolese international already matched his goal tally from the previous season, he has improved his overall performances and now seems a much more rounded player who contributes well at both ends of the pitch - which was once a questionable aspect of his playing style.
Aside from Zaha, Palace have lacked flair and unpredictability since December, while also seeming lethargic and unwilling to ask questions of the opposition defence.
The Eagles have an unwavering history of having direct, quick and skilful players on both wings and this aspect has been missing recently. Pardew has had to sacrifice players more suited to a central role and ask them to play out wide where they naturally drift inside. This has often caused Palace to be narrow and unbalanced.
Bolasie's return will give Palace faithful a lift
Bolasie will now fill the what has seemed like a huge hole in the Palace side. The possible answer to all of the Eagles' recent problems where no solution has seemed viable in his absence. He is literally irreplaceable.
New signing Emmanuel Adebayor will also benefit from Bolasie's return and a lack of goals could soon seem a distant memory as the pair link up for the first time, along with Zaha, and their playing styles could complement each other perfectly with the potential of forming a formidable front-three.
While Bolasie's return from injury is unlikely to see an immediate and drastic upturn in results, it will certainly ease a dark atmosphere among Palace fans, who fear an impressive start to the season that saw the club flirting with the European places, is going to diminish into an almighty disappointment.
Any small sense of optimism could be the catalyst for a mini revival for Pardew's side, and Bolasie's return will provide Palace fans with hope that their season is far from over.