Roberto Martinez breezed through the Goodison Park door in the summer of 2013 accompanied by a fresh wave of optimism, stating his Champions League aspirations and employing a vibrant, fearless brand of football.
Fast forward three years and the mood of optimism has been replaced by frustration and resentment as Everton supporters' tolerance of the Blues boss appears to have run out. Martinez has insisted that he will fight for his future and said that he should be judged over his three seasons on Merseyside, not the last three months.
Martinez believes he has done enough over the last three seasons to prove to the Everton board and supporters that he is the right man to take the Blues forward. Football is, however, a results game and his side's results and performances have regressed over the three years the Everton boss wants to be judged on.
Martinez on brink of going from future Barcelona boss to Goodison footnote
Two years ago, when Everton surged into a fifth place finish and recorded their best Premier League points tally, playing attacking football that showed ambition and intelligence alike, Roberto Martinez was being touted as a "future Barcelona manager".
Now the mood and perception is very different. All the talk about the Spaniard has become about his Goodison future, and not a move to the Nou Camp, but whether he is the right man to continue to take the club forward. A stark shift in fortunes that highlights how Everton have regressed since Martinez's first season on Merseyside.
Everton won 21 league matches in Martinez's opening campaign. Since the start of the 2014/15 campaign, their league record stands at 21 wins in 72 matches. Their win ratio has almost halved, dropping from 55 percent in the first season to 29 percent in matches since.
The problems and pressure has been mounting on Martinez. Everton's home form and defensive record has also seen a decline over the three years Martinez has been in charge. The Toffees conceded 39 goals in Martinez's first season, but they conceded 50 goals last season and they have already conceded 48 goals this season, with still four games left.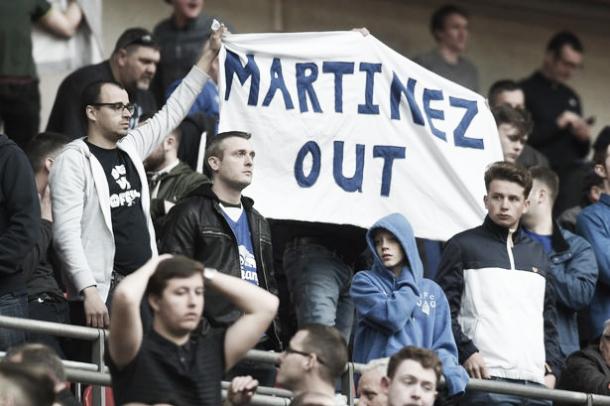 Only bottom club Aston Villa have conceded more goals at home this season and this campaign has seen them record their worst record at Goodison Park in the club's 138-year history. The Toffees won 42 points at Goodison in his first campaign, but won just 28 at home last season and this season has been even worse, picking up just 17 points at home, with eight defeats, five draws and four wins.
Everton supporters hoped that Martinez would guide the Toffees to the next step following David Moyes departure to Manchester United in 2013 - Champions League football. However, Martinez's first season in charge is the closest they have come to achieving this and after two largely frustrating seasons the Blues have steadily moved backwards and are even further away from securing their ambition.
In David Moyes' last two seasons at Everton he won 22 games and lost seven at home while in Martinez's last two - with two games still to be played - they have won 11 and lost 13. The greatest disappointment is Martinez's failure to build upon what Moyes left-behind; a stable club, a squad of well-proven top-half players and a team that prided itself on a solid defensive basis.
Will Martinez be allowed time to reverse Everton's fortunes?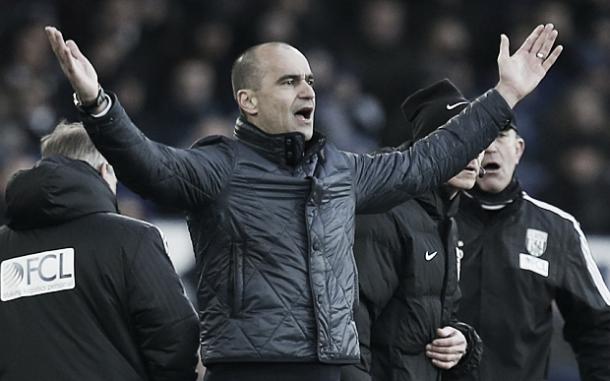 Martinez believes he has done enough over the last three seasons to prove to the Everton board and supporters that he is the right man to take the Blues forward. He led the Toffees to their best Premier League points tally in his first season at the club, reached the round of 16 of the Europa League last season and has guided the Blues to two semi-finals this season in the Capital One Cup and FA Cup.
However, Martinez is dealing with two treacherous areas for any manger - unpopularity with supporters and a reshaped Everton hierarchy with a new financial ambition in the shape of Iranian billionaire Farhad Moshiri.
Everton's chairman, Bill Kenwright, is renowned for his loyalty towards managers and was filmed speaking in glowing terms about Martinez before the semi-final at Wembley. But Kenwright is no longer the club's major shareholder after Moshiri acquired a 49.9% stake in February and changed the make-up of the Goodison board.
The feeling amongst many was that the FA Cup could be a saving grace for Martinez as the reality was it would be unlikely that Everton would win a major trophy for the first time since 1995 and Martinez loses his job. However, their FA Cup dreams were crushed by an injury-time winner from Anthony Martial for Manchester United in the semi-final last Saturday and the defeat came in a defining week in a season where there has been a vast amount of evidence that Everton have regressed.