A strong rendition of "I'm forever blowing bubbles" couldn't spur West Ham United to Wembley, instead it was the young Marcus Rashford to do so for his Manchester United side.
His true talent has been questioned but he proved it at the Boleyn Ground in the famous stadium's last ever FA Cup tie. Quick feet as Anthony Martial fed him through, Rashford gained himself half a yard of space before striking it superbly off the crossbar into the top right corner.
Superb Rashford is United's hero once more
Rashford's whole game was impressive. Marouane Fellaini had doubled for Louis van Gaal's side, but allowed James Tomkins to head home just twelve minutes later. Rashford took the ball calmly into the corner, waited for his teammates to arrives, rather than storming forward as West Ham had done, of which United exploited.
Timothy Fosu-Mensah, too, knew how to waste time. Yet West Ham countered with scintillating pace to create the tensest of final moments in East London.
David de Gea had to be at his most incredible best with a sensational double save. Cheikou Kouyate scored but from an offside position to lift the roof of the old Boleyn Ground, only for the linesman's flag to resonate around the ground.
Louis van Gaal has suffered greatly from media, fans, rivals, everyone this season. Given the circumstances, however, his Manchester United side produced a good tactical display.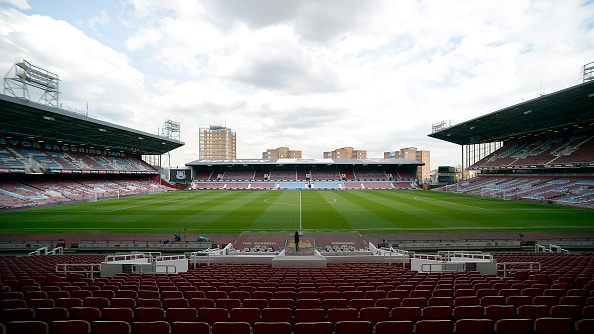 It was an emotional start to a truly fantastic FA Cup quarter-final, albeit a replay. There has rarely been such vociferous singing of that famous song as the bubbles were blown around in the dusk of London. United, somehow, were mild underdogs after their humiliation at White Hart Lane last weekend, defeated 3-0.
It proved to be a memorable night, but because of United's youthful exuberance.
West Ham started in the fashion that has seen them in the top four race this season. Powerful, with flair and at speed. Dimitri Payet and Manuel Lanzini combined on multiple occasions, with Lanzini playing a superb reverse pass, intercepted by Michael Carrick.
Payet couldn't show his set-piece genius until the very end, but United did give away free-kicks consistently throughout the first half. Had they been a couple of feet more central, it could have been a very different story.
The attacking intent from West Ham allowed United great amount of space on the counter-attack. Angel Ogbonna slid in excellently on Ander Herrera as United, playing in white and black, broke. Their best chance came as Jesse Lingard slipped Fellaini through with his back to goal. The tall Belgian turned well but his shot, taken on the stretch, was deflected to force Darren Randolph into a great save. Randolph was in superb form, much like his opposite number De Gea, to deny United on multiple occasions.
United knew the threat of the home team. Carrick picked up a booking for a professional foul as Dimitri Payet, on the back of a PFA Players' Player of the Year nomination, was surging through on De Gea.
Enner Valencia, who was taken off in the second half, missed two golden opportunities one-on-one with De Gea. Both times he managed to get in behind Daley Blind, an excellent reader of the ball but lacking in pace, but could only direct his shot into the mid-drift of the Spaniard De Gea.
Rashford, as he did for his goal forty minutes later, showed his wonderful technique. His quick feet saw him drive through three players before slipping Lingard through. Another academy graduate, Lingard's movement and spacial awareness is sublime. He curved his run to capitalise on the space, received the ball from Rashford but his finishing lacked.
Fellaini pulled the ball back for another fantastic chance for the Reds. After early Hammers dominance, van Gaal's side grew into it as half-time beckoned. The ball deflected just as Herrera was ready to shoot first time, he sensibly played it short to Rashford. The Englishman's shot was deflected and Michael Carrick, a West Ham product, drove just wide from long-range.
The first half was prolonged as both Andy Carroll and Marcos Rojo were booked by Roger East, who had a very good game.
United came out for the break impressively, with Rashford holding up the ball well. A diagonal lofted ball from Blind was headed down by Fellaini. Lingard struck it from 20 yards with sweet venom, but it struck the pole behind the goal rather than the back of the net.
James Tomkins produced a fine sliding challenge, clean but powerful, to stop Rashford going one-on-one with Randolph. Kouyate had a long-range bobbling shot that De Gea stopped solidly.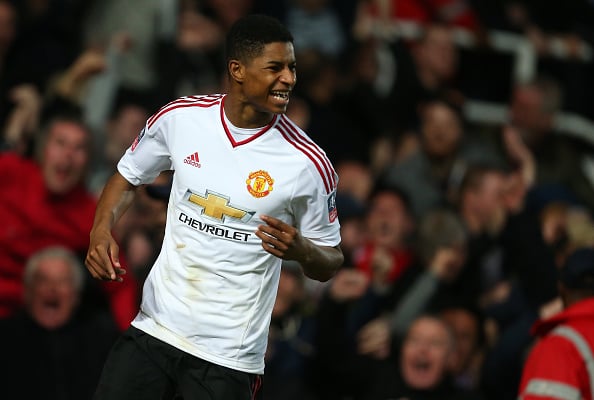 It was then, as West Ham left space for United to counter-attack into, that Rashford's magic took them in front. Martial capitalised on a loose ball and fed Martial through. With two defenders on him, Rashford shimmied twice and gained himself enough space to pull his leg back and strike the ball with the perfect balance of power and finesse, rifling it into the top right corner, off a rattling crossbar.
Payet had a soft penalty appeal turned down by referee East as the game turned to an end-to-end affair, Randolph impressive in the West Ham goal.
Fellaini makes it two with a scrappy yet clever finish
It continued like that, but 13 minutes after Rashford's stunner, Fellaini provided something at the other end of the spectrum. Another looped Blind cross was headed down by Fellaini. Martial had a shot blocked and Fellaini was quick with his reactions to touch it in scrappily in front of the traveling United fans.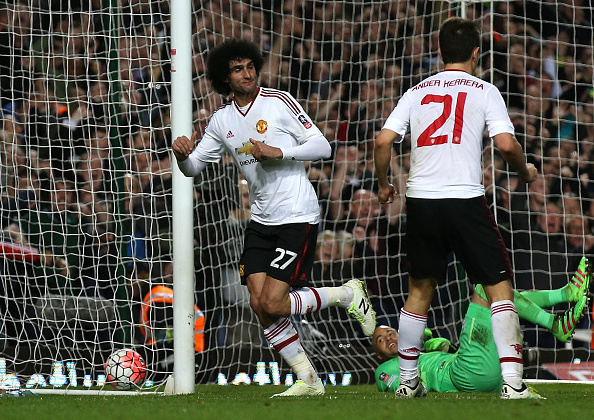 And so, there was a notable decrease in pace from United to create the lengthiest of 'squeaky bum time'.
Mark Noble picked up a squealing and injured Ander Herrera to take him off the pitch as United wasted time with twenty minutes left. Herrera was injured, and was substituted for the more defensive Schneiderlin, although he looked close to a second yellow card too.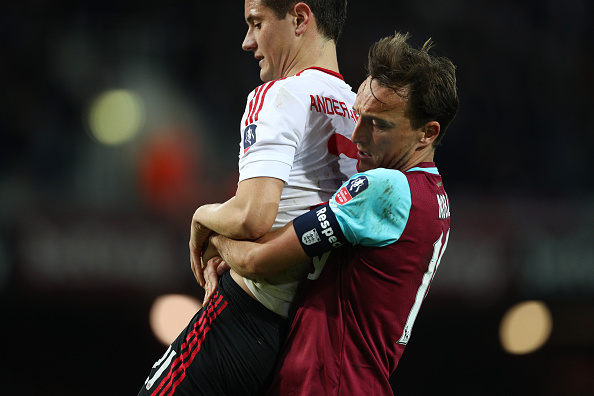 The frustration lifted as James Tomkins bravely stuck his head towards both the ball and a strong boot from Fellaini to direct it beyond David de Gea. The traveling United fans, who had been singing Que Sera Sera, were silenced and Upton Park roared.
It continued roaring, as West Ham peppered De Gea's hands with shots. Andy Carroll missed a great cross, having headed it down for Tomkins for the Hammers' goal. De Gea produced a stellar last ten minutes and was just as vital as goalscorers Rashford and Fellaini. After a sensational double save, Kouyate headed past the goalkeeper, who must be earning the number one spot in the Spanish national team. Yet the linesman raised his flag, not that Upton Park noticed for a good few seconds. They celebrated then, but they'll never celebrate an FA Cup goal at that famous ground again. The other set of supporters will be celebrating long into the night on the way back to Manchester, their young hero Rashford has done it, again.