The self-proclaimed "best Swedish sportsman of all time" Zlatan Ibrahimovic has dropped the biggest hint yet that he could be on his way to link up with former boss Jose Mourinho at Manchester United.
"If you want action you bring in Mourinho"
After months of speculation, the "Special One" was unveiled as Louis van Gaal's predecessor on Friday morning and many pundits believe that 34 year-old Ibrahimovic could follow him through the Old Trafford doors. In a recent interview Ibrahimovic explained that United had made "a great move" and "if you want action you bring in Mourinho".
The pair worked together in a short spell at Inter Milan where Ibrahimovic claimed to have enjoyed a "fantastic time", leading the pair to "speak everyday". Sweden's record goalscorer went on to explain to BBC Sport that "from being a cat, I felt like a lion working under Mourinho" and "he dragged out of me things that no other coach has ever done before".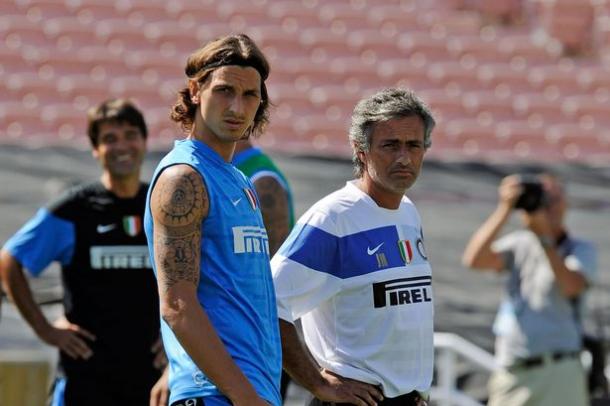 A dangerous United attack in prospect
Rumours have also been rife that offers have been laid on the table around the £220,000 a week mark as his contract with Paris Saint-Germain draws to a close. When pushed at a recent press conference about whether one of those offers had come from a Premier League club, Ibrahimovic responded in typical fashion with a grin and "there are concrete offers but let's see what happens".
Ibrahimovic has also made no secret in the past that he would like to link up with Wayne Rooney. Speaking to the BBC, the striker admitted "I would prefer to have him in my team than play against him". With youngsters Anthony Martial and Marcus Rashford impressing for United this season, the most successful team in Premier League history could have an exciting and dangerous attack with the addition of Ibrahimovic.
For United financially the move would be extremely beneficial, with no transfer fee required and merchandise sales alone expected to cover the loss of earnings from missing out on Champions League qualification. Questions have been raised over his ability to perform in a physical Premier League, though 156 goals in 180 games, including a club record 50 this season, suggest the enigmatic Swede is more than capable of finding the back of the net in England.