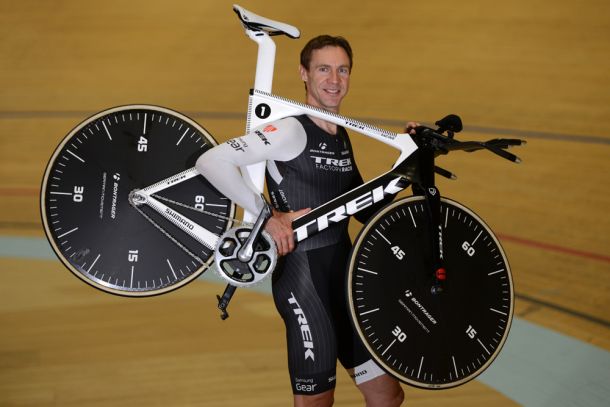 Jens Voigt has set a new Hour Record with a mark of 51.115km in Grenchen, Switzerland. The charismatic German rider beat the previous mark of Ondrej Sosenka by over 1.4km to bring the curtain down on a glittering 17-year professional career.
The first rider to attempt the record since the UCI changed the rules to allow athletes to ride any bike which complied with current regulations for endurance track bikes, meaning that he was able to utilise time trial bars instead of the standard drop bars used by previous record holders Sosenka, Boardman and Merckx, Voigt was always likely to break the record, but for a 43-year old man with no background on the track, it was no foregone conclusion.
For a man renowned for riding on emotion the controlled effort of an hour attempt could have been a problem, and that certainly seemed to be the case in the early stages as Voigt recorded a number of laps below 17 seconds, over a second faster than the pace needed to better Sosenka's mark. However the German settled into his rhythm, and steadily built a lead over the first 30 minutes.
Having looked strong in his aero position for the first half of the ride, the strain began to show on Voigt's body, as he moved out of the saddle in an attempt to relieve his back and shoulders. Yet there was no drop in pace as Voigt continued to tick off laps every 17.5 seconds.
Despite occasionally struggling to hold his line in the bends, drifting away from the sprinters' black line, the German was still looking strong, noticeably upping the pace as he entered the final 10 minutes of his career.
The average speed climbed, and, with five minutes remaining, went above 51kmh for the first time in the ride. An electric atmosphere in the newly-built Velodrome Suisse carried Voigt through the final few minutes, as the fluid style of the first half of the ride was abandoned in favour of brute force.
This more familiar technique was enough to smash Sosenka's record by 1.4km, and set a mark of 51.115km that will be the target of any future attempts by the likes of Tony Martin, Fabian Cancellara or Tony Martin.
Speaking after his successful ride, Voigt said, "I'm so happy. Maybe I started a little bit too fast out there and I had to slow down after 20 minutes just to get in the right zone. Then in the last 20 minutes I still had a lot in the tank and I thought, 'I'm going to give everything'.
"I am extremely proud to be joining all the iconic riders that have beaten this record before me. To be up there with the likes of Merckx, Boardman, Indurain, I'm so proud that my name is with them.
"It's among the biggest highlights of my career. Now I can take the plane back home and there's some pizza waiting for me."