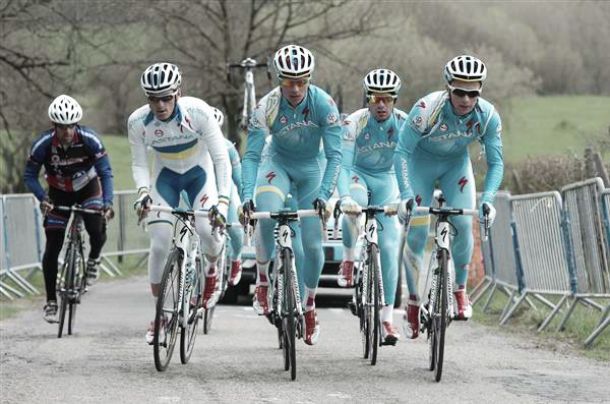 Teams could now be banned from competition for riders' doping offences under new UCI rules.
The changes also include four-year bans for individual riders and an international tribunal, bringing cycling's regulations into line with the World Anti-Doping Code.
Riders' indiscretions could now see their teams punished, with the UCI able to suspend full squads for up to 12 months.
If two riders on one team cheat, the team will be banned from competition for a period between 15 to 45 days. However, if a third is caught cheating, the ban can be extended to a maximum period of one year.
The rules are designed to fall into line with those of the voluntary Movement for a Credible Cycling (MPCC), which saw Astana remove itself from competition after the Iglinskiy brothers, Valentin and Maxim, tested positive for EPO.
A new international anti-doping tribunal will also be set up, with the aim of avoiding a repeat of the confusion surrounding Roman Kreuziger's biological passport case.
Despite abnormalities being discovered, Kreuziger's home federation in the Czech Republic cleared him to race, meaning he is costless to compete for Tinkoff-Saxo until the UCI's case against him is heard at the Court of Arbitration for Sport.
"The tribunal will be made up of judges specialised in anti-doping, independent of the UCI, with the aim to provide all international level athletes with the same consistent process and a clear, short timetable," the UCI said through a press release.
"This should ensure consistency and uniform quality in the decisions, significantly reduce the number of cases that go to the CAS on appeal and lift the operational burden from national federations."
Under the new rules, individual riders could now face four-year bans for severe doping offences.
As well as applying to those who use "serious doping substances" such as blood doping or EPO, riders who evade testing or tamper with samples will also receive longer bans.
The UCI will also be able to discipline those who associate with banned individuals, such as the disgraced Dr Michele Ferrari.
All teams and riders must now report any rule breaches, and must co-operate fully with any subsequent investigation.