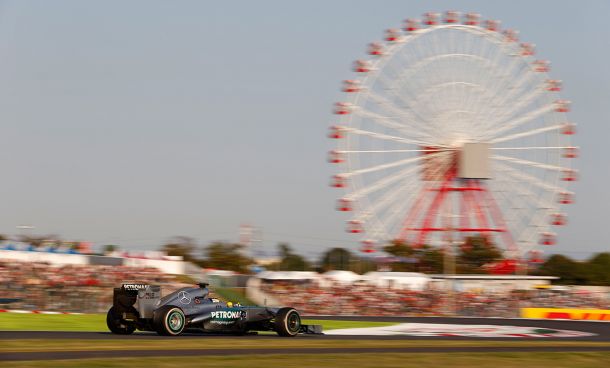 10:00. That's all from us at VAVEL, thank you for joining us for the Japanese Grand Prix. We will keep you updated on Bianchi's condition. I've been Aaron Irwin, and we look forward to seeing you in Russia for the innaugural Russian GP from Sochi. A Hamilton win, on a day where the result takes a backseat. Get well soon Jules.
9:55. Adrian Sutil: 'Jules lost the car just like I did a lap before.' he adds, 'all my thoughts are with him.'
9:45. Driver of the day is a tough one, Hamilton, Ricciardo and Button all worthy of the award. Hamilton's stunning overtake on Rosberg, Ricciardo's daring moves at Dunlop on the Williams' and Button for his strategy which saw him finish ahead of the Williams drivers.
9:40. With 4 races to go, this title race is to go down to the wire, who will prevail at the end of the race at Abu Dhabi?
9:40. In times like this the result is unimportant, Bianchi's wellbeing takes prominence.
9:30. It's rumoured Bianchi hit the recovery vehicle tending to Sutil's car. Also FIA reveal Bianchi was unconscious, hope the Frenchman is ok.
9:25. It's hard to really celebrate anything or discuss anything with all the thoughts of the Formula One community being for Jules Bianchi, who's uffered a terrible accident.
9:20. A very sombre affair understandably, there's an uneasy air over the paddock as we await news of Bianchi and his injury. We at VAVEL send our best wishes to Jules.
9:20. Drivers on the podium send wishes to Bianchi
9:15. Hamilton takes his first win at Suzuka, and Mercedes take yet another one two finish. Meaning they'll all but secure the Constructors title next week. The usual champagne spraying is effectively cancelled in respect to Bianchi.
9:11. Celebrations are muted regarding the drivers at he moment as Bianchi's condition is unknown, the podium will be a quiet one. We hope Jules is okay, we'll let you know when we hear about his condition.
9:10. Final Top 10...
1) Hamilton, 2) Rosberg, 3) Vettel, 4) Ricciardo, 5) Button, 6) Bottas, 7) Massa, 8) Hulkenberg, 9) Vergne, 10) Perez
9:05. Who was your driver of the day? if you have one, let us know on Twitter using the hashtag, #VAVELF1
9:00. HAMILTON WINS! The race will not be restarted, meaning Hmilton wins and extends his gap to 10 points. Rosberg 2nd and Ricciardo third. It's Jules Bianchi who's been injured, he's being checked up on by the medics.
8:58. Hulkenberg pulled up at the end of the pit lane, no reason as of yet as to why he stopped. Also Medics are still attemding to Sutil, let's hope he's ok.
Lap 46. RED FLAG. Race has been stopped and there is doubt as to whether it will restart, meaning Hamilton may have this race won.
Lap 46. It's likely the race will end uner the safety car, with only 8 laps remaining it may be wiser just to end it at a slower speed.
Lap 45. Marshals are struggling to move Sutil's car, with the Medical team being called out to check on the German.
Lap 44. SAFETY CAR OUT!
Lap 42. Sutil Out! Adrian Sutil goes off the track and crashes into the barrier, is a safety car imminent? Ten Laps left, what will happen?
Lap 42. Here comes the rain! a few cars come in to pit for Wet tyres, could we see another Safety Car? we will soon find out.
Lap 40. Ricciardo attempts a move on Button, and passes him, only for Button to overtake again, there's still some life in the 2009 Champ yet!
Lap 40. Top 10...
1) Hamilton, 2) Rosberg, 3) Vettel, 4) Button, 5) Ricciardo, 6) Hulkenberg, 7) Bottas, 8) Massa, 9) Kvyat, 10) Perez
Lap 39. Hamilton is 8.5 seconds ahead of Rosberg as Vettel goes off at turn 5, he rejoins and Button is now on his back, all of Britain wll be cheering on the 34 year old.
Lap 37. Hamilton regains hia lead as Ricciardo pits, he comes back out in fifth behind Hamilton, Rosberg, Vettel and Button.
Lap 35. Hamilton pits, he'd been low on pace leading up to his pitstop, comes out on a fresh set of tyres as Ricciardo, who's yet to pit again leads. it's only a matter of time before Hamilton is back in the lead.
Lap 33. Rosberg comes into the pits, he's had a slight issue with grip recently and comes out in third behind Ricciardo, who needs to stop again, so Rosberg will inherit his second place back.
Lap 32. Top 10...
1) Hamilton, 2) Rosberg, 3) Ricciardo, 4) Vettel, 5) Button, 6) Bottas, 7) Massa, 8) Hulkenberg, 9) Kvyat, 10) Perez
Lap 31. Alonso still the only retirement, he went out at the restart with an electrical failure.
Lap 30. Vettel pits, he rejoins in fifth and relieves the pressure on Jenson Button in third. Button having a blinder as he tries to prove his worth to McLaren and save his career.
Lap 29. Hamilton takes the lead! He goes round the outside of Rosberg at the first corner, he's quickly pulling away.
Lap 28. Hamilton looks at a move at the hairpin, but opts against it.
Lap 27. Scincilating stuff here as Mercedes battle for the lead, is this the battle we could have seen in Spa? it's very close between the team mates, who are superior to the rest of the field.
Lap 26. As we hit half distance it's an all out fight between the Mercedes', and with the championship gap being only 3 points, all is to play for.
Lap 25. Hamilton pushing Rosberg, the gap is below a second, Can Lewis overtake? or will he wait until the pitstop window and try and leapfrog the German?
Lap 22. Mercedes are running the show here, as they have all season, their gap back to Button in third is ever increasing. Play nice boys don't take each other out.
Lap 20. Top 10...
1) Rosberg, 2), Hamilton, 3) Button, 4) Vettel, 5) Ricciardo, 6) Bottas, 7) Massa, 8) Hulkenberg, 9) Raikkonen, 10) Kvyat
Lap 19. Ricciardo completes the exact same move on the other Williams of Bottas, round the outside at Dunlop, double credit to Daniel.
Lap 17. Fantaatic overtake by Ricciardo on Massa, he passes on the outside at Dunlop, not many overtakes occur there, credit to Daniel.
Lap 16. Both Red Bulls attempt overtake on Massa, Vettel makes it stick but Ricciardo loses out to the Williams.
Lap 15. Button up to third after earlier pit stop. He's a master of changing conditions, can he get a great result for McLaren?
Lap 14. Hamilton pits in now after going wide at Spoon curve, Rosberg takes the lead.
Lap 14. Rosberg pits, he comes back out in second, which signifies the gap Mercedes have on the rest of the field. It's going to be close when Hamilton pits.
Lap 13. Vettel and Massa pit for inters, Mercedes already have a huge gap to third place. Looks like Hamilton or Rosberg for this one.
Lap 12. A flurry of drivers come in for intermediates, Ricciardo Bottas and Magnussen all pitting.
Lap 11. Mercedes pulling away rapidly from the Williams of Bottas in third. Button and Maldonado pit for intermediate tyres, with Button apparently matching the pace of the Mercedes drivers.
Lap 10. We're Underway at Suzuka as Rosberg leads the pack at the restart! Drivers are judging the conditions as they learn how to approach the rest of the race.
Lap 9. Still some spray on track but conditions are certainly good enough for racing speed. SAFETY CAR IN THIS LAP.
Lap 7. Drivers are calling for the safety car to come in, they're just desperate to get racing. It's thought the Safety Car will be coming in any time soon.
Lap 6. A lot of spray still being generated by the cars, even at Safety Car speeds. Hamilton's said 'the track's as good as it's gonna get'. Can we expect to see racing soon?
Lap 5. Conditions are improving according to a number of drivers, Hamilton is claiming there's a problem on his car, supposedly the brakes, let's see how that develops.
Lap 4. Suspected electrical failure as Alonso loses all power in his car. Safety Car still out as the rain keeps falling here.
Lap 3. Alonso Out! Alonso is out of the car with his car coming to a halt. What a shame for the Spaniard.
Lap 3. We're back underway in Suzuka, safety car restart but it's likely the safety car will depart after few laps.
7:20. Race director Charlie Whiting is making all the necessary checks to make sure we can get this race restarted, with it being said that we may get some reasonably dry conditions, but not many I presume!
7:15. Race will be restarted in 10 minutes!
7:10. No word on when we are going to be restarting the race. Hopefully it will be soon.
7:05. Cars all congregate in the pitlanw as we await any info of a restart.
Lap 2. RED FLAG. Session has been stopped temporarily to see if the conditions will improve.
7:00. We're underway at Suzuka, there's no formation lap under a SC start so the race has begun!
6:55. The rain is pouring in Japan, near torrential conditions, which means the race will begin under safety car. Hopefully we do get some racing before the rain gets worse.
6:50. With there being no wet race since 2012, it'll be intriguing to see how some of the younger drivers handle the wet race conditions.
6:45. 15 minutes to go until lights out! wet race is expected, meaning we could get some interesting racing. Rosberg starts from pole, with team mate Hamilton in 2nd. Can we expect any collisions reminiscient of Senna/Prost in 1989? Stay tuned as VAVEL brings you live coverage of the Japanese Grand Prix!
6:40. Marco Matiacci, Ferrari team boss, has claimed he's more focused on the success of Ferrari and bringing them back to the top following the departure of star driver Fernando Alonso.
6:35. Cars are making their way to the grid now, we're getting closer and closer to lights out! Cars are equipped with the wet tyre as we see a lot of standing water on the track.
6:30. Who's going to get the upper hand in this season's Championship battle? Can Nico Rosberg regain his lead? Or is Lewis Hamilton going to extend the gap going into Sochi next week?
6:25. It's thought that the race is set to start behind the safety car, with there being so much water on the track, the spray produced from the tyres means cars in the pack will be driving blind.
6:20. Jean-Eric Vergne has a 10 place geid penalty, and will start at the back of the grid alongside Pastor Maldonado.
6.15. Can we expect another strong showing from Williams? They're third and fourth on the grid and could certainly challenge Mercedes in the rain. With Valterri Bottas being seen as many people's dark horse for today.
6:10. Let's have a reminder of the grid for today's race:
1) Rosberg, 2) Hamilton, 3) Bottas, 4) Massa, 5) Alonso, 6) Ricciardo, 7) Magnussen, 8) Button, 9) Vettel, 10) Raikkonen, 11) Vergne, 12) Perez, 13) Kvyat, 14) Hulkenberg, 15) Sutil, 16) Gutierrez, 17) Maldonado*, 18) Grosjean, 19) Ericsson, 20) Bianchi, 21) Kobayashi, 22) Chilton
6:05. Rain is falling at Suzuka! will this change any teams' strategies? Typhoon Phanfone expected after the race, but rain is expected throughout.
6:00. One more hour until lights out!!! Who's excited? This could prove to be a cracking race. Stay tuned to find out as VAVEL brings you all the happenings pre race and all the analysis post race.
5:55. Hamilton performed admirably and had his mechanics to thank after he crashed in Practice 3. His team fixed his car and he managed to take second on the grid. 2 tenths behind Polesitter Rosberg.
5:50. Nico Rosberg anticipating strong race despite the rain. 'I'm very very optimistic actually. Even if it rains it could be better for us.' Hopefully Rosberg can last longer in this race. He retired last time out in Singapore due to an electrical short circuit on his car, gifting the win to Hamilon and losing his hefty Chmpionship lead in the process.
5:45. Let's have a quick look at the current standings as we head to Japan:
1) Hamilton, 241, 2) Rosberg, 238, 3) Ricciardo, 181, 4) Alonso, 133, 5) Vettel, 124, 6) Bottas, 122, 7) Button, 72, 8) Hulkenberg, 72, 9) Massa, 65, 10) Perez, 45, 11) Raikkonen, 45, 12) Magnussen, 39, 13) Vergne, 19, 14) Grosjean, 8, 15) Kvyat, 8, 16) Bianchi, 2.
5:40. With Mercedes still battling it out for the World Drivers title, they can win the Constructors title this weekend, but they need Red Bull to not score. Even though their victory is simply ineviable, it will most likely have to wait until next week in Sochi. Hamilton has a slender 3 point lead over Rosberg going into Suzuka. What's going to happen in the latest twist of the 2014 saga?
5:35. Caterham have also grabbed the headlines this week. With bailiffs said to have taken a few of Caterham's supplies, such as a 2013 test car, the simulator, and a few of Caterham's new parts set to be used this season. The troubled team are claiming everything is fine and that it's all simply business as usual.
5:30. The other big news came when weather reports claimed that a typhoon would be hitting Suzuka. Typhoon Phanfone is on it's way to the circuit, and is set to hit at 3pm local time, meaning it could affect the race. Half points could be awarded if it ends the race early, or a delay could be made.
5:25. With Alonso's move to McLaren imminent, it could spell the end of Jenson Button's Formula One career. The 34 year old is likely to make way for the Spaniard and bring down the curtan on a 15 year career, with his crowning glory being the World Title in 2009.
5:20. Fernando Alonso is the man who got the ball rolling this week by announcing an exit from Ferrari was 'inevitable.' Now with Vettel being confirmed at Ferrari, Alonso is said to have two options. A sabatical, which is unlikey, and a move to former employers McLaren, who reunite with Honda as of next year.
5:15. Kvyat on his Red Bull promotion: 'I am very pleased, very honoured and happy and I have Red Bull for this great opportunity.' Kvyat only made his debut this season but has been incredibly impressive, showing he has pace, and the skill necessary. He will partner Daniel Ricciardo in a youthful Red Bull lineup.
5:10. Of course news off the track dominated the paddock talk on Saturday morning. With Sebastian Vettel revealing he will leave Red Bull and join Ferrari. The German chose to end his 15 year stint with Red Bull and take up a fresh challenge with the Scuderia. Toro Rosso's Daniil Kvyat is set to be promoted into Vettel's seat.
5:05. The Grid for tomorrow's race is as follows:
1) Rosberg, 2) Hamilton, 3) Bottas, 4) Massa, 5) Alonso, 6) Ricciardo, 7) Magnussen, 8) Button, 9) Vettel, 10) Raikkonen, 11) Vergne, 12) Perez, 13) Kvyat, 14) Hulkenberg, 15) Sutil, 16) Gutierrez, 17) Maldonado*, 18) Grosjean, 19) Ericsson, 20) Bianchi, 21) Kobayashi, 22) Chilton
*Maldonado has a 10 place grid penalty, so will start 22nd.
5:00. Good Morning! and welcome to VAVEL's live coerage of the Japanese Grand Prix from Suzuka, I'm Aaron Irwin, and I'll be your host as we look the Japanese GP unfold. Can Rosberg take victory from pole? or is Lewis Hamilton going to get the better of his team mate?