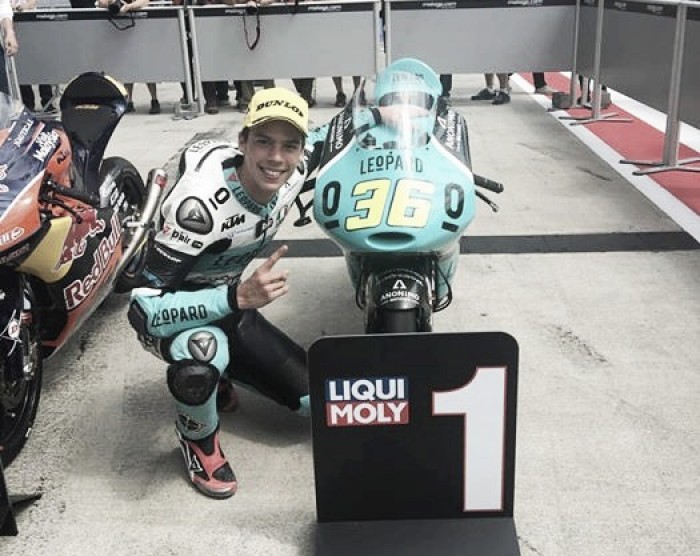 The weekend that the Red Bull Ring returned to the MotoGP calendar, after 19 years, is going to be extremely memorable for one person in particular. Rookie Moto3 rider not only claimed his first ever career pole position aboard his Leopard Team KTM, he went on to win his first ever Moto3 race.
The rookie has been strong all weekend
The nineteen-year-old Spaniard was on form all weekend, remaining near the top of the leaderboard during every session. In a late surge he powered round the Red Bull Ring and strategically gained pole position.
Perfect conditions for a race
Race day and the conditions were perfect. The sun was shining, the track temperature was up and the Moto3 class were raring to go.
What a race it turned out to be; Mir was part of the initial group of three riders that broke away and as they battled, they were soon caught by many other riders in the field. This just made things more exciting. Several riders changed positions every corner, you were scared to blink as you were bound to miss loads.
Mir sat back but remained in contention
The race continued and things heated up. So many wanted to win, they all wanted the podium. Mir led on several occasion but towards the middle third of the race he sat back, remained in contention and followed as they battled on track. At some points it was five a breast as they entered the corner as they all used the slip to their advantage.
In the final stages he made his move, he regained the lead, losing it briefly on several occasions, but most importantly he remained consistent and strong. Riders around him forced each other off the race line, while Mir aimed to make himself as wide as possible; the Spaniard dangled his leg entering corners making it harder for riders to pass him.
He was at the front on the penultimate lap, and a battle between Red Bull KTM Ajo rider Brad Binder and Enea Bastianini (Gresini Racing Moto3) distracted the duo enough to allow Mir to remain in front and he went on to win his first ever Moto3.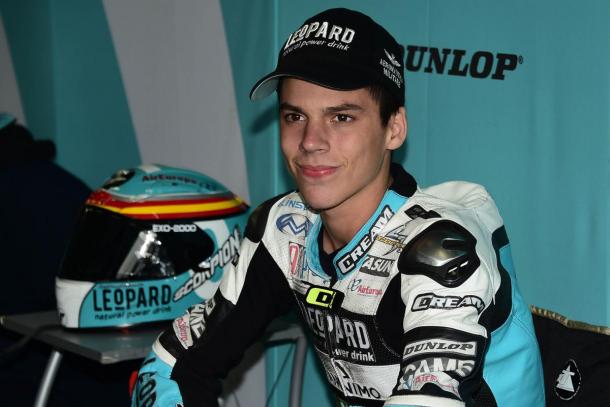 Such a historical achievement for the Rookie
The rookie was ecstatic. In his debut in the Moto3 class season the teenager won at the Red Bull Ring, a new track on the calendar where he was able to prove his worth. It is very unusual that the pole position rider goes on to win the race, but Mir did it.
Mir said, "It's all so unbelievable, I'm speechless!" as he discussed his achievements after the race. He knew that to "win a round of the World Championship and also starting from pole position is fantastic".
The rookie spoke of how he managed his race "perfectly" and mentioned how he was always part of the lead group "without letting anyone run away".
He felt this was an area they improved in, as he felt that unlike in previous rounds they "improved" by "not making the mistake", and instead chose to "stay behind and wait". He found that when he "went to attack" that he "struggled".
Delighted win his win, Mir chose to dedicate it to "the Leopard Team and my family, and to Luis Salom".