In a last minute battle against British rider Sam Lowes (Federal Oil Gresini Moto2) it was the French Moto2 champion Johann Zarco (Ajo Motorsport) who came out on top securing pole position ahead of the 11th round of the MotoGP eason at the Automotodrom Brno in the Czech Republic.
Zarco's success continues after winning Austrian Moto2
Zarco won the last round of the Moto2 and after a mixed set of results over the weekend he left it to the final stages of the Qualifying session for the 600cc class.
Estrella Galicia 0,0 Marc VDS rider Alex Marquez nearly made it a double pole position for him and his brother as he remained the man on top for the majority of the session.
Garage Plus Interwetten rider Thomas Luthi crashed out of the session and required medical assistance which meant that the session had to be red-flagged.
Short session restarted but it was intense
After a short break, the session restarted and Zarco and Lowes got straight down to business. Zarco immediately set a fast lap knocking Marquez off the top spot; despite the fact that Marcel Schrotter had crashed his AGR Team Kalex and yellow flags were waved.
Just 20 seconds remained of the session and both Lowes and Zarco crossed the line in time to complete one more lap before Qualifying was over. The thing was both of them were also on flying laps. Both of the riders earned red markers in each section, both were on for pole but who was going to make it?
Zarco claimed pole in a dramatic finish to the session
Lowes crossed the finish line first setting a new pole position with his time of 2:01.614. But then moments later Zarco, who was chasing the Brit around the Automotodrom Brno, completed his lap at a time of 2:01.581.
Zarco's time was a mere 0.033 seconds faster and earned pole position ahead of the 11th round of the Moto2. Lowes would start from 2nd and Marquez was 3rd.
It was a fantastic achievement from the French man after an intense battle, and after an enduring day for the 600cc class after they witnessed several big crashes from their fellow competitors.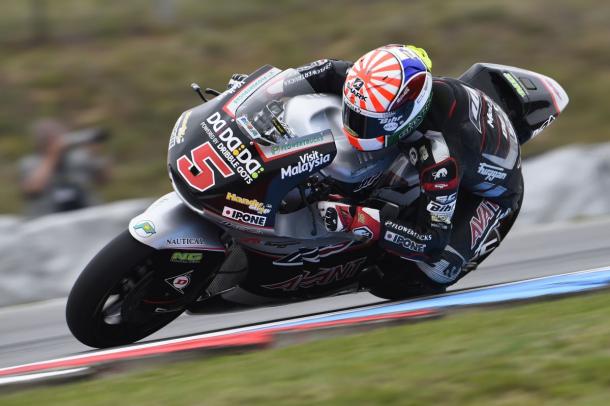 Zarco aware of Lowes' capabilities
Zarco was present at the press conference after Qualifying where he discussed the battle on track between him and Lowes. He spoke of how during the "last four minutes" he was "behind Sam" and aware of "this kind of situation". He knew Lowes was "able to go over the limit and do two incredible laps".
He praised Lowes saying, "The lap he did was really good", he said he was left thinking that if he followed the Brit at his pace then his qualifying "would be good too". He was "happy" about his first position, he felt the "pace was really good" on day one and it meant the team was able to collect a lot of information.
No clear strategy for Zarco
Zarco revealed that he "did not have a clear strategy for the race tomorrow". Instead he planned to "sleep well" and "wait for the weather tomorrow" as it is forecast to rain at Brno. He hopes to "stay focused and try to go".
Speaking about the championship he thinks that "(Alex) Rins is struggling" aboard his Paginas Amarillas HP 40 Kalex, and he currently is in second behind him in the championship, and so he plans to finish in front of him on race day.