Conditions were cool but dry as the MotoGP riders took to Silverstone for the first time for two free practice sessions ahead of the twelfth round of the season.
Typical British weather
The lower temperatures meant that riders had to air with caution as they found themselves being caught out as they tried to push on track. Struggling to get heat into the tyres several riders ran off track on several occasions but all were able to recover.
Ducati prove to be strong at Silverstone
Initially, it was Ducati Team rider Andrea Iannone who set the fastest time before Marc Marquez (Repsol Honda). Then along came British rider Scott Redding (Octo Pramac Yakhnich Ducati) who claimed the top spot ahead of his home GP after 15 minutes of the session.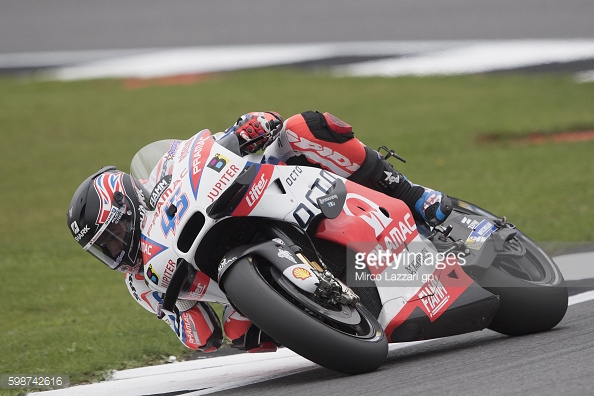 Marquez first to crash
Marquez was the first to crash out at turn 12 of the circuit. After losing the front end he slid off into the gravel and tumbled. He was luckily unhurt, but unfortunately he was able to get his bike started and so he had to receive a lift back to the pits.
Turn 12 also claimed Avintia Ducati rider Hector Barbera as a victim as the Spanish rider went down with just 13 minutes of the session remaining. Barbera was also unhurt but it meant that he did not have enough time to return to the track for the end of the session.
Tactful approach from Iannone
Iannone looked to be doing what he could to avoid being followed by anyone who may have been trying to learn a thing or two from him. He went wide at turn one after setting a fast time and took his time returning from the run off area allowing Movistar Yamaha rider Jorge Lorenzo to get past. Barbera decided this meeting to follow Valentino Rossi (Movistar Yamaha) to discover the best lines around the track.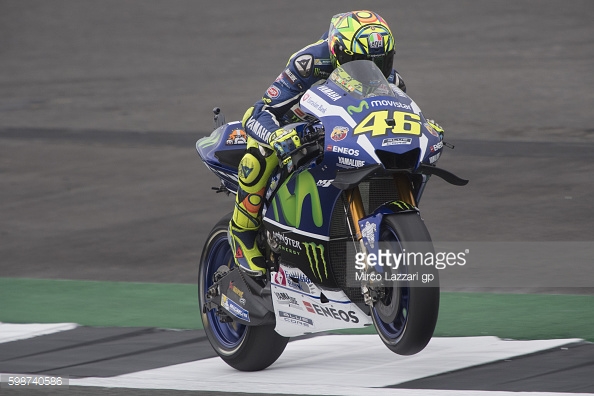 Turn one run-off area the saviour for many riders
Several riders tended to use turn one as a run off area intentionally though on several occasions; this appeared to be after they had completed a flying lap and they decided that the long route through turn one was the best one for them.
Riders continued with the session gradually chipping away at the times before eventually towards the end of the session, Marquez, Maverick Vinales (Team Suzuki Ecstar) and Andrea Dovizioso (Ducati Team) battled it out for the top spot.
Smith out of his home GP
During the brief break between rounds Bradley Smith (Monster Tech 3 Yamaha) competed in an Endurance event, during practice he was involved in an incident which left him with torn ligaments in his knee. As a result Smith had to be ruled out of his home round and instead he will be replaced by Alex Lowes; the twin brother to Moto2 Federal Oil Gresini Racing Team rider Sam Lowes.
Alex Lowes crashes out
Alex recently won the chance to compete on the Tech 3 Yamaha as a reward for being part of the team that won the 8 hour race in Suzuka.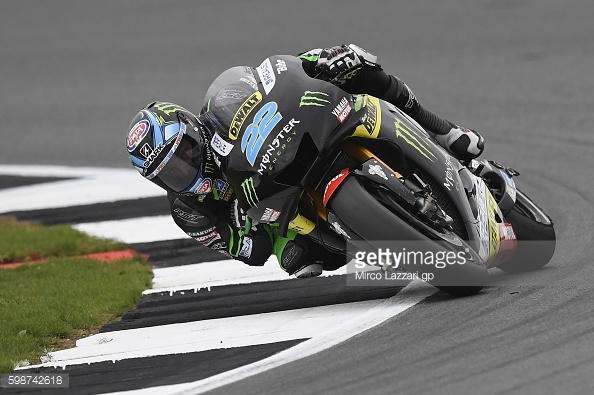 They decided he was the best man for the job to replace Smith at Silverstone but it was an eventful start for him as he crashed out at the end of the first practice session, with just two minutes remaining.
Luckily Alex Lowes was also unhurt from the incident but it meant that his session had to finish early as he had no time.
The other British rider competing in the MotoGP, Cal Crutchlow (LCR Honda), who won his first ever MotoGP last round at Brno (and became the first British winner in 35 years), also had an early end to his session in a way as he ran wide and ruined his chance of completing one last quick lap.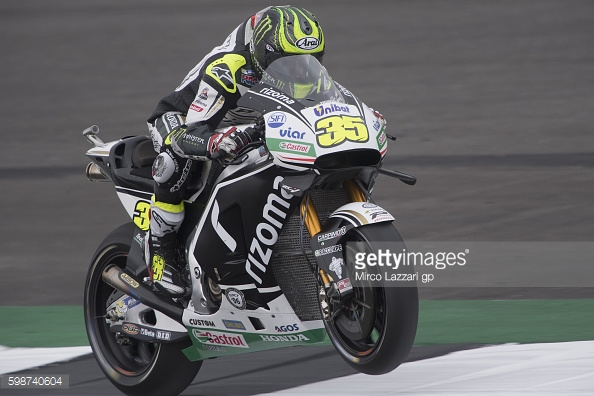 The end of the session was where all the action was
As usual all the action seemed to come at the end of the session. Vinales took the top spot back from Dovizioso with less than four minutes remaining and remained the fastest man at the end of FP1. He finished ahead of Lorenzo in second who appeared to find his form in the final stages, as did Marquez and Rossi who finished third and fourth.
Dovizioso had to settle for fifth fastest at the end of FP1, he finished ahead of Pol Espargaro (Monster Tech 3 Yamaha) who was the fastest independent team rider in sixth. Iannone was seventh fastest; his Ducati Desmosedici GP16 was smoking as he entered the pits at the end of the session.
Dani Pedrosa (Repsol Honda) was eighth quickest, Redding was forced down to ninth and his teammate Danilo Petrucci (Octo Pramac Yakhnich Ducati) completed the top ten. Crutchlow just missed out finishing 11th at the end of the first session
Threat of rain pushed riders to work quicker
The riders took to the track immediately in an attempt to spend as much time practicing a possible as rain had prohibited the other classes. Rain hit the Moto2 class when they were only 15 minutes into their first Free Practice session, Lorenzo Baldassarri discovered it first as he also fell at turn 12.
They returned to the pits where the majority stayed, but even though Johann Zarco (Ajo Motorsport) and Dominique Aegerter (who crashed at Becketts) ventured out, neither were able to improve on the fastest time set by Sam Lowes.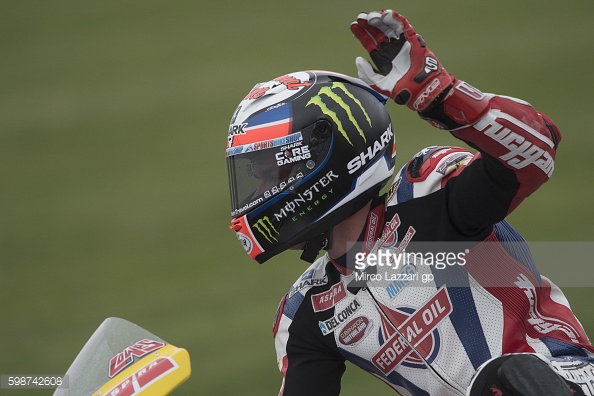 For the Moto2 riders their second session was not much better; again rain hit a third of the way through and those who did again venture out towards the end in an attempt to gain experience in ahead of what has high chances of being a wet race, were again not able to beat Sam Lowes at his home circuit.
MotoGP riders rushed to the track
Many of the MotoGP riders ventured out on track immediately and like we have witnessed in the past, Rossi and Vinales appeared to be working together on track. The two narrowly avoided coming together at Village at the start.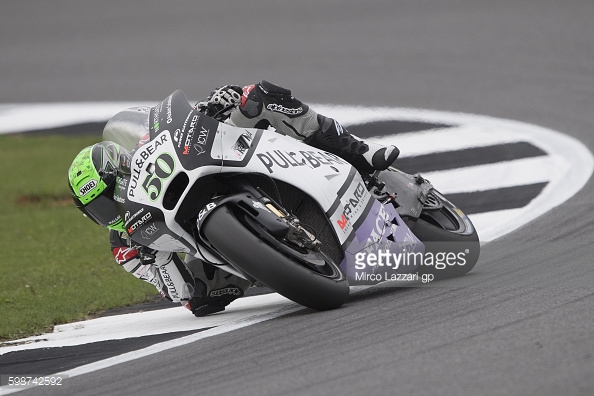 Irishman Eugene Laverty (Pull & Bear Aspar MotoGP Team) took the top spot initially as he led the pack with a clear track ahead of him. Barbera again looked strong and almost came into contact with one of the Aprilia Racing Team Gresini riders, again at Village.
Marquez was the first to lap under 2:03 minutes, but soon after Dovizioso improved again by one second. Pedrosa also took the top spot briefly before Iannone came along and took his glory. For the first time Crutchlow then set the quickest time at his home GP.
Marquez ran off track again
At one point Marquez was forced to run off area when he went wide after running over the grass, he was hot on the pace though because as Vinales reset the fastest time, he was able to slot in behind him in second. Rossi and Iannone again completed flying laps but were unable to match Vinales' time; Crutchlow also found himself using the run off area at Village.
Iannone the fastest after day one
On his last lap of the day it was Iannone who managed to set the fastest time of 2:01.421. His time was quicker than the official Circuit Record Lap held by Pedrosa since 2013 of 2:01.941, but not was fast as the best ever lap set by Marquez last year of 2:00.234 during qualifying.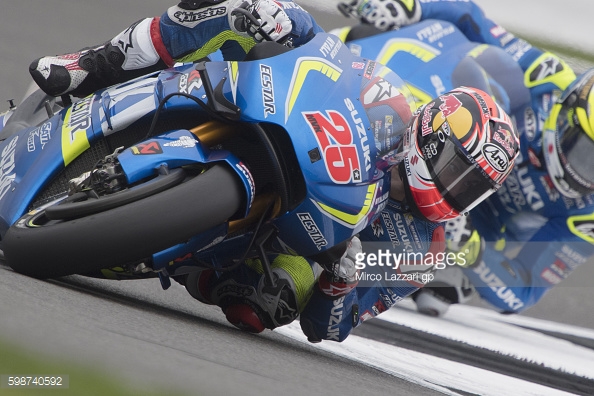 Vinales finished second quickest at the end of day two ahead of British rider Crutchlow; not only was he the highest placed Brit but he was the fastest independent rider and the top Honda. Lorenzo finished fourth fastest and Marquez completed the top five.
Rossi was sixth quickest ahead of Dovizioso in seventh, Aleix Espargaro (Team Suzuki Ecstar) who is well on the road to recovery in eighth, and Pedrosa and Redding completed the top ten.
Pol Espargaro was 11th ahead of Barbera, Petrucci and Laverty. Avintia Ducati rider Loris Baz (who had his best ever result last round in Brno finishing fourth) was fifteenth, ahead of Yonny Hernandez (Pull & Bear Aspar MotoGP), Estrella Galicia 0,0 Marc VDS rider Jack Miller who was also given the all clear from his injuries sustained two rounds ago, in 17th.
Stefan Bradl (Aprilia Racing Team Gresini) was 18th ahead of wildcard replacement for Smith, Alex Lowes in 19th who finished ahead of Alvaro Bautista (Aprilia Racing Team Gresini) and rookie Tito Rabat (Estrella Galicia 0,0 Marc VDS).
Bagnaia and Navarro battle for the top spot in the Moto3
In the Moto3 class, Francesco Bagnaia (Pull & Beat Aspar Mahindra Team) was the man to beat after a quiet first Free Practice session for the 2500cc four-stroke machines in the cool conditions at Silverstone. He was able to beat Jorge Navarro (EG 0,0) and Brad Binder (Red Bull KTM Ajo) who both briefly set the quickest lap times.
By the end of day one Navarro became the man to beat again after his time of 2:14.420 was over a second faster than that set by Bagnaia in the closing stages of FP1.