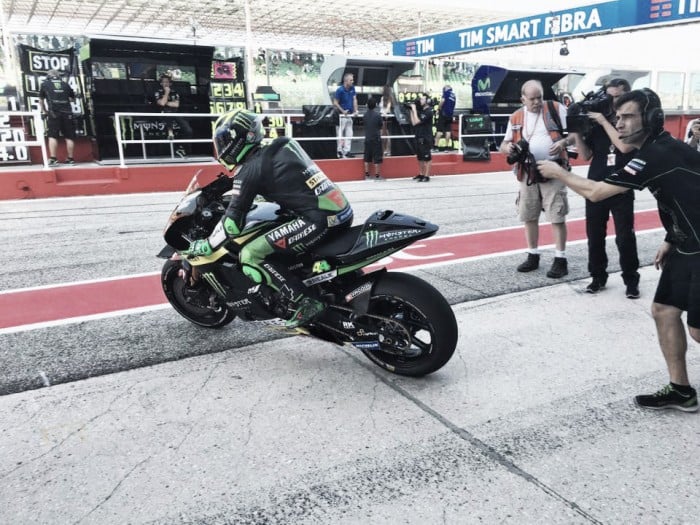 The Italian weather certainly wasn't an issue for the MotoGP field as they took to the Misano World Circuit Marco Simoncelli for day one of Free Practice ahead of the San Marino GP. The home circuit to Movistar Yamaha rider Valentino Rossi, it was the Italian who finished the first Free Practice Session as the quickest, however after Free Practice 2 it was Monster Tech 3 Yamaha rider Pol Espargaro who stole the crown.
Italians lead the way at sunny San Marino
The sun was shining as the riders took to the track for the first time. It was Italian Ducati Team rider Andrea Dovizioso who led the way as he put in the quickest lap for his rivals to beat in the early stages of FP1. His time of 1:34.014 was over two seconds slower than the fastest ever lap time set here by Jorge Lorenzo (Movistar Yamaha) in 2015 of 1:32.146. But things were only just getting started.
Iannone possibly ruled out of race after FP1 crash
Early on in the session the first incident occurred involved Italian rider Andrea Iannone (Ducati Team). Also wanting to do well in front of his crowd, at a circuit which is classed as the home circuit for Italian manufacturer Ducati, he set out on his 'out lap' to begin his challenge.
As he approached turn 12 Iannone went white and hit the kerb with his front tyre as he started to crank into the right-handed corner. It was a fast crash at approximately 110mph as the 'Maniac' went down and tumbled into the gravel when the front folded.
Iannone tumbled after it and it although he was able to make it back to his feet, when he returned to the pit garage he appeared to be in pain when removing his helmet. He was sent to the medical centre to be examined, and was then referred to the local hospital where he underwent a CT scan.
It turns out that Iannone fractured his T3 vertebrae and it is not yet clear whether the Italian will compete over the weekend or whether he and his team will choose to rest him.
Laverty crashes on his sighting lap
A few minutes later, Pull & Bear Aspar MotoGP Ducati rider Eugene Laverty crashed out at turn 15 on his 'out lap'. As he approached the first left hander after several right handed corners the front went from under him. Both he and his bike slid out.
Both Maverick Vinales (Team Suzuki Ecstar), who won his first ever MotoGP at Silverstone last round, and Dani Pedrosa (Repsol Honda) were able to complete flying laps that were good enough to allow them to claim the top spot of the leaderboard. With 19 minutes remaining Pedrosa was now the man to beat.
Marquez falls at turn 12
Unfortunately for his teammate Marc Marquez (Repsol Honda) who was the San Marino GP last year, he wasn't have as successful a day. The Spaniard crashed at turn 10 after approaching the turn off line; the front folded and despite Marquez doing what he could to hold on and stop the engine from cutting out, he had to abort it.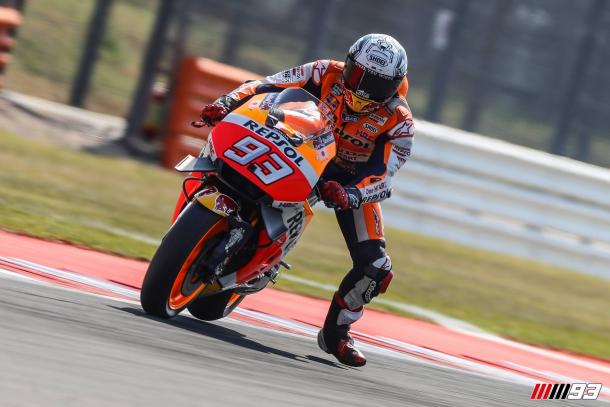 The bike lay in the centre of the track at the peak of the turn and Marquez had no choice but to get out of the way to avoid the oncoming traffic. Fortunately the Marshals were able to assist him in picking it up and getting restarted and he was able to get back to the pits with little damage to himself and the bike.
Pedrosa looks comfortable at Misano
Meanwhile Pedrosa improved his time by half a second; and then on his third consecutive lap again improved, cancelling out Lorenzo's attempt to claim the top spot immediately.
But then Pol Espargaro upped his game. With 13 minutes remaining he first visited the top of the leaderboard with his fastest time so far of 1:33.642. No-one could come near it for a while, Vinales as they pitted for the final time before the end of the session. Vinales came closest with three minutes remaining and slotted into second, Marquez returned to track but could only manage fourth.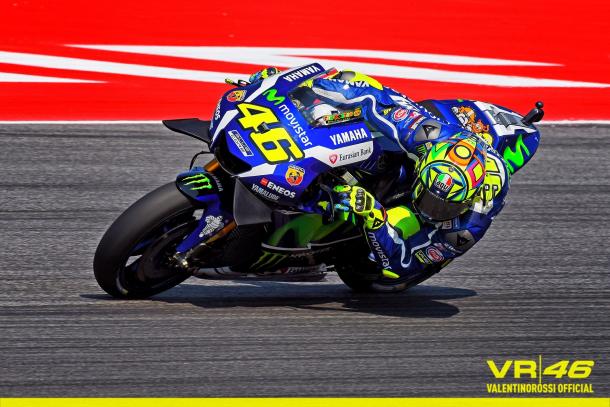 Rossi fastest after Free Practice with some consistent lap times
But then, out came Rossi to give his fans at home a treat. The Italian completed several laps, immediately claiming the top spot and was also able to improve on his own time meaning his time of 1:33.451 was the time to beat as the riders made their way out on track again for Free Practice 2.
Rossi finished the session on top ahead of Pol Espargaro, Vinales, Marquez and Lorenzo. Pedrosa was pushed down to sixth ahead of Dovizioso, Hector Barbera (Avintia Ducati) and Cal Crutchlow (LCR Honda), and Scott Redding (Octo Pramac Yakhnich Ducati) who was seen with smoke coming from his bike as he retired at the end of the session, completed the top ten.
Free Practice 2 got underway without Iannone
On to Free Practice 2 and it was the turn of Team Suzuki Ecstar rider Aleix Espargaro to impress as he immediately shot up to second at the start of the session.
Unfortunately for Crutchlow, he crashed out in the first half of the session at a slower right-handed corner of the circuit. His bike came to a halt on the tarmac in a similar fashion to Marquez and Crutchlow was able to get straight back up onto his feet.
Near miss for the Spaniards
Later on in the session Vinales and Pedrosa nearly came into contact. Pedrosa was quickly cruising back to the pits when Vinales came up behind him; he did ont realise that the Spaniard was not trying and he almost came into contact with him much to the frustration of Vinales who gestured at him before continuing on with his lap.
Vinales was especially frustrated as several of his laps, along with other riders' had been cancelled for 'exceeding the track limits'.
The riders made their way to the pits for one final time before the end of the day. Lorenzo was currently on top and was the last man to leave the pits for the final surge during Free Practice. He did not remain the fastest for long though as both Marquez and Pol Espargaro where getting closer to his time with just six minutes remaining. Even Laverty made his way up to third, but it was still early days.
Pol Espargaro strong at Misano
Pol Espargaro stuck a quick time in with just four minutes to go. His time of 1:32.769 was at that moment 0.494 seconds quicker than anyone else on track. It was amazing to see from the Spaniard who was unable to restart the British GP after it was red-flagged after an incident that involved him and Loris Baz (Avintia Ducati), as they were both injured and unfit to ride. Baz will not be competing in San Marino.
In the closing stages Dovizioso was flying however he messed up one of his laps. A weaker second sector, but a good recovery in the final two sectors brought him up to second. But Pedrosa was not finished. He was looking more comfortable with his bike than he has done in a long while and although he could not beat Pol's time, he came pretty close.
Pol Espargo the fastest on day one of the Sam Marino GP
Pol Espargaro finished day one of the 13th round of the MotoGP season at the Misano World Circuit Marco Simoncelli on the top of the leaderboard. Pedrosa was second quickest ahead of Dovizioso as the lead Italian.
Lorenzo was fourth quickest ahead of Marquez and Rossi ended up in sixth. Crutchlow claimed seventh ahead of Redding and Barbera and Vinales completed the top ten at the end of day one of the meeting.
Aleix Espargaro was 11th ahead of Danilo Petrucci (Octo Pramac Yakhnich Ducati), Alvaro Bautista (Aprilia Racing Team Gresini) and Michele Pirro who is making a wildcard appearance at his home track for Ducati.
Great performances from the stand in riders
Alex Lowes is again replacing injured Bradley Smith on the Monster Tech 3 Yamaha and finished fifteenth fastest after a positive day. Laverty was 16th ahead of Stefan Bradl (Aprilia Racing Team Greesini), Yonny Hernandez (Pull & Bear Aspar Team), rookie Tito Rabat and his teammate Jack Miller (Estrella Galicia 0,0 Marc VDS). Javier Fores who is standing in for Baz on the Avintia Racing Ducati was 21st. As Iannone was unable to return to the track for any more Free Practice he did not register a time.