 Jorge Lorenzo (Movistar Yamaha MotoGP) will start from pole position tomorrow at the Moto GP race in San Marino, after putting in an incredible lap smashing the previous record with 1:31.868 during today's qualifying.
His championship rivals fought to keep up as Valentino Rossi (Movistar Yamaha MotoGP) claimed second at his home GP, whilst Marc Marquez (Repsol Honda Team) finished fourth on the grid.
FP4 saw Lorenzo shoot to the top
After the top 10 was set, the riders headed out into the Free Practice Four. The temperature continued to heat up, but with the forecast set to be similar tomorrow, it gave riders the chance to get a good feeling.
Lorenzo was first to take the quickest time with a 1:34.774. Marquez was close behind in second place with 1:34.318. Just as Andrea Dovizioso (Ducati Team) took over at the top, Lorenzo quickly took back first place with 1:33.515.
With riders gaining confidence, the times were quickly amended with riders swapping around within the top five zone. We saw the likes of Aleix Espargaro (Team Suzuki Ecstar), Marquez and Dovizioso unknowingly fight it out for second, third and fourth before Marquez finally overtook Lorenzo at the top, with 1:33.491. We knew things were only getting started, as the riders hadn't yet reached their previous times from this morning.
Rossi was getting a good setting for race day
We hadn't yet seen from home rider man, Rossi, who was sat in 15th place with a 'P' lurking over his name. Whilst Rossi sits in the pits carrying out discussions with his team, the rest of the riders slowly began to join him with around 14 minutes left go.
A few minutes passed and then one by one, the bikes began to reappear back on track. This was when Rossi came out onto the track as well as Crutchlow, and soon after we saw Lorenzo. Rossi only completed one lap before heading back into his box again, to re-discuss.
10 minutes were now ticking on the clock, and we could hear the roar of engines once again as all the riders were on track. Times were still sitting in the 1:33 zone, looking like they were focusing solely on race pace. This is when Rossi started to make his move slotting into ninth place, but only with a time of 1:34.022. But we saw the orange marker appear on his next lap, meaning he was working on a new personal best.
No rider left the 1:33 time zone
Meanwhile, Marquez was trying to beat his quickest time as he still sat in first place with just three minutes to go. He got caught up with Eugene Laverty (Pull & Bear Aspar Team) therefore was not able to improve, to which we then saw him almost lose the front end. Without even realising, this could only encourage Rossi to go faster as we saw him appear at the top with 1:33.043. Dani Pedrosa (Repsol Honda Team) was also on a fast lap and we saw him seep into second place, now knocking Marquez into third.
On the final minute, Rossi could only go faster but lost time in the third sector making him unable to improve on his quickest time, but still finished the session as the fastest man. Marquez tried to regain the fastest time, but was only able to finish in third, but is showing very good race pace. Lorenzo ended in fourth place, also seeming to only want to stick to the 1:33 zone.
Qualifying one saw the top two constantly changing
Hector Barbera (Avintia Racing) and Laverty were the first two riders to take that all-important first and second place as the Qualifying One began. This was quickly altered as Danilo Petrucci (OCTO Pramac Yakhnich) came out and kicked Laverty back, taking over as second.
Stefan Bradl (Aprilia Racing Team Gresini) then showed that the new chassis is working well on the Aprilia as he took a provisional second place, before Yamaha replacement man Alex Lowes (Monster Yamaha Tech 3) took over. But then it was quickly changed again as Andrea Iannone's replacement, Michele Pirro (Ducati Team), demolished the time sheets to go straight into first place with 1:33.178.
The Italian then showed he means business, as his times just continued to go faster. He beat his own time with six minutes to go putting in a time of 1:33.036. As Pirro stayed out on track to try and continue this consistency, a lot of the other riders slid off down pit lane to re-think.
With just two minutes left of the Q1, it was then announced that Pirro had a lap time cancelled due to exceeding track limits. He had no need to look concerned, as he still sat at the top. Riders had now come out on track to give it everything before that chequered flag came out. The Aprilia gave a final push putting Bradl back into second place, but it was short lived as Barbera regained the position. This saw Pirro and Barbera make it through to the Qualifying Two.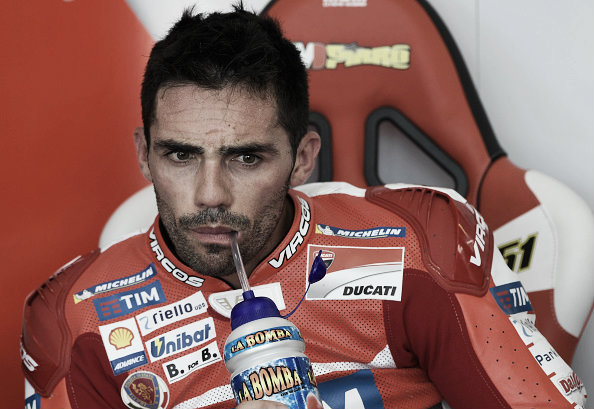 Marquez headed into Q2 with the pole in his mind
Marquez set the boundary at the start of the Q2 with a time of 1:32.783 putting him in first place, making him the first rider so far to hit the 1:32's. It didn't take long for Lorenzo to get up to pace as he almost immediately took over as pole, with 1:32.310.
Marquez improved on his time but this still saw him sit in second place. Lorenzo was now on a spree as his times continued to blitz the rest of the field as his time now went up to 1:32.076, setting a new record. Marquez tried to keep up, but it was difficult, as his next lap saw him sit 0.367 seconds off of Lorenzo's time.
With around six minutes to go, all the riders slid up pit lane where some were seen to put in a new tyre. It was then inevitable that Lorenzo and Marquez would end up accidently leaving pit lane together, to which we saw them signalling to each other as to who would go first. As the two rivals headed on track, so did the rest of the field and we began to see the riders put in hot laps.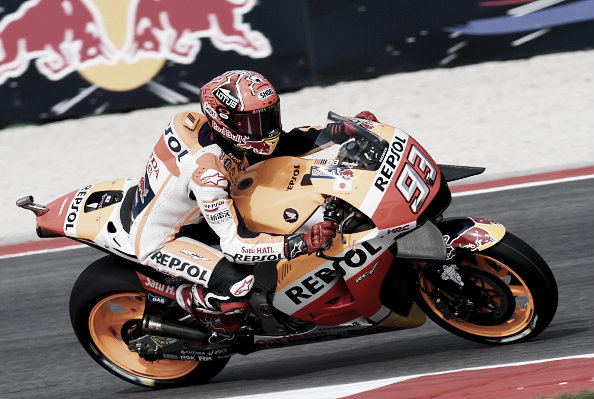 Rossi had a lap cancelled, but saved his front row position
Rossi was first to throw in a quick lap, but it was only estimated he would reach fifth place. But as he continued to go around the track this then went up to a provisional third place. After continuing to improve he managed to shift up to second place, but it was debated whether he touched the red paint, which would mean his lap being cancelled. It was then reported a bit later that his lap was in fact cancelled putting him back to eighth, but he was able to rescue his second place putting in yet another fast lap.
Lorenzo then was seen to go out on an incredibly fast lap and blitzed his own record with a 1:31.868, well and truly giving himself that pole position. As Rossi was able to hold onto second place, Marquez didn't appear to try another fast lap, so will start from fourth place. Maverick Vinales (Team Suzuki Ecstar) continued his impressive form after his win at Silverstone last round, and claimed third place right at the end, making it his second front row start in a row.
It was a good session for Pirro who will start from fifth on the grid. At the beginning of the day it was announced that he was Iannone's official replacement, which saw him move over into the factory box. He was already riding this weekend as a wildcard, but he will now continue with the factory elements, including Iannone's engine.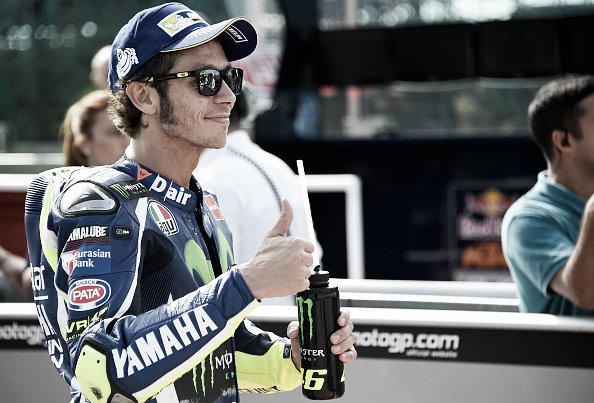 Moto GP qualifying results

| | | | | | |
| --- | --- | --- | --- | --- | --- |
| Position | Rider | Nationality | Time | Team | Bike |
| Q2 | | | | | |
| 1 | 99 Jorge Lorenzo | SPA | 1:31.868 | Movistar Yamaha MotoGP | Yamaha |
| 2 | 46 Valentino Rossi | ITA | 1:32.216 | Movistar Yamaha MotoGP | Yamaha |
| 3 | 25 Maverick Vinales | SPA | 1:32.381 | Team Suzuki Ecstar | Suzuki |
| 4 | 93 Marc Marquez | SPA | 1:32.443 | Repsol Honda Team | Honda |
| 5 | 51 Michele Pirro | ITA | 1:32.467 | Ducati Team | Ducati |
| 6 | 4 Andrea Dovizioso | ITA | 1:32.677 | Ducati Team | Ducati |
| 7 | 35 Cal Crutchlow | GBR | 1:32.743 | LCR Honda | Honda |
| 8 | 26 Dani Pedrosa | SPA | 1:32.859 | Repsol Honda Team | Honda |
| 9 | 41 Aleix Espargaro | SPA | 1:32.918 | Team Suzuki Ecstar | Suzuki |
| 10 | 44 Pol Espargaro | SPA | 1:33.002 | Monster Yamaha Tech 3 | Yamaha |
| 11 | 8 Hector Barbera | SPA | 1:33.301 | Avintia Racing | Ducati |
| 12 | 19 Alvaro Bautista | SPA | 1:33.929 | Aprilia Racing Team Gresini | Aprilia |
| Q1 | | | | | |
| 1 | 51 Michele Pirro | ITA | 1:33.059 | Ducati Team | Ducati |
| 2 | 8 Hector Barbera | SPA | 1:33.098 | Avintia Racing | Ducati |
| 3 (13) | 6 Stefan Bradl | GER | 1:33.399 | Aprilia Racing Team Gresini | Aprilia |
| 4 (14) | 22 Alex Lowes | GBR | 1:33.635 | Monster Yamaha Tech 3 | Yamaha |
| 5 (15) | 9 Danilo Petrucci | ITA | 1:33.716 | OCTO Pramac Yakhnich | Ducati |
| 6 (16) | 50 Eugene Laverty | IRL | 1:33.772 | Pull & Bear Aspar Team | Ducati |
| 7 (17) | 43 Jack Miller | AUS | 1:33.847 | Estrella Galicia 0,0 Marc VDS | Honda |
| 8 (18) | 45 Scott Redding | GBR | 1:33.989 | OCTO Pramac Yakhnich | Ducati |
| 9 (19) | 53 Tito Rabat | SPA | 1:34.302 | Estrella Galicia 0,0 Marc VDS | Honda |
| 10 (20) | 68 Yonny Hernandez | COL | 1:34.465 | Pull & Bear Aspar Team | Ducati |
| 11 (21) | 12 Javier Fores | SPA | 1:35.161 | Avintia Racing | Ducati |