Brad Binder (Red Bull KTM Ajo) took his second win in a row at the San Marino GP after an intense battle with Enea Bastianini (Gresini Racing Moto3), during the Moto 3 race.
This now extends his championship lead by 106 points ahead of Bastianini, as Jorge Navarro (Estrella Galicia 0,0) now moves back to third after crashing out scoring a zero.
Bastianini made the hole shot at the start of the race
As the lights went out, it was Bastianini who made it first at turn one. Out of nowhere, Jakub Kornfeil (Drive M7 SIC Racing Team) came squeezing into second place pushing Binder into third. Niccolo Bulega (Sky Racing Team VR46) had an unfortunate start and was pushed right back to sixth.
At this point Bastianini was attempting to pull away in the lead, with Binder in second trying to close the gap. Kornfeil stuck with Binder to stay in third, but close behind him was the championship chaser Navarro. We then witnessed the first crashes of the race by Alex Fabbri (Minimoto Portomaggiore) and Bo Bendsneyder (Red Bull KTM Ajo).
It was a good start from the Estrella Galicia boys
As the front four formed a group and opened up a slight gap, following behind was fourth place man, Navarro's, team mate Aron Canet (Estrella Galicia 0,0). Now with 22 laps to go, anything could happen, but it did appear that this was going to be your top four. Bulega had now worked his way up to seventh, using Hiroki Ono's (Honda Team Asia) slipstream, looking like he was hoping to make up time. Maria Herrera (MH6 Team) then sadly crashed out at turn six from the back of the field.
Bulega had a powerful start and looked set for a podium
Bulega set the fastest lap, just as Navarro moved himself into third place ahead of Kornfeil. With Binder and Bastianini fighting it out for first and second swapping places, this gave Canet the advantage allowing him to catch up with the front group. Meanwhile out back, Fabio Quartararo (Leopard Racing) was ordered to move back six positions into 17th place due to exceeding track limits at turn one.
The second group had now caught up, with Bulega now leading it, as Canet moved back to sixth. Bulega was now well and truly involved in the race as he worked his way up to third, a provisional podium position. But it seemed their biggest threat was slightly further back, as Andrea Locatelli (Leopard Racing) had just set the fastest lap from sixth place.
It was now Bastianini still in first, with Binder sitting close on his tail in second, before Bulega made another move and got into second. With Binder now in third, and Navarro in fourth, they could only watch on as Bulega looked like he pressed the jet button and powered through to take the lead.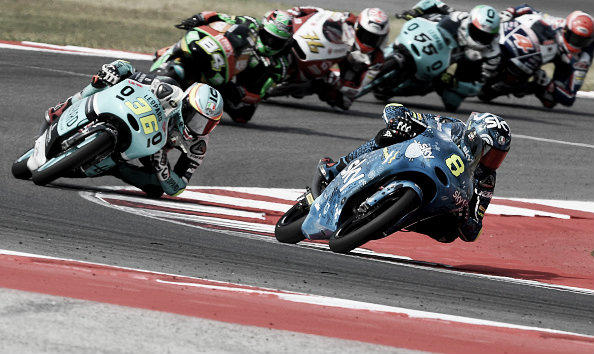 Binder and Bastianini broke away out front
Binder wasn't prepared to sit back and watch, and now we had a race on our hands, with 17 laps to go he stormed back through to take the lead. Bastianini followed through into second, but Bulega clung onto third place. Navarro decided to sit back and watch as he stayed in fourth, perhaps waiting to make his move. Gabriel Rodrigo (RBA Racing Team) then crashed out at turn four.
Binder and Bastianini had now slightly moved away, as there was a separate fight for third and fourth. Bulega was now caught up with Kornfeil and Navarro, but it all ended in tears as with 15 laps to go Navarro crashed out at turn 14. Binder could now breathe a sigh of relief as he continued to fight for first place, and the gap between second and third place had opened up to a second.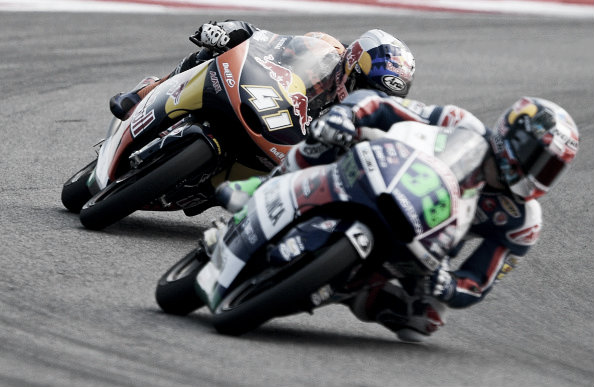 The Leopard riders took time to come into the battle
Bulega now had a different array of riders, with Locatelli and Joan Mir (Leopard Racing) moving up into fourth and fifth. Kornfeil had slightly lost his rhythm, but was still trying to keep up with the party in sixth. Locatelli had now gone further back into seventh, bringing Ono into the picture. Whilst this was all happening, this allowed Bulega and Mir to move away and let battle commence for that final podium position, third place.
With 12 laps to go, Binder and Bastianini and then Bulega and Mir had split off into groups of two, but Bulega was trying everything to catch up with the front. The next group down saw the continued fight between Kornfeil who was in fifth, Locatelli in sixth and Canet in seventh. But Fabio Di Giannantonio (Gresini Racing Moto3) had managed to gain some speed, and caught up with Ono who was just clipping onto the back end of this battle.
There was now only nine laps to go, and it was looking increasingly difficult for the front two to be caught. Mir had now overtaken Bulega to take third place, but because they were swapping around, this allowed Bastianini and Binder to pull away even further out front. Binder was still leading, as he had done for the majority of the race, with Bastianini waiting to pounce.
There was still an exciting race for fifth, sixth and seventh between Kornfeil, Canet, Locatelli and now Philipp Ottel (Schedl GP Racing) had joined in for eighth. Ono and Di Giannantonio had now sadly lost their good pace, and broke off separately into nineth and tenth. At turn 16 we saw a crash from Tatsuki Suzuki (CIP-Unicom Starker), who was able to walk away unhurt.
Quartararo had a difficult race for penalties
With four laps to go, Bastianini had now taken over in the lead. But Binder continuously tried to use his slip to try and get back in front. Looking back to 17th place, Quartararo had now been told to move back another position, due to exceeding track limits once again. This then occurred out front, as third place man Mir had to drop back one position behind his main rival, Bulega. This was just as he was opening up a small gap, but this was to be destroyed as Bulega was allowed to waltz his way back through.
It was an exciting last lap between the front two
Bulega's third place hopes was short-lived, as Mir quickly over took him again to re-gain his third place. But out the front, with only two laps to go, it was heating up between Bastianini and Binder. Bastianini still led, but Binder was incredibly close behind. It then appeared on the last lap that Mir and Bulega had miraculously caught up the front two, but it was questioned if it was enough.
It sadly wasn't enough to catch up, and it was an intense last lap as Binder regained the lead. Bastianini did everything he could to try and squeeze past the championship leader, but Binder went full pelt over the line to take a back to back win.
Moto 3 race results

| | | | | | |
| --- | --- | --- | --- | --- | --- |
| Position | Rider | Nationality | Team | Bike | Points |
| 1 | 41 Brad Binder | RSA | Red Bull KTM Ajo | KTM | 25 |
| 2 | 33 Enea Bastianini | ITA | Gresini RacingMoto3 | Honda | 20 |
| 3 | 36 Joan Mir | SPA | Leopard Racing | KTM | 16 |
| 4 | 8 Nicolo Bulega | ITA | SKY Racing Team VR46 | KTM | 13 |
| 5 | 84 Jakub Kornfeil | CZE | Drive M7 SIC Racing Team | Honda | 11 |
| 6 | 55 Andrea Locatelli | ITA | Leopard Racing | KTM | 10 |
| 7 | 44 Aron Canet | SPA | Estrella Galicia 0,0 | Honda | 9 |
| 8 | 65 Philipp Oettl | GER | Schedl GP Racing | KTM | 8 |
| 9 | 76 Hiroki Ono | JPN | Honda Team Asia | Honda | 7 |
| 10 | 4 Fabio Di Giannantonio | ITA | Gresini Racing Moto3 | Honda | 6 |
| 11 | 23 Niccolo Antonelli | ITA | Ongetta-Rivacold | Honda | 5 |
| 12 | 58 Juanfran Guevara | SPA | RBA Racing Team | KTM | 4 |
| 13 | 11 Livio Loi | BEL | RW Racing GP BV | Honda | 3 |
| 14 | 95 Jules Danilo | FRA | Ongetta-Rivacold | Honda | 2 |
| 15 | 16 Andrea Migno | ITA | SKY Racing Team VR46 | KTM | 1 |
| 16 | 62 Stefano Manzi | ITA | Mahindra Racing | Mahindra | |
| 17 | 48 Lorenzo Dalla Porta | ITA | SKY Racing Team VR46 | KTM | |
| 18 | 20 Fabio Quartararo | FRA | Leopard Racing | KTM | |
| 19 | 12 Albert Arenas | SPA | Peugeot MC Saxoprint | Peugeot | |
| 20 | 17 John Mcphee | GBR | Peugeot MC Saxoprint | Peugeot | |
| 21 | 21 Francesco Bagnaia | ITA | Gaviota Mahindra ASPAR | Mahindra | |
| 22 | 89 Khairul Idham Pawi | MAL | Honda Team Asia | Honda | |
| 23 | 7 Adam Norrodin | MAL | Drive M7 SIC Racing Team | Honda | |
| 24 | 77 Lorenzo Petrarca | ITA | 3570 Team Italia | Mahindra | |
| 25 | 3 Fabio Spiranelli | ITA | CIP-Unicom Starker | Mahindra | |
| 26 | 43 Stefano Valtulini | ITA | 3570 Team Italia | Mahindra | |
| DNF | | | | | |
| | 40 Darryn Binder | RSA | Platinum Bay Real Estate | Mahindra | |
| | 24 Tatsuki Suzuki | JPN | CIP-Unicom Starker | Mahindra | |
| | 42 Marcos Ramirez | SPA | Platinum Bay Real Estate | Mahindra | |
| | 9 Jorge Navarro | SPA | Estrella Galicia 0,0 | Honda | |
| | 19 Gabriel Rodrigo | ARG | RBA Racing Team | KTM | |
| | 6 Maria Herrera | SPA | MH6 Team | KTM | |
| | 64 Bo Bendsneyder | NED | Red Bull KTM Ajo | KTM | |
| | 71 Alex Fabbri | RSM | Minimoto Portomaggiore | Mahindra | |