A dramatic start to the Moto2 at the Misano World Circuit Marco Simoncelli in Italy, saw Idemitsu Team Honda rider Takaaki Nakagami lead away from the line from second on the grid, and into the first corner but he lost several positions as he braked early into the turn.
Chaos at the start of the race
Garage Plus Interwetten rider Thomas Luthi, who won the last round at Silverstone, missed the turn trying to avoid Nakagami and went through the run-off area and had to give back several places as he gained a serious advantage. As Ajo Motorsport rider Johann Zarco took the lead, marshals were running through the gravel to assist two fallen riders.
Axel Pons (AGR Team) and Julian Simon (QMMF Racing) came together as the 600cc riders pushed their way through the first chicane. They came together and crashed at turn two; both looked to be in pain as they lay at the side of the track as the bikes had landed on them.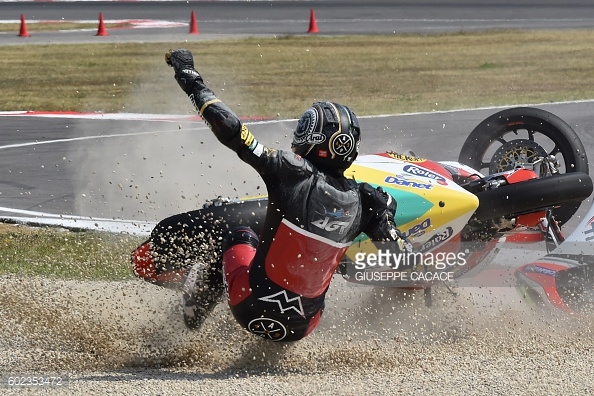 Zarco takes the lead
Zarco led at the end of the first lap ahead of Lorenzo Baldassarri (Forward Team) who made an attempt to overtake him towards the end of the lap. Sam Lowes (Federal Oil Gresini Racing) overtook Alex Rins (Paginas Amarillas HP 40) who went backwards as Mattia Pasini (Italtrans Racing Team) got him too pushing him to sixth.
Luthi settled in in fourth behind Franco Morbidelli (Estrella Galicia 0,0 Marc VDS) and Rins had reovered some positions and was in fifth and on the move. Pasini fell at turn four with 24 laps remaining after he touched the kerb and the front became unsettled throwing him off. Simone Corsi then crashed at the same turn on the next lap.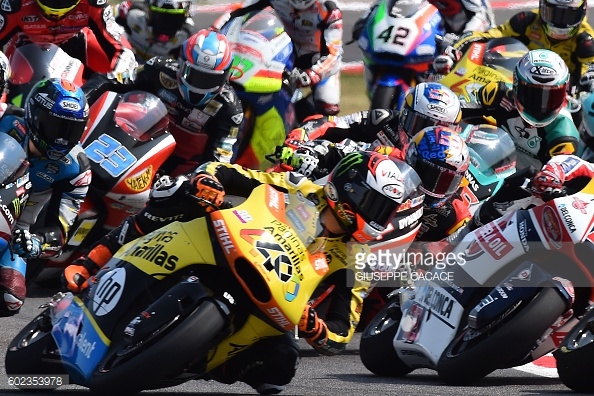 Zarco loses four positions
Zarco lost four positions as a gang of riders muscled their way past him. Morbidelli now led ahead of Baldassarri, Rins who had passed Luthi at the same time and Zarco ahead of Lowes. Nakagami was down in seventh ahead of Dynavolt Intact GP rider Jonas Folger.
Zarco lost more positions as he fell down the rankings, and almost came into contact with Nakagami when he tried to pass him. He made it past and Nakagami as did Folger leaving the Malaysian in eighth.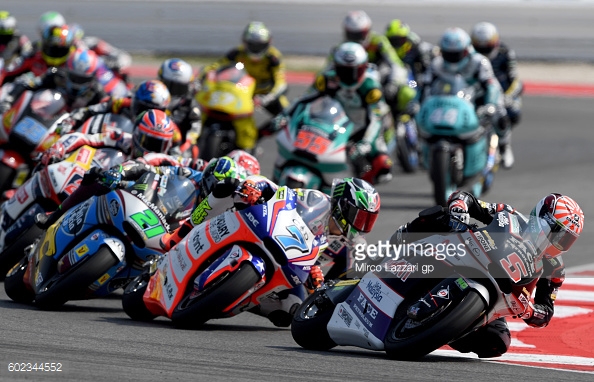 Rins makes his move on Morbidelli
Rins had recovered and by the time they crossed the line at the end of the fifth lap he made an attempt to overtake Morbidelli. Morbidelli out-braked him and retained his lead but later on in the lap Rins got past him and was able to break away, setting the fastest lap so far in the process. Morbidelli then lost another place to Baldassarri who wanted to do well at his home track.
Rins led ahead of Baldassarri, Morbidelli, Luthi, Lowes and Zarco. With 19 laps remaining Leopard Racing team rider Danny Kent became the latest one to crash at turn four. He was able to get up and walk away as Marshals pushed the bike to away for him; it was race over for him.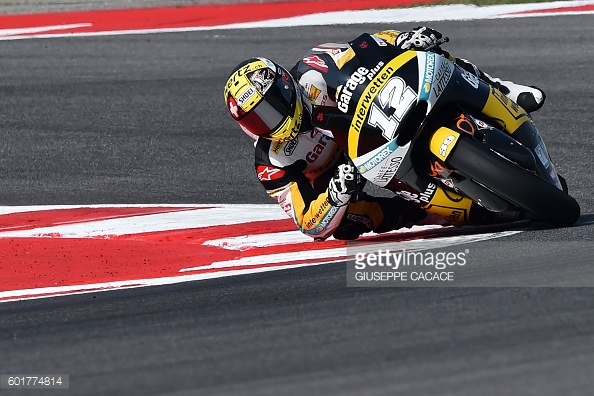 Luthi wrestles his bike around Misano
Luthi experienced a moment a couple of laps later and ended up losing a position to Lowes who claimed fourth. Nakagami had also gained a place from Zarco as he overtook him to take sixth; it was not long before he overtook Luthi as wall dropping the German rider to sixth.
Amazing battle between Lowes and Morbidelli
Then a serious battle commenced between Lowes and Morbidelli. Lowes made an attempt on the Italian who retaliated straight away. They continued to overtake corner after corner switching positions constantly as Nakagami sat on the back of them ready to steal an opportunity.
Lowes was drifting into the corners as he did whatever he could to pass him. He then came into contact with Morbidelli which meant that he spoiled their momentum and Nakagami got past.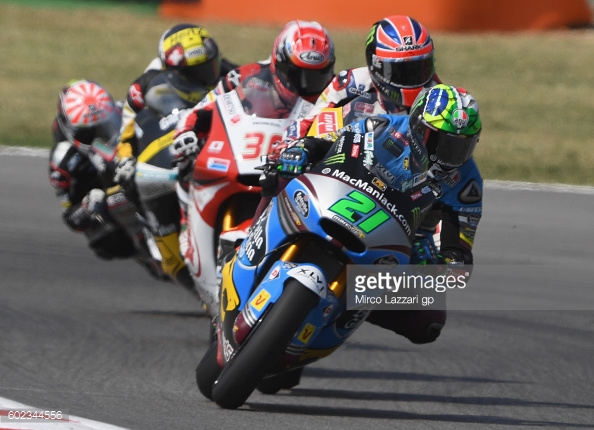 Lowes crashes out of the race
Moments later Lowes crashed out at turn 15. He hit a bump and was thrown into the gravel; his bike tumbled and destroyed itself meaning he was unable to collect points from Misano. It wasn't a good day for Leopard Racing as Miguel Oliveira crash at turn eight with 12 laps to go and then Iker Lecuona (CarXpert Interwetten) crashed out; all within two laps.
Hafitzh Syahrin (Petronas Raceline Malaysia) got past Folger when he went wide and ran off the track. He was down in eighth while ahead of him, Baldassarri was catching injured Rins who led the race, Nakagami was in third lapping half a second quicker than Baldassarri, and Zarco had made his way past Morbidelli pushing the Italian down to fifth with less than half of the race remaining.
Baldassarri looking to take the lead
With five laps to go Baldassarri was on the back of Rins who has recently undergone surgery on his collar-bone; he had to have a plate inserted to help the healing process. Baldassarri was sponsoring a new design on his leather and on his Kalex for his home round; it was in recognition of the anniversary of '9-11'.
With three laps remaining Julian Simon who had crashed earlier had re-joined the race however he was forced to retire. Edgar Pons (Paginas Amarillas HP 40) also crashed on the same lap.
Rins runs off the track
Meanwhile, on the next lap, Baldassarri made his move. He took the lead from Rins when he overtook him with ease. It seemed that the Spaniard was not up for the battle. But then on the last lap Rins began to start his move through turn nine where he took a different line to pick up speed. He tried to overtake him later on ending up on the outside of Baldassarri but missed his braking point and ended up running onto the run-off areas.
Baldassarri wins his home GP in San Marino
Rins lost time but not a position. Baldassarri was clear and went on to win the 13th round of the Moto2 race in San Marino. Rins remained in second and Nakagami claimed the last spot on the podium. Zarco finished fourth ahead of Morbidelli, Luthi, Syahrin and Folger finished in eighth.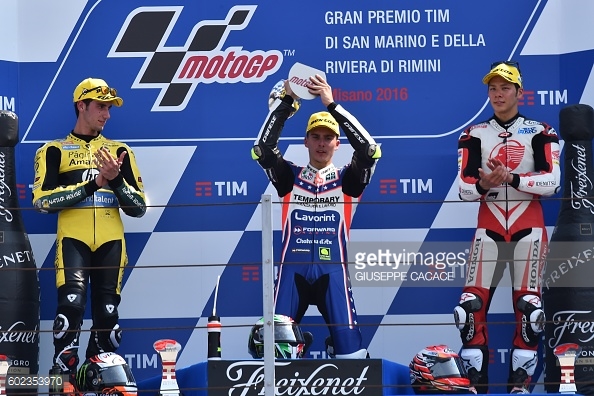 Teammate to Folger, Sandro Cortese (Dynavolt Intact GP) was ninth ahead of Alex Marquez (Estrella Galicia 0,0 Marc VDS) and Marcel Schrotter (AGR Team). The fastest Tech 3 rider was Xavi Vierge (Tech 3 Racing) who finished ahead of Italian rider Luca Marini (Forward Team) who finished 13th at his home grand prix. Ratthapark Wilairot (Idemitsu Honda Team Asia) was 14th and Jesko Raffin (Sports-Millions-EMWE-SAG) collected the last available championship point.
Pasini was able to re-join the race and finished 16th just outside the points, Oliviera also remounted and finished behind him in 17th. Team Clattl rider Federico Fuligni finished 18th at his wildcard appearance at his home track ahead of Remy Gardner (Tasca Racing Scuderia Moto2), Robin Mulhauser (CarXpert Interwetten) and Lecuona who also re-joined the race and was last to cross the line in 21st.