It was a dramatic start to the first Free Practice session for the Moto2 class at MotorLand Aragon as within minutes two riders came together on track, crashed out, and one rider was left ruled out due to his injuries.
Collision on track with serious consequences for Oliveira
Estrella Galicia 0,0 Marc VDS rider Franco Morbidelli hit Leopard Racing Team rider Miguel Oliveira from behind at turn three sending the two of them into the gravel. Morbidelli was able to get back to his feet, however Oliveira looked distressed in the gravel. The Portuguese rider has been ruled out as the collision which led to his tumble left him with a broken collar bone.
Close calls for other Moto2 riders
As riders adapted to the new surroundings several of them were caught out. As Johann Zarco (Ajo Motorsport) made his way to the top of the leaderboard, Jonas Folger (Dynavolt Intact GP) ran on after he missed his braking point, and British rider Sam Lowes (Federal Oil Gresini Moto2) had a huge moment at turn 10 that he luckily saved.
Zarco came under pressure minutes later from Thomas Luthi (Garage Plus Interwetten) who briefly took the top spot before Zarco retaliated with the first lap of the day under 1:55 minutes in the 600cc class. Whilst Edgar Pons (Paginas Amarillas HP 40) was pushing his bike up the wrong way of the pit lane, Lowes had broken through the barrier and had placed himself in second on the leaderboard.
Lowes tops the timesheets
The British rider lapped consistently in this area but could not beat Zarco's time. He eventually went top with his time of 1:54.461 but only remained there for five minutes as along came Folger to take the title from him as he lapped less than two hundredths of a second quicker.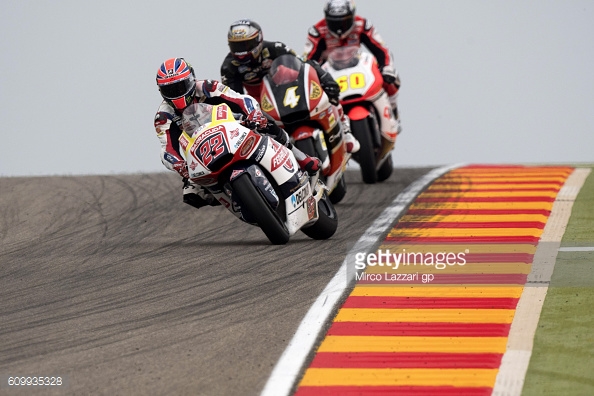 Two crashes for Odendaal
Steven Odendaal, who is a temporary replacement rider for the AGR Team, crashed in the final quarter of the session as he approached turn one too quick and slid into the run-off area. It was not long before he was back out on track but with five minutes remaining he missed the braking point at turn 15 and crashed out again.
Lowes fastest after FP1
Simone Corsi (Speed Up Racing), Lowes and Folger battled it out in the closing stages of FP1 and each took their turn at the top of the timesheet. Folger was first to lap under 1:54 minutes, then Lowes followed and it looked like he would remain on top until along came Idemitsu Honda Team Asia rider Takaaki Nakagami. The Malaysian was strong but could not beat Lowes. A final lap from Folger pushed the Malaysian down to third behind him and quickest man on track Lowes.
Simone Corsi (Speed Up Racing) was the fastest Speed Up rider in fourth ahead of Sandro Cortese (Dynavolt Intact GP), Zarco, Luthi, Morbidelli, Rins and Marcel Schrotter (AGR Team) who completed the top ten at the end of Free Practice 1 at Aragon.
In the final stages of the session Alex Marquez (Estrella Galicia 0,0 Marc VDS) and Edgar Pons came into contact at the peak of the hill; neither rider seemed impressed.
Morbidelli on top midway through FP2
Making up for lost time in Free Practice 1, when it came to the much cooler second session, Morbidelli did what he could to gain the top spot of the leaderboard. The change in conditions meant his time was not as quick as that set by Lowes, but was the quickest so far from them being out on track for the second time that day.
The weather changes meant that the riders were unable to make significant improvements. With three minutes remaining Luthi almost matched Lowes' previous time going to the top of the timesheet during the session with a time of 1:53.793.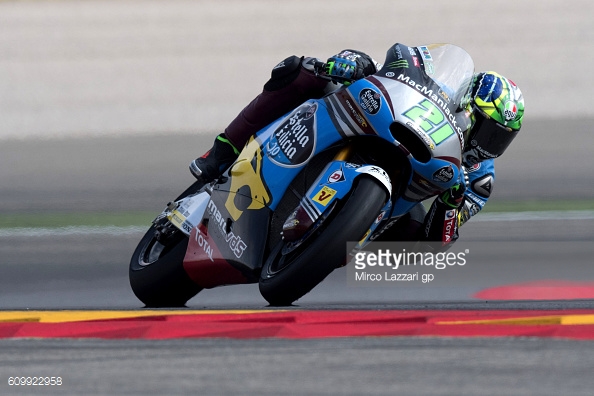 Last minute dash for the top spot
In the final stages of the days' track time, a surge from several riders including Lowes and Nakagami meant that Lowes' previous FP1 time was eventually beaten. First Nakagami was quicker, then Lowes, but on his final lap it was Nakagami who became the fastest man in the Moto2 class at the end of day one in Aragon.
Nakagami quickest at the end of day 1
His time of 1:53.702 was over a second slower than the records set here by Rins and now MotoGP rider Tito Rabat during qualifying and the race; which differed by half a second more. Nakagami has come close to win a Moto2 race on several occasions this season… will Aragon be the one where he can stamp his authority?
Lowes remained second quickest and Luthi third, Folger, Baldassarri, Morbidelli, Corsi, Zarco , Marquez and Axel Pons (AGR Racing) completed the top ten overall at the end of day one. Cortese was 11th ahead of British Leopard Racing Team rider Danny Kent; Pasini, Rins and Schrotter made up the top 15.
Xavi Vierge (Tech 3 Racing) was the quickest Tech 3 rider ahead of Marini in 17th, an behind him wildcard rider Alan Techer (NTS T Pro Project) was 18th. QMMF Racing teammates Julian Simon and Xavier Simeon completed the top 20 ahead of Odendaal, Hafitzh Syahrin (Petronas Raceline Malaysia), wildcard rider Tetsuta Nagashima (Ajo Motorsport Academy), Edgar Pons and Jesko Raffin (Sports-Millions-EWME-SAG) in 25th.
Remy Gardner (Tasca Racing Scuderia Moto2), Dominque Aegerter (CarXpert Interwetten) returning from injury, Ratthapark Wilairot (IDEMITSU Honda Team Asia), Robin Mulhauser (CarXpert Interwetten) and Isaac Vinales (Tech 3 Racing) completed the field in 30th.