He wanted to achieve it with a race win, but Red Bull KTM Ajo rider Brad Binder had to settle for becoming the 2016 Moto3 champion with second on the podium after the Gran Premio Movistar de Aragon.
Champion with four rounds to go
What an achievement, four rounds before the end of the season he has it wrapped up. How has he done it? Well he has only missed finishing on the podium twice so far this season! Talk about consistency, his worse result was in Assen in the wet where he finished 12th as his competitors were able to showcase their skill in the harsh conditions. He crashed out at Brno, another wet round, but otherwise his lowest result has been a third.
Binder has won five rounds, finished second in five and third in two; his result in Aragon left him with 249 points, 106 ahead of second in the championship Enea Bastianini (Gresini Racing Moto3). Even if Bastianini won the remaining four rounds and Binder didn't even turn up… he would be champion!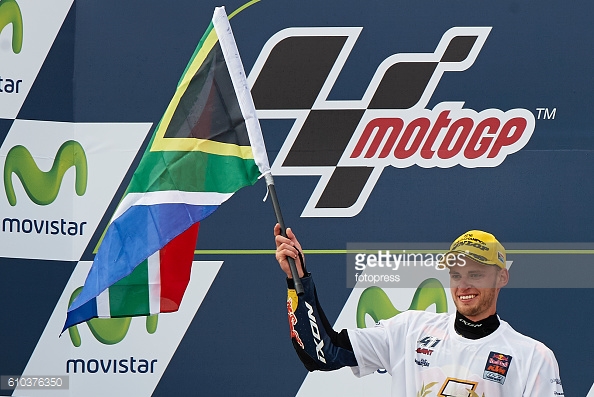 First South African World Champion in 35 years
The new 2016 champion became the first South African to win a world championship in 35 years. Although he finished second in Aragon, it wasn't made easy for him. Qualifying from seventh on the grid, he got a break where he managed to slot into third within the first few corners. Jorge Navarro (Estrella Galicia 0,0) and Bastianini had pulled away and had created a small gap ahead of Binder who led the next group of keen 250cc riders, but it didn't last long.
Binder wanted the win in Aragon
Within laps Binder had caught them and was eventually able to take the lead. The battle commenced; there was no way of telling who was going to win throughout the race as the three riders had to take on Fabio Di Giannantonio (Gresini Racing Moto3) and Philipp Oettl (Schedl GP Racing) who same became involved in the mix.
Each of them took their turn at the front but it was towards the end of the race when things as usual became more intense. Five laps remained when Binder was in the lead, Bastianini attempted to overtake him on the straight between turns 15 and 16, but was not able to match his pace, but as they approached the final of the turn Binder went wide allowing Bastianini past then.
The Italian was then passed by Navarro who two laps later was able to repeat Bastianini's move and again binder ran wide; he ended up in fourth as Di Giannantonio and Navarro recovered places from him.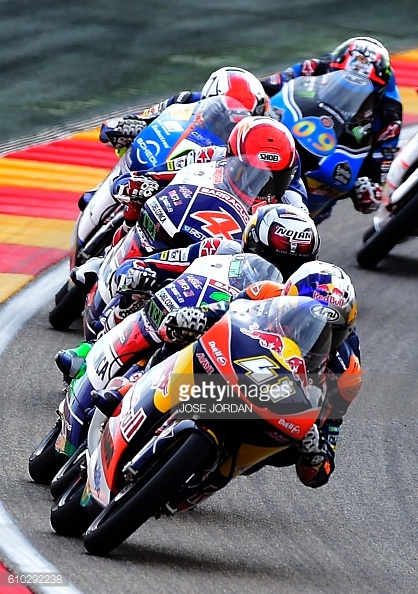 Four-a-breast for the final lap
As they began the final lap it was four-a-breast into turn one. Binder was in second but he soon lost a position to Navarro, and at the corkscrew was pushed to fourth by Di Giannantonio. He soon recovered third and on the straight surged forward to take the lead using the slipof the other two along with the power out of his 250cc KTM. However, then just as it looked like he was going to do it, Navarro made his final move overtaking on the last turn. He won the race by just 0.03 seconds; but Binder has still won the championship.
Binder in shock with his achievements
The South African "still couldn't believe it" when after the race describing how when he "crossed the finish line" that he "raised [his] head, looked at [his] team, and realised what [they] had achieved". He said he till "can't take it all in" and considered, "Maybe tonight when I go to sleep I will realise the great merit of what we achieved today."
Binder was "very happy" and felt this "especially" for his parents who he said have "made so many sacrifices" for him. He was also grateful his "team and everyone who has helped" to get him there. He said he "cannot thank them enough" as he descibred how he "tried to take things like any other weekend".
What he described as "a little shocking at first" he went on to say, "It's great to have taken the title here in Aragon". He is hoping to "be able to devote the remaining four races" to "enjoying" himself and giving his best.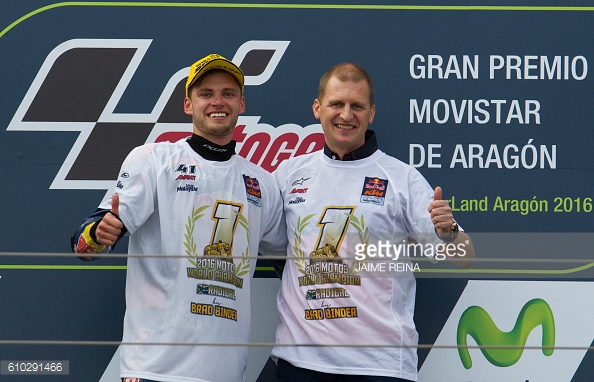 Binder's discusses his opportunities so far with KTM
After the event his team interviewed him about his achievements in the Moto3 championship. He described how he and his family "came to Europe" when he was just 12 years old so he could ride, winning the championship he said, "This is the first time we feel that all this effort has really paid off."
He praised his team saying, "I have a really great team behind me", he specifically mentioned Aki Ajo, as he said he could not thank him and "each of the members of the Red Bull KTM Ajo team for what they have done" and said that "every day you spend in the paddock is great". He also thanked KTM "for giving [him] such an amazing bike".
Whilst planning to enjoy himself at the remaining four rounds, he said they will "go to each circuit with the ambition of pushing our hardest and seeing what happens". He thinks it will be a "strange feeling" as he said he has been "somewhat conservative at times", however now he knows he just has to "go out there with [his] head held high" as he attempts to "win each of the remaining races".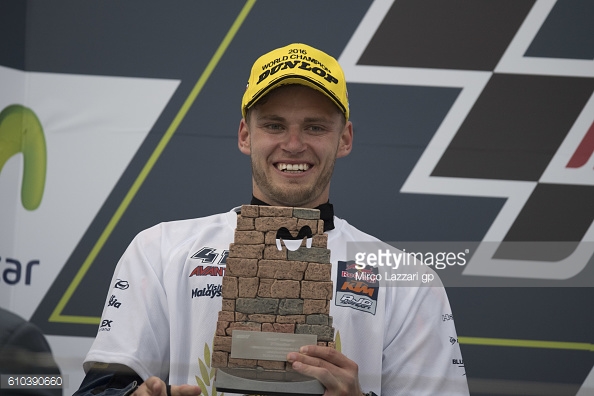 Big impact on South Africa
Binder feels that his victory has "made a pretty big impact" in South Africa, as he revealed that the "amount of media requests" they have had "has been crazy". Saying how his "phone has been ringing every two seconds", it was so much that he "left [his] phone in the car". He feels "something is changing" as he has found himself in demand.
Aragon now unforgettable to Binder
Talking about how Aragon is now a special place for him, he said, "I'll never forget the day I was crowned champion"; he said it was "very special" to win in Aragon and that "In the future this circuit will have a place in my head, without a doubt." He feels his best race this season so far was in Jerez as he described how he won from the back of the pack to take his first victory. He used this race as reassurance saying to himself, "If we were able to come back from last position then I'm sure we can win this race."
Binder extremely grateful to his team
He thinks that "having the most amazing team" behind him has made the difference in helping him to become champion; explaining how it is a "large structure" he said that "everything worked great and everybody has worked hard". He said, "It is very nice to come into a GP weekend and not be stressed or worried, and able to dedicate myself to doing my job."
Binder revealed how he tried not to stress too much about the championship and said, "My attitude was that it would be great if it happened." He knew he was "in a very different situation to most riders who fight to the title" and mentioned how usually "everything is resolved at Valencia and you have to make a perfect weekend". He found that he "didn't have that pressure that people were talking about".
Not been easy against his rivals
He felt there was a "great opportunity" when he led the championship by three race wins, and said that this year they "have been very consistent" however he said "so have my rivals and I have not had it easy." He described how when Navarro broke his leg and he was able to "open up a large gap". He said he is "very glad that the work has been done and that we can just enjoy ourselves now."
Talking about his past career he said that "For a South African" participating in the "i" is the best move, and for him he found it was "a decisive turning point to getting into the World Championship". He has found that there isn't "the strong competition" in his home country that there is in Spain and talked about how he has "been competing against the same rivals" since he was 12.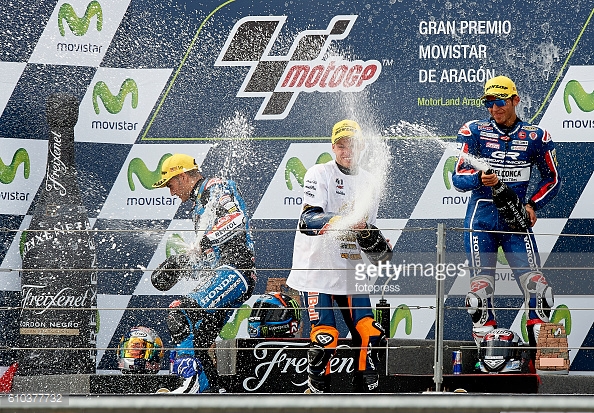 Being "more relaxed when things are not going well", Binder feels has helped him become successful rather than being "a little picky"; he has "focused on remembering what [he] has done before and looked to do it again", when things have gone wrong.
Binder discusses move to Moto2
Talking about his move up to Moto2 net year with Red Bull KTM Ajo he plans to "go out there and see how things go". He has seen when other riders have made the move that it is "a tough step" and he wants to "work hard, take things lap by lap" and knowing it may not happen for a couple of years he said he is, "convinced that [he] will reach the top one day".
He plans to "continue in the same team with a structure that fills [him] with confidence". He said he is also sure that "the Red Bull KTM Ajo bike will have a lot of potential".