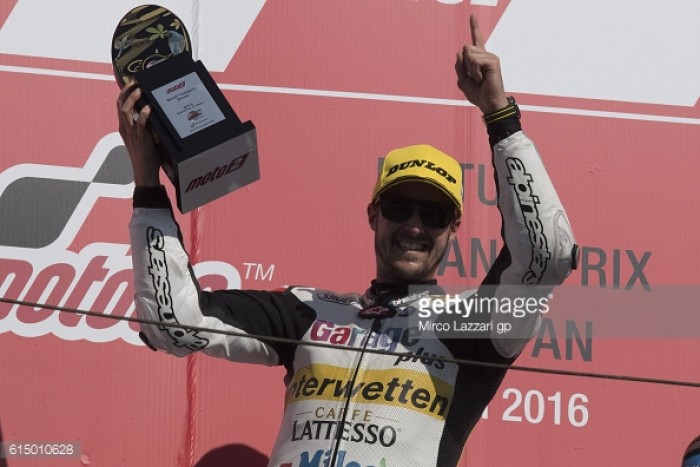 Perfect and faultless are the words I would use to describe Thomas Luthi's performance at the Twin Ring Motegi where the Moto2 class met for the Motul Grand Prix of Japan. The CarXpert Interwetten rider led from start to finish and crossed the line with a lead of just 0.386 as he was hunted down towards the end by championship leader Johann Zarco (Ajo Motorsport).
Luthi led from start to finish
Having qualified second on the grid, he got a fantastic start and led into turn one which is where he remained for the remainder of the race. He collected his third win of the season in front of the Japanese crowd having won in the season opener in Qatar and also in Silverstone.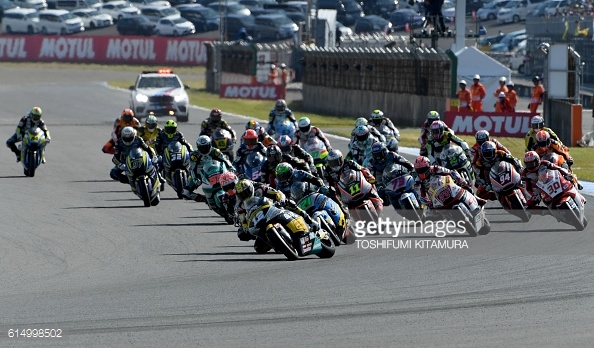 Battle took place behind leader Luthi
Behind him though it was a different story as a battle took place concerning Franco Morbidelli (Estrella Galicia 0,0 Marc VDS), Zarco, Takaaki Nakagami (Idemitsu Honda Team Asia) and in the initial stage Sam Lowes (Federal Gresini Moto2).
Zarco was second after the first corner having started from pole position on the grid. Morbidelli passed him corners lateer as behind him Lowes and Nakagami became tangled up. Fortunately the two were able to get out of it and continue. Lowes went on to make his move on Zarco; he went up the inside of him on turn three.
This forced Zarco to sit up momentarily before he regained third, losing it one more time but then also claiming it back within corners. Lowes came off at turn 10, but then Zarco lost third to Nakagami.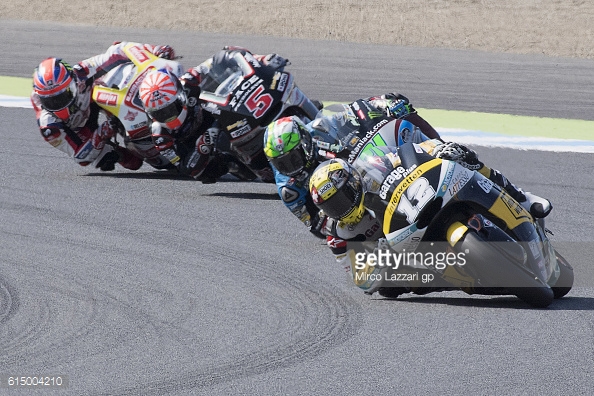 Zarco on the move
All of this allowed Luthi and Morbidelli to get away. By around lap 10, Nakagami had worked hard on home ground to close the gap down to a second behind Morbidelli, bringing Zarco with him in the process. Three laps later, the Japanese rider ran wide allowing Zarco to pass. Zarco's pace was strong though and at turn 10 of lap 14, the Frenchman passed Morbidelli.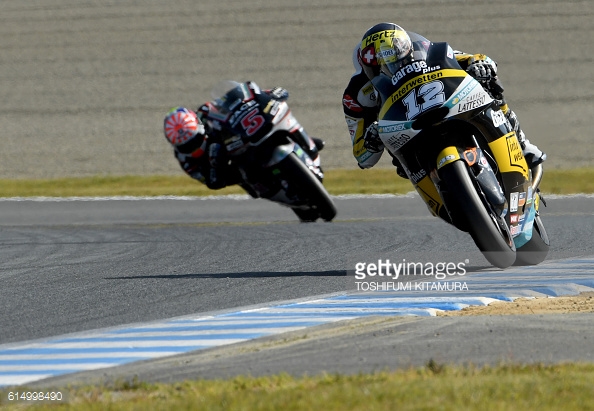 He continued on in pursuit of race leader, Luthi. Had there been a few more laps left in the race, chances are he may have had him, but that's not to say Luthi wasn;t waiting at the front to battle with him. Morbidelli again found himself under pressure in the closing stages from Nakagami, but after a few failed attempts Nakagami had to settle for fourth as Morbidelli claimed the last step on the podium.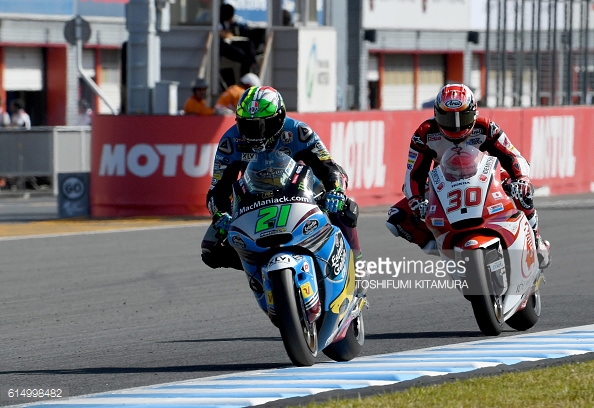 Winner Luthi praises his team for their outstanding work
After the race, Luthi complimented his team saying, "The outstanding work of my team in the last two days has paid off." He spoke of how he "remained calm despite the extra pressure" and worked hard not to "make a mistake". At the end of the race, when he was under pressure from Zarco, he "thought about the events at the last GP of Malaysia" when he said that Zarco "defeated" him at the end.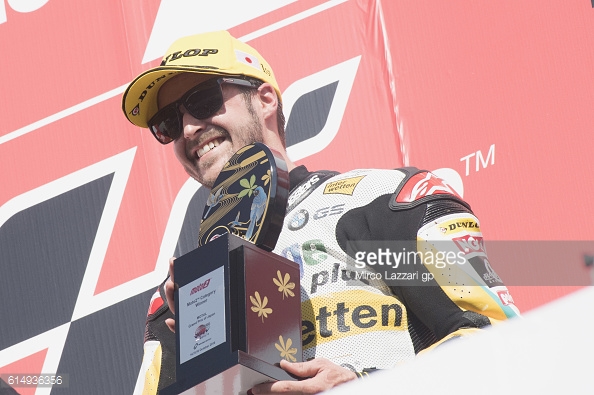 This time round he was able to prevent the same from happening, and he feels that "the success belongs to the whole team". He explained how "under the guidance of chief technician Gilles Bigot" that he found that "everyone was highly concentrated at work every second".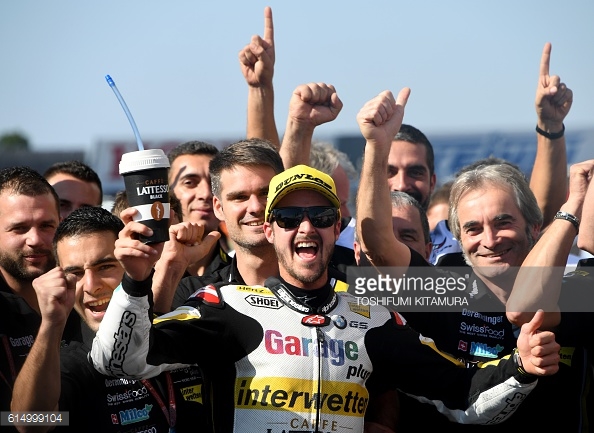 Luthi explained how he "felt good from the beginning" but that he "wanted to get more". After Bigot "suggested" that Luthi "try another small detail" the German rider found it "worked excellently". Luthi spoke of how he is "determined to continue on at this high level" and is now looking forward to Philipp Island.
Zarco happy to have met target for Motegi
Zarco explained how he "lost some places at the start of the race" and found that he "couldn't ride at a good place"; however he found that "using different tyres to [his] rivals" meant that he "improved as the race went on". Admitting that he "made a few mistakes" hw was happy to "get onto the podium".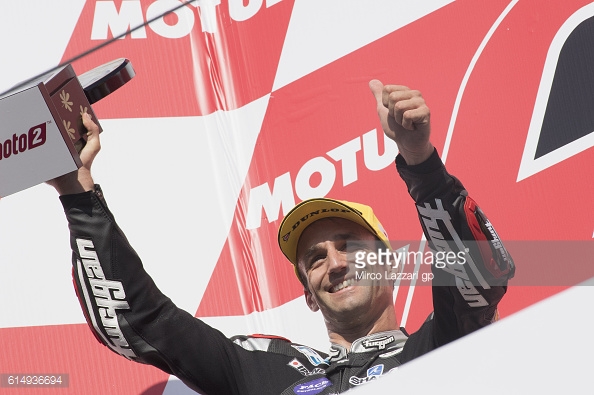 Discussing the end of the race he was "hoping to catch Tom in the final stages" but admitted that "it was too difficult" because he knew that Luthi "had a very good pace throughout the race". He was still content however as he admitted they "reached the goal" that they had "set for this race, which was to finish on the podium".
Considering the championship, as the 20 points in Motegi has allowed the Frenchman to extend his one point to 21 points above second place Alex Rins (Paginas Amarillas HP 40), who did not perform great in Motegi which was also hindered by a wrist injury sustained in Free Practice. He mentioned that saying "In addition, Alex Rins struggled this weekend and this has allowed us to increase out World Championship lead."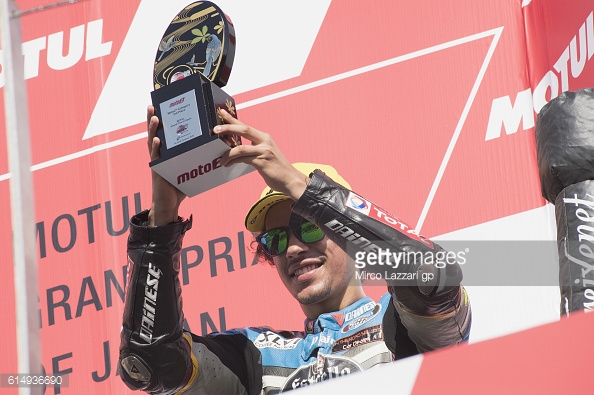 Morbidelli really happy with securing podium
Morbidelli briefly discussed how he had a "great battle at the end of the race with Nakagami" and that they both "made a lot of nice overtakes". Despite this he was "able to secure the podium with just a couple of corners to go". The Italian was "really happy" especially as he felt his "team did a great job this weekend".
He felt that "this result is a very positive start to the three flyaway races". Looking to the future he said, "Next is Australia and we will try for the podium again."
How the championship looks...
Zarco remains the championship leader with three rounds remaining on 222 points. Rins stayed on 201 points as he only managed to finish in 20th position. Lowes crashing out meant that Luthi's win was enough to allow him to move up to third in the championship ahead of the Brit. Luthi is noe on 179 points, three ahead of Lowes in fourth. Morbidelli follows cloesely in fifth with 157 points and Nakagami is in sixth with 148 points.