There seems to be no stopping
Cal Crutchlow
these days as he has become the first British rider in a long time, we are talking over 35 years here, to have not only won a
MotoGP
, but he has claimed his second win this season. The
LCR Honda
rider emerged victorious at Phillip Island where he won the
Michelin Australian Motorcycle Grand Prix.
Tyres prove significant in Phillip Island
Opting for the hard compound
Michelin Power Slick
, Crutchlow knew had had to push to retain heat as he found himself still suffering with the weather conditions. The weather was abysmal over the two days leading up to race day, rain storms forced race officials to red-flag their
Free Practice 2
session, to compensate they were given an extended
third Free Practice session
, before they took to the track in drying conditions for FP4 and
Qualifying
.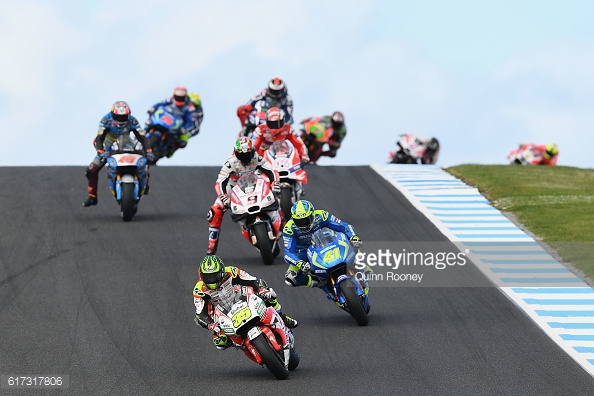 At one of his favourite tracks Crutchlow topped the timesheets in Qualifying 1 which meant he was able to progress to
Qualifying 2
. Doubting himself that slicks were best, he went out on intermediate tyres but still lapped well and claimed second on the grid meaning he had a front row start for the race.
Crutchlow overcome poor start
He got swallowed up a little bit at the start and as his independent team championship rival Pol Espargaro (Monster Tech 3 Yamaha) took to the front, Cruthlow had to battle traffic ahead of him. The newly crowned 2016 MotoGP champion Marc Marquez (Repsol Honda) soon got to the front and worked on extendeding his lead. It was not long until Crutchlow was behind him in second catvhing the Spanird for the lead.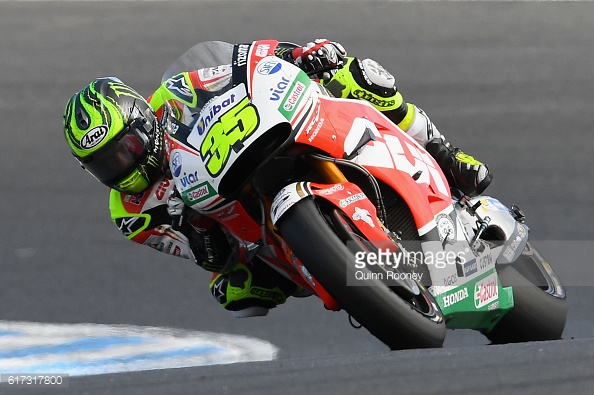 But then, Marquez crashed out of the race; at turn the notorious turn four he slid out of the race ending his run of recent success (he had not been able to use Free practice to 'find the limit'). This meant that Crutchlow now led the race in
Phillip Island
; behind him he had
Valentino Rossi (Movistar Yamaha)
hunting him down.
Crutchlow managed tyres perfectly
This is where Crutchlow's experience at all levels of racing paid off for him. He found that as the sun slipped behind a cloud on the cold and windy island, the temperature dropped, meaning he had to work harder to retain the heat im the front tyre. Knowing that Marquez had opted for the same tyre and had fell off in front of him, he knew that everything could slip away in an instant.
As if to respond to the fact Rossi, who was on flying form, was chasing him, Crutchlow reacted immediately and pulled away increasing the gap between them. He continued at this pace until the end of the race, his teams' hearts in their mouths until he crossed the line to win the 2016 Michelin Australian Motorcycle Grand Prix.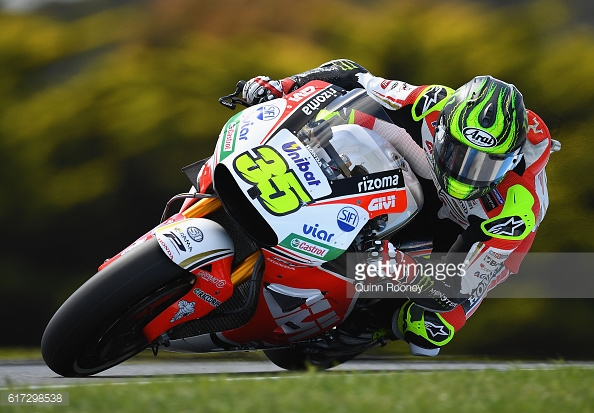 Fear set in when Marquez crashed out
Crutchlow explained how he was 'terrified' when he witnessed when Marquez "crashed out in front of [him]". To prevent following in the champion's tyre tracks he "braked really weakly into that corner for the whole race". He "knew it was critical" as he remembered he "crashed there from second a couple of years ago" when he "had a 10 second gap" behind him, and so he found he was "quite scared to be honest". He also mentioned, "With that in mind I knew I had to keep pushing because otherwise I would lose heat in the front tyre."
Crutchlow was "actuaĺly quite confident" that he would "catch Marquez" in Phillip Island and spoke of how when the Spaniard crashed out, he "just carried onat the same pace" and then over the "last 10 laps or so" he said he "didn't really push" but instead he "made sure" that he "kept heat in the front".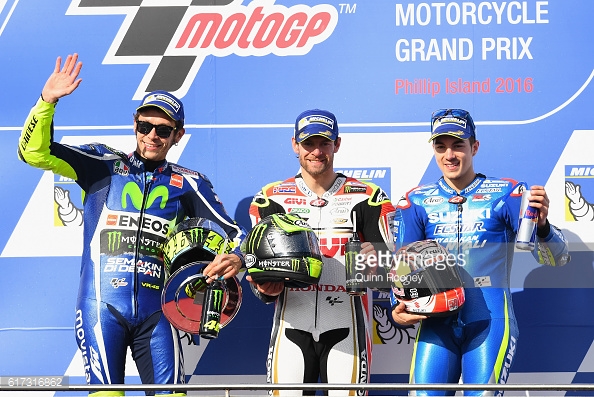 He revealed how he "actually pushed more on the laps when the sun wasn't out" as he found that this was when he could "be more relaxed"; although he admitted "it might sound strange" he said, "This is Phillip Island and anything can happen."
Crutchlow spoke of how he was "really pleased for the LCR Honda team" as he felt they had "done a great job this weekend". He felt "confident" that he "could have won even with Marquez in the race" and described that "Honda have done a really good job" with the bike. He said, "We can now look forward to the last two races and then see what happens for next year."